It is a good time to be a foodie and visit Walt Disney World Resort. Some favorite foodie experiences have returned and some new ones have arrived this week that are sure to delight!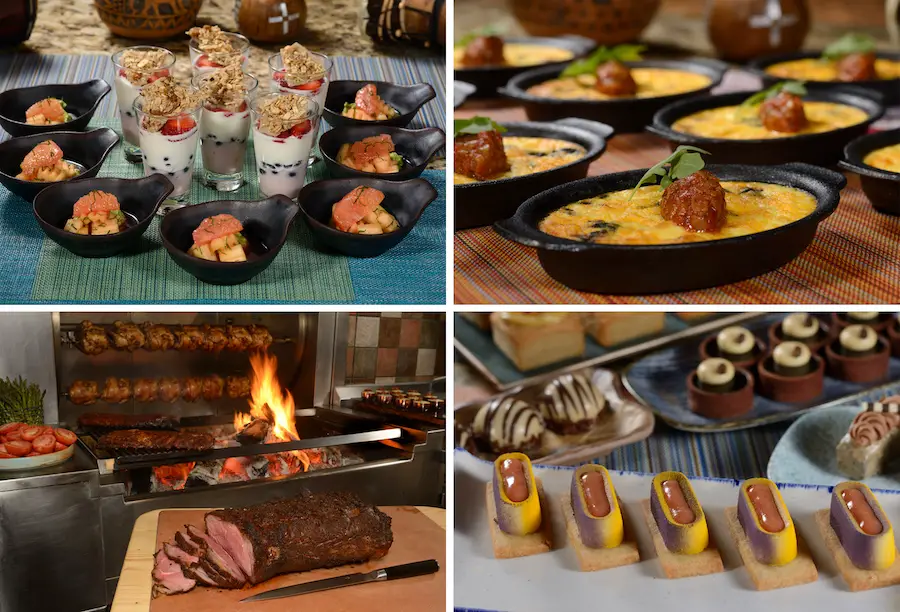 First off, Boma – Flavors of Africa is again open at Disney's Animal Kingdom Lodge. Cooking stations are again back at Boma in the morning offering creamy pap, turkey bobotie, pancakes, waffles, deviled eggs with salmon, and delicious freshly baked items from the Boma bakery for those eating breakfast there.
Dinner at Boma sees the return of the rotisserie area. It offers pork ribs, salmon, African-spiced strip loin, Durban rotisserie chicken, and lamb bobotie. The kid's station again has pasta and meatballs, mac n' cheese, and chicken bites. There also is a rotating selection of soups, stews, and chowders are back, as well as tasty salads like berbere chickpea salad and North African cauliflower salad. Zebra Domes have also made their return.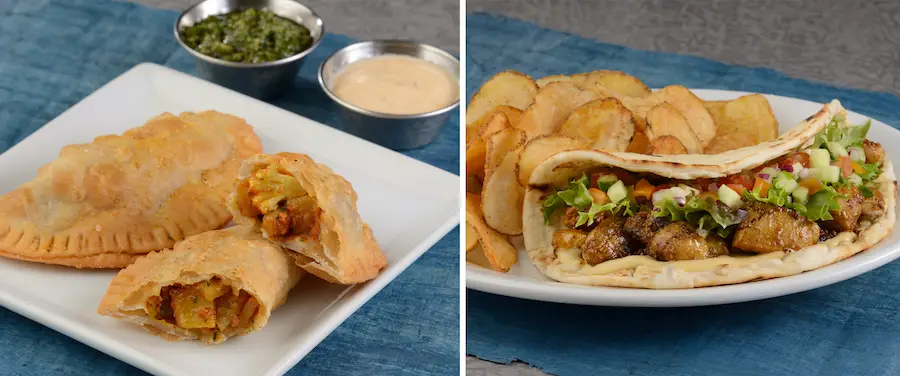 In Disney's Animal Kingdom itself, Kusafiri Coffee Shop and Bakery will reopen on August 29th. With its reopening, there will be some new entrees to enjoy. These include:
Spiced Potato Hand Pies – Vegetables and potatoes wrapped in pastry served with harissa aïoli and coriander chutney
Marinated Chicken Flatbread Sandwich – Marinated chicken topped with cucumber–tomato salad, tahini sauce, and greens served with house-made chips
Red Chili Hot Dog – Spicy hot dog topped with cucumber–tomato salad and harissa aïoli served with house-made chips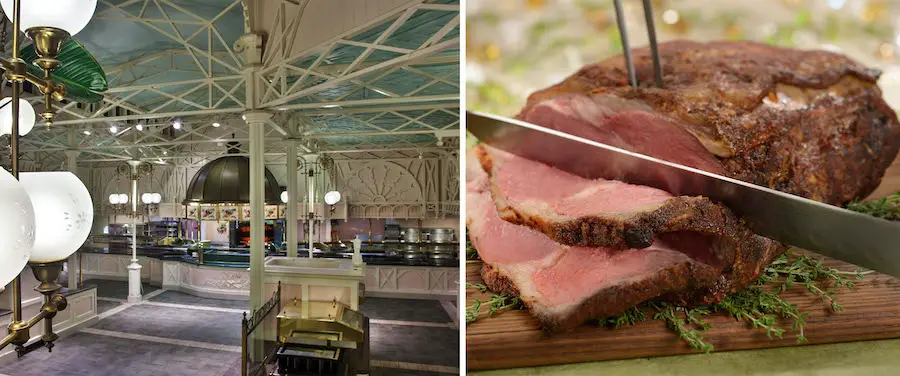 At the Magic Kingdom, The Crystal Palace will again be offering a buffet for lunch and dinner starting on September 12th. Guests will be able to enjoy Parker House rolls, create-their-own fresh garden salad, seared pork tenderloin, fire-roasted prime rib, braised beef short ribs, and more.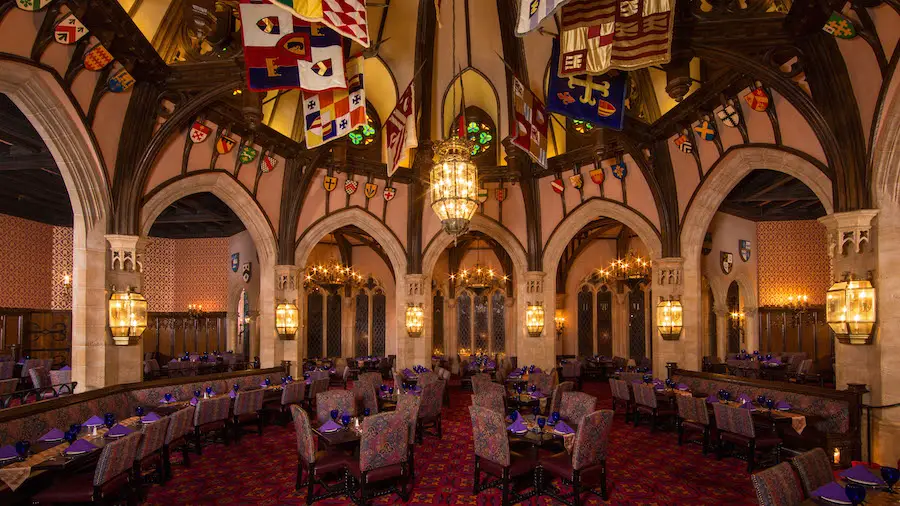 Over at Cinderella Castle, Cinderella's Royal Table is again offering breakfast starting on August 27th. Reservations open on August 24th.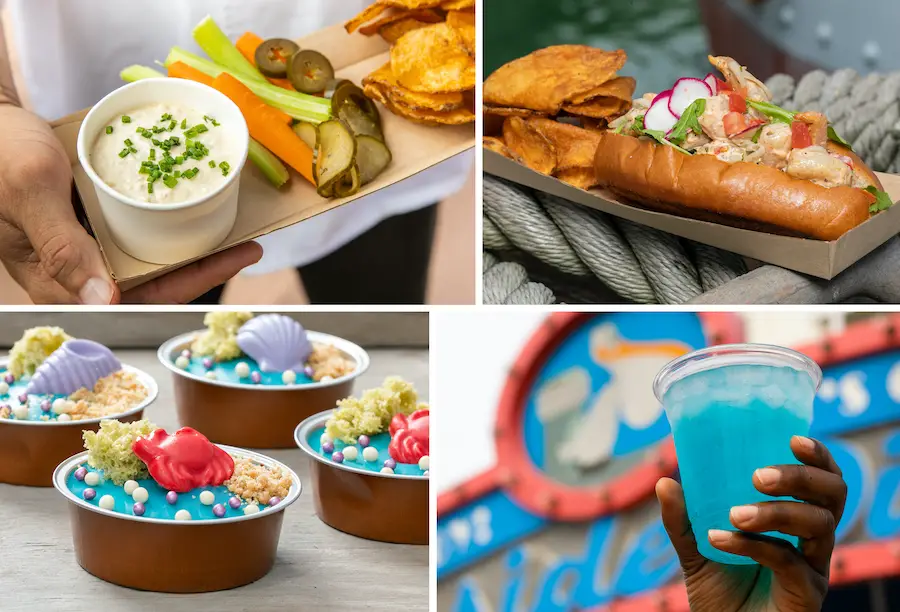 At Disney's Hollywood Studios, Dockside Dinner reopens on August 22nd. This location has plenty of outdoor seating and can be found next to Echo Lake. It will also have some new offerings upon reopening.
Shrimp Salad Roll – Shrimp, arugula, tomatoes, pickled shaved fennel, and sliced radish tossed with rémoulade sauce on a brioche butter bun served with seasoned house-made chips
Chipotle Chicken Salad Roll – Roasted pulled chicken salad with red onions, celery, tomatoes, and watercress tossed with chipotle aïoli and topped with fried onions on a brioche butter bun served with seasoned house-made chips
Smoked Fish Dip served with seasoned house-made chips, celery, carrots, jalapeños, and pickles
Seaside Brownie – Chocolate brownie topped with white chocolate ganache and seaside garnish
Blue Sea Margarita – Tequila, blue Curaçao, and sweet-and-sour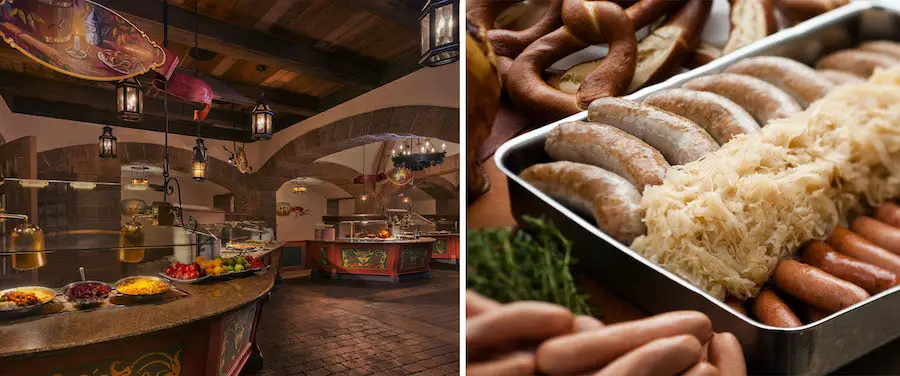 Over at EPCOT in the Germany Pavilion, the Biergarten Restaurant has been open but the buffet is now returning! Starting on August 29th, a buffet will be offered for both lunch and dinner. The food will include pretzel rolls, bratwurst, spätzle, schnitzel, and a variety of desserts, including apple strudel and black forest rolls.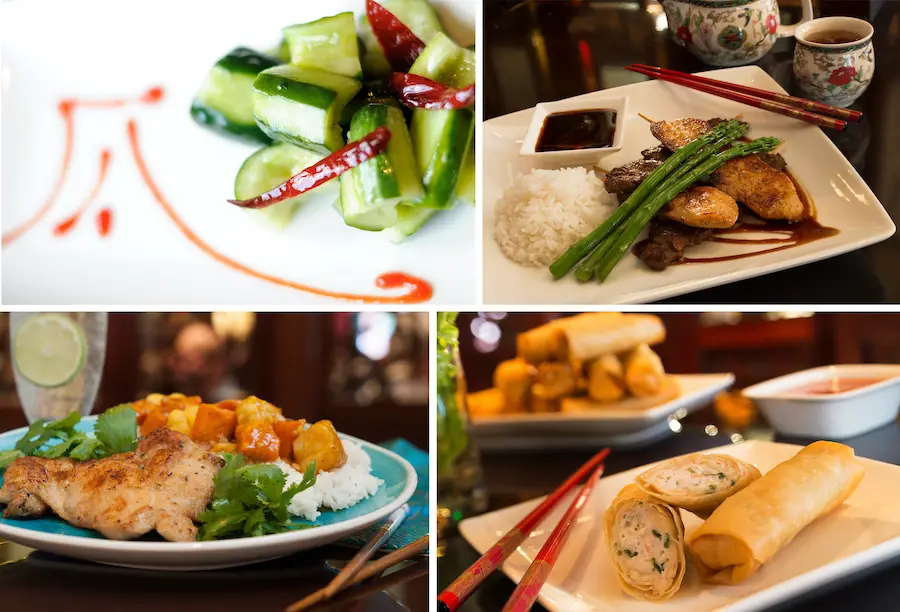 Over at the China Pavilion, the Nine Dragons Restaurant is again open for dinner. It offers the Cantonese, Mongolian, Szechuan, Hunan, and Kiangche-style specialties. Currently open Tuesdays through Saturdays, guests can start a meal off with Sichuan Chicken Dumplings, Crispy Duck Bao Buns, or the House Hot & Sour Soup. Entrées include dishes such as Kung Pao Duo, Salt and Pepper Shrimp, Spicy Honey Crispy Chicken, and Kowloon Spare Ribs.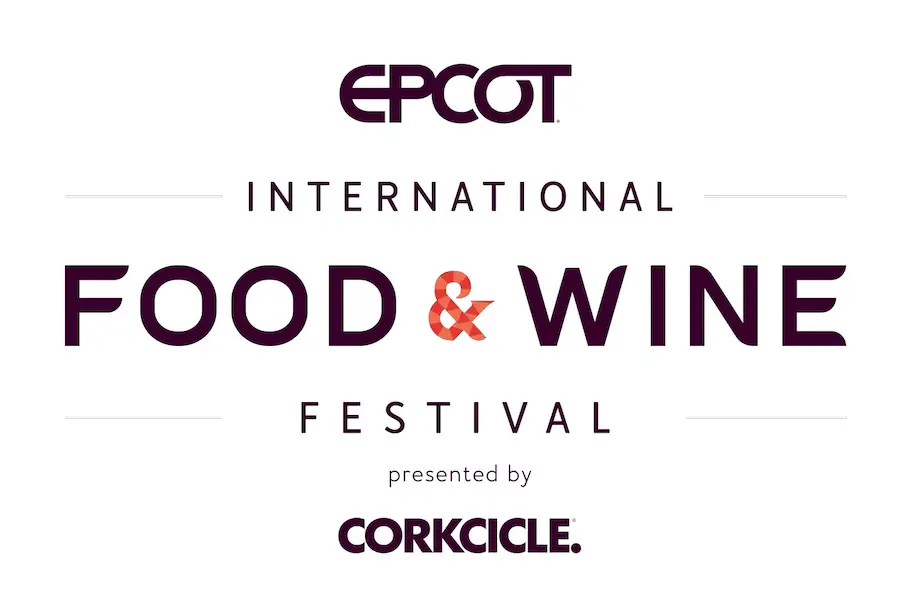 The EPCOT International Food & Wine Festival presented by CORKCICLE also opened seven new Global Marketplaces on August 15th.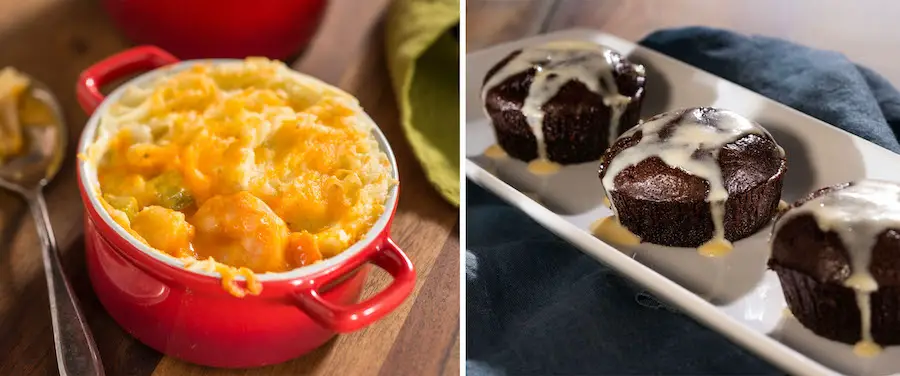 Ireland (Near United Kingdom) 
Food:
Fisherman's Seafood Pie 

Roasted Irish Sausage with Colcannon Potatoes and Onion Gravy 
Warm Chocolate Pudding Cake with Irish Cream Liqueur Custard 
Beverages:
Kilkenny Irish Cream Ale 

Bunratty Mead Honey Wine 
Guinness Baileys Shake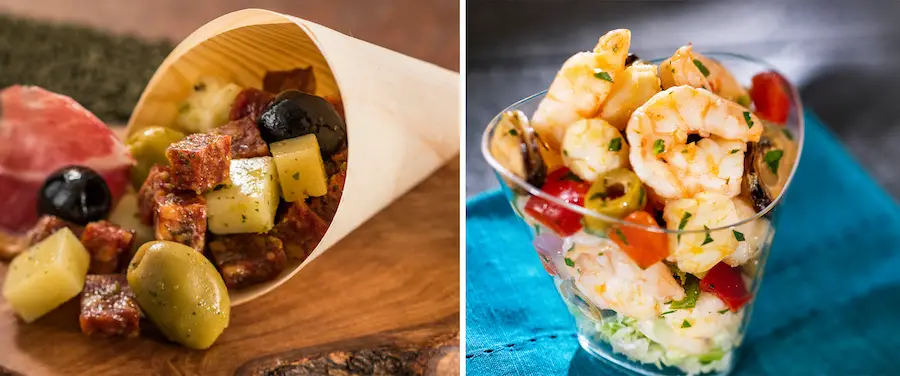 Spain (Between Italy and Germany) 
Food:
Charcuterie with a selection of imported Spanish Meats, Cheeses, and Olives with an Herb Vinaigrette (gluten/wheat friendly) 
Spanish-style Paella with Rice, Chorizo, and Shrimp (gluten/wheat friendly) 
Seafood Salad with Shrimp, Bay Scallops, Mussels, Extra Virgin Olive Oil, White Balsamic Vinegar, and Smoked Paprika (gluten/wheat friendly) 
Beverages:
Estrella Galicia Cerveza Especial Lager (new)
Avaline White Blend (new) 
Faustino VII Rioja Rosado (new) 
Espelt Garnacha 
Wine Flight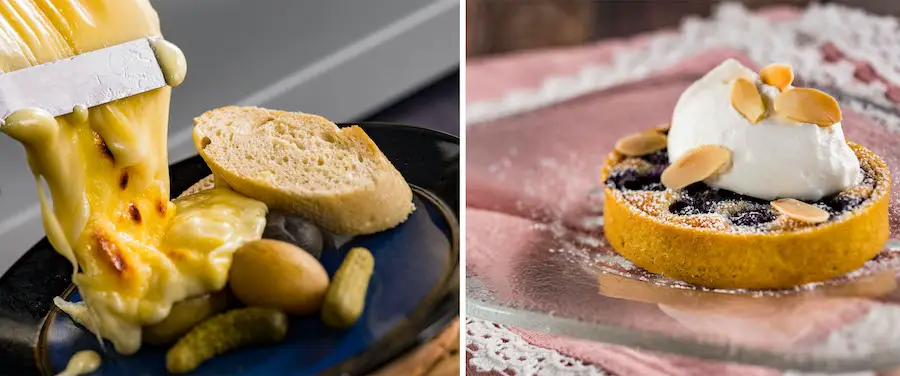 The Alps (Near Germany) 
Food:
Warm Raclette Swiss Cheese with Alpine Ham, Baby Potatoes, Cornichons, and Baguette 
Warm Raclette Swiss Cheese with Baby Potatoes, Cornichons, and Baguette
Blueberry and Almond Frangipane Tart with Crème Fraîche  
Beverages:
Huber Vision Grüner Veltliner, Austria (new)
Cave De La Côte Rosé Gamay, Romand 
René Favre Dôle, Chamoson 
Frozen Rosé 
Wine Flight
Kenya (Outpost) 
Food:
Kenyan Coffee Barbecue Beef Tenderloin with Sweet Potato & Corn Mealie Pap and Kachumbari Slaw (gluten/wheat friendly) 
Piri Piri Skewered Shrimp with Citrus-scented Couscous 
Beverages: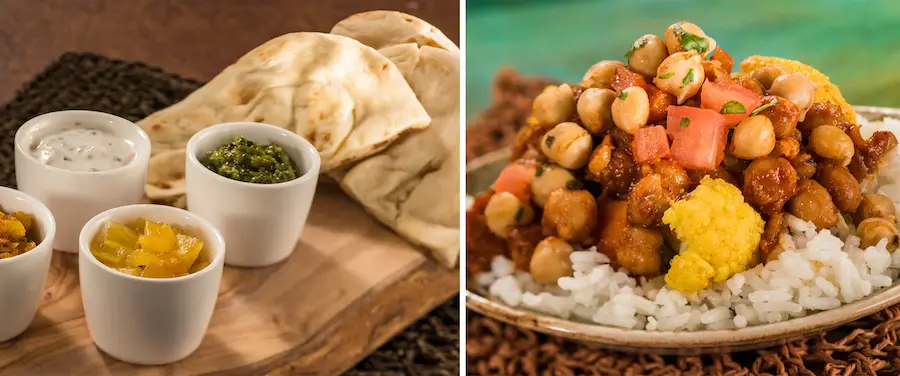 India (Near China) – Opening Oct. 1
Food: 
Warm Indian Bread with Pickled Garlic, Mango Salsa, and Coriander Pesto Dips 
Korma Chicken with Basmati Rice, Crispy Chickpeas, and Spiced Yogurt Sauce (gluten/wheat friendly) 
Madras Red Curry with Roasted Cauliflower, Baby Carrots, Chickpeas, and Ben's Original Basmati Rice (gluten/wheat friendly; plant-based) 
Beverages:
Mango Lassi (non-alcoholic) 
Taj Mahal Premium Lager (new) 
Sula Brut Tropicale Sparkling Wine, Nashik (new)
Sula Chenin Blanc, Nashik 
Mango Lassi with Sōmrus Chai Cream Liqueur 
Select Dishes featuring Melissa's Produce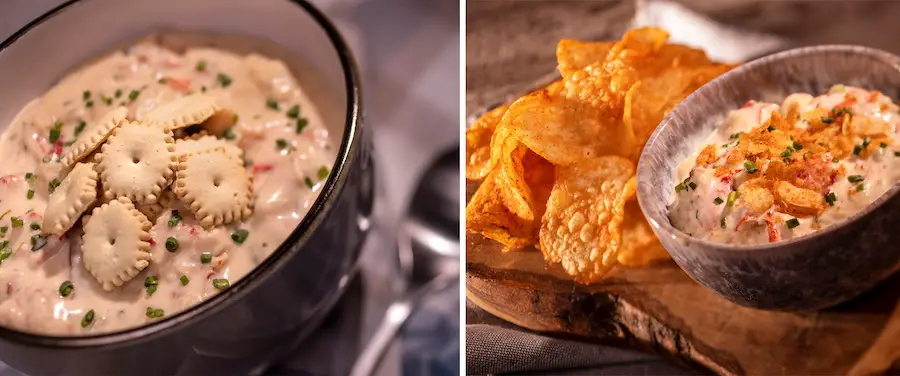 NEW! Lobster Landing (Near Mission: SPACE) 
Food: 
New England Lobster Tail with Lobster Bisque Sauce (new)
Lobster Chowder with Bacon, Corn, Potatoes, and Oyster Crackers (new) 
Baked Lobster Dip with Old Bay Chips (gluten/wheat friendly; new) 
Beverages:
Coronado Brewing Co. Salty Crew Blonde Ale, San Diego, CA (new)
Steenberg Sparkling Sauvignon Blanc, South Africa (new)
Sean Minor Chardonnay, California (new)
Cape Codder: Vodka with Cranberry, Pomegranate, and Lime (new)
Select Dishes featuring Melissa's Produce
NEW! Mac & Eats (Near Mission: SPACE) 
Food: 
Traditional Macaroni and Cheese with Herbed Panko 
Truffle Macaroni and Cheese with Herbed Panko (new) 
Cowboy Macaroni and Cheese with Smoked Pork Belly, Brisket Burnt Ends, Pickled Peppers, and Onion Straws (new) 
Macaroni and Cheese with House-made Italian Sausage and Peppers (plant-based) 
Beverages:
81Bay Brewing Co. Lemon Hazy IPA, Tampa, FL (new)
L'Ecole No. 41 Chenin Blanc Old Vines, Columbia Valley, WA 
Evolution by Sokol Blosser Pinot Noir, Willamette Valley, OR 
Select Dishes featuring Melissa's Produce