July is, of course, an important month for fans of Disneyland. July 17 is the anniversary of the day that Walt's dream was officially revealed to the public. July 18, by the way, is the actual opening day, but we won't get into that.

The events of July 17, 1991 were not as auspicious as the previous year's festivities. In fact, they were so forgettable that I have forgotten them. (And that has to pretty forgettable!)

Strangely, I have not forgotten something entirely different that July that has slipped between the cracks of Disneyland Resort history. Readers here will remember that 1990 was declared the starting point for "The Disney Decade," a glorious era that would see the addition of many, many exciting new attractions, culminating in the unveiling of Disneyland's sister theme park, Westcot Center!

The announcement of the expansion of Disneyland was expected to be greeted with swift acceptance by the powers-that-be in Anaheim. But the scale of the plans and certain… expectations… on the part of the Walt Disney Company did not turn out as the Burbank studio powers-that-be wanted. In fact by the summer of 1990 things were so bogged down with Anaheim that in July, Disney somewhat unexpectedly announced plans to construct a theme park in Long Beach, one oriented to the ocean, with the name Port Disney.

Now, many people over the years have advanced the notion that Port Disney was never intended to be built. According to various theories, it was only promoted by Disney as a way to threaten to withdraw from Anaheim and spread the pixie dust over a completely different part of southern California. In fact, while no real information was available about "Port Disney," the Company was moving ahead aggressively with plans at their flagship park, Disneyland.

In February 1991 Disney purchased 23 acres of land to the southeast of Disneyland and then offered to take out a 99-year lease on the adjoining 32 acre Fujishige farm. In May, they announced full plans for the Disneyland Resort, with Westcot Center, three new hotels, an entertainment district, an extensive internal transportation system, and an "expansion" district that occupied their new property, as well as the Fujishige farmland.

But once again, the Anaheim powers-that-be and the Disney powers-that-be did not see eye to eye. Even the Fujishige family weighed in, pointing out that they had not reached any kind of agreement with Disney, let alone one that would turn their farm into "expansion."
So it was that in July that Disney finally began to promote Port Disney, and its signature attraction, the Disney Sea theme park. The initial effort was a somewhat modest publication that appeared in July. "Port Disney News" was published "as a service to the Long Beach community by The Walt Disney Company," according to some very small text in the banner head.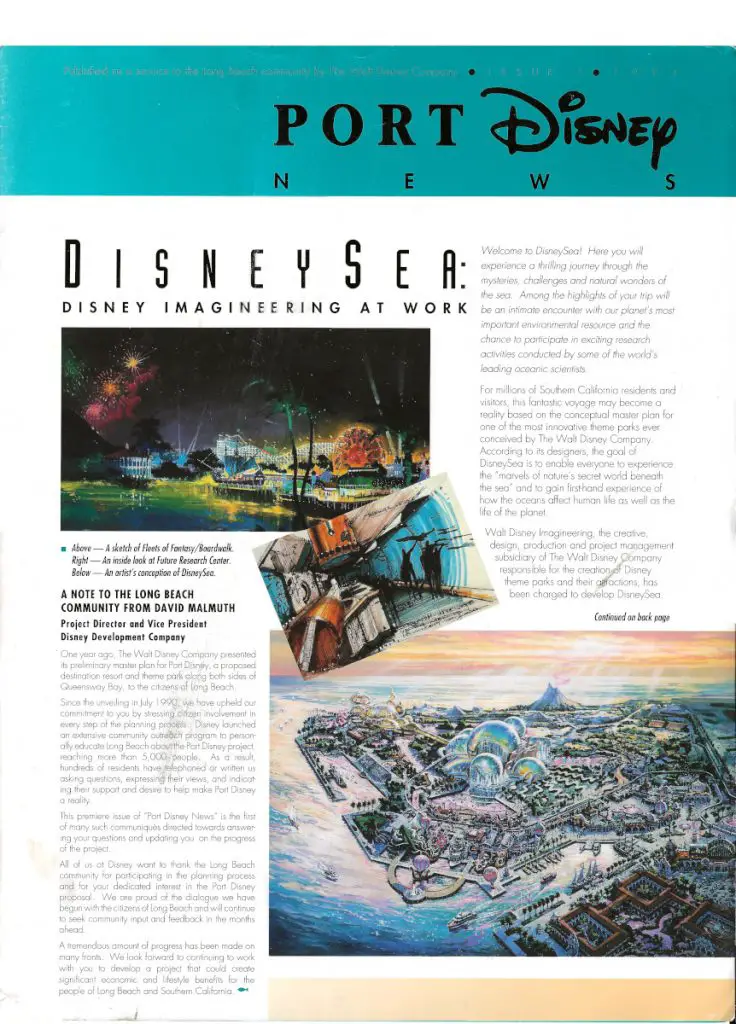 The lead article was written by David Malmuth, Project Director and Vice President Disney Development Company (how magical is that?). The article promised that the last year had been spent tirelessly planning the splendors of Port Disney, soliciting community involvement, and making sure that the new theme park would be entertaining, educational, an economic boon to the city, and magical. Also an economic boon to the city. With community involvement. And did I mention it would be an economic boon?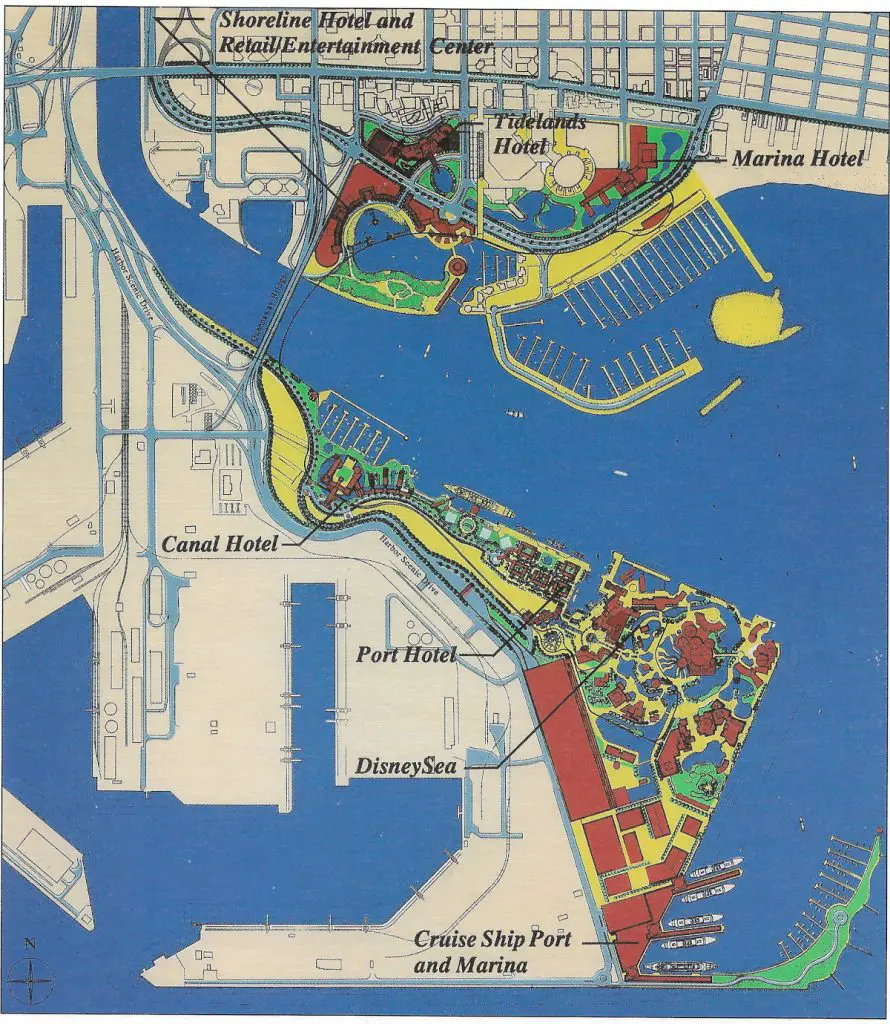 There was a preliminary Master Plan…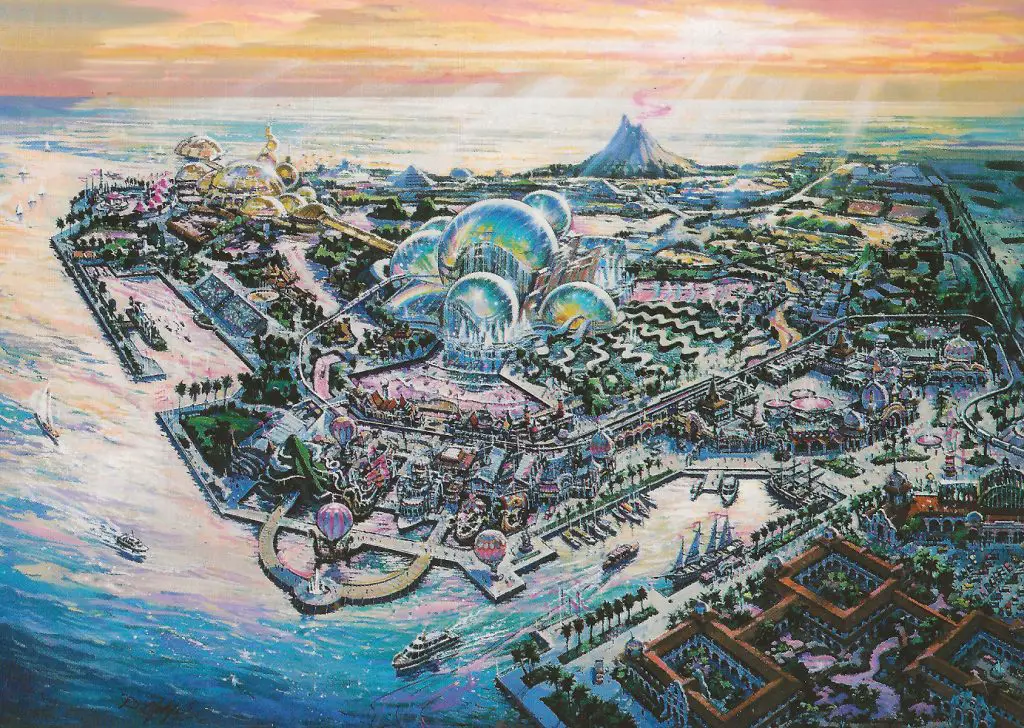 …and a preliminary rendering of Disney Sea.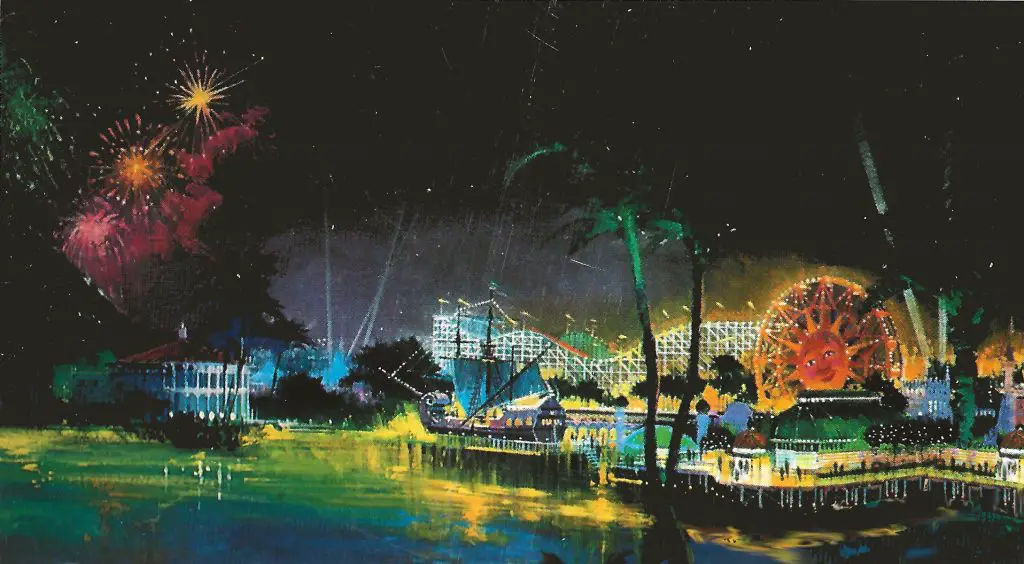 There was an alluring night shot showing fireworks over the ocean and a boardwalk with a traditional roller coaster and a giant Ferris wheel decorated with a smiling golden sun.
There were panoramic renderings of… places… where people could… do things… and… have fun. Or learn stuff.

There were also charts and graphs showing how Port Disney would be an economic boon to the City of Long Beach. Not to the City of Anaheim, which was still dragging its heels over the Disneyland Resort.

Also missing were renderings of the five new proposed hotels that would surely be an additional economic boon to the City of Long Beach. On the Port-Side would be the 500 room luxury Port Hotel, as well as the 1,400 room deluxe Canal Hotel. They would be joining the Queen Mary, which would continue to serve as an "important marquee for Queensway Bay." On the City-Side were the 900 room first-class Tidelands Hotel, the 400 room, suite Shoreline Hotel and Specialty Retail Center, and the 700 room first-class Marina Hotel.
All of this and more could be further scrutinized at the Port Disney Preview Center, available to the citizens of Long Beach aboard the Queen Mary. The special center was housed in a room on the Promenade Deck in Picadilly Circus. Visitors were welcome to drop by any time, as long as it was Monday or Wednesday evenings from 6 pm to 9 pm. But admission and parking were free, comped by the friendly folks at the Disney Development Company. Don't forget your free bumper sticker on your way out the door.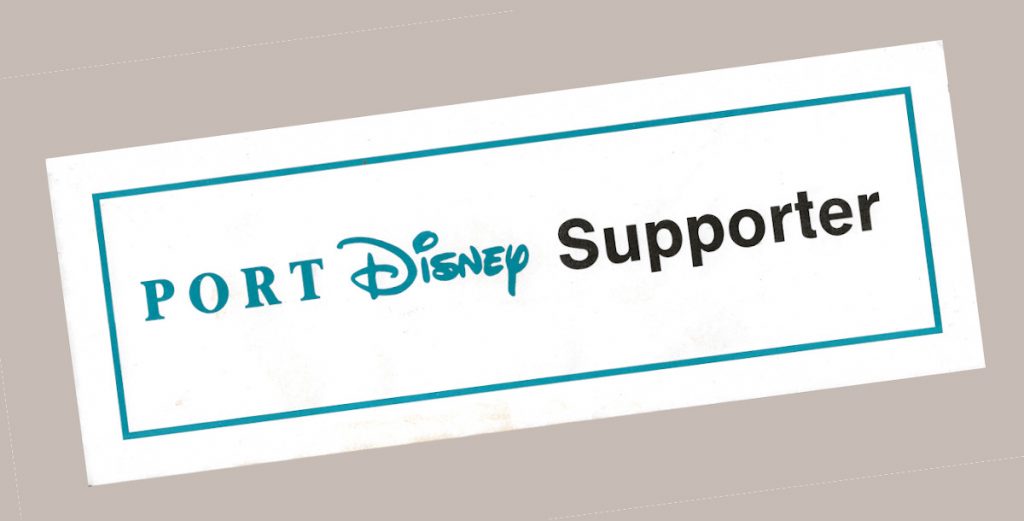 Was it real? Was it really real? Or was it just a cynical ploy to get Anaheim to come to terms? And what would be the final outcome: Port Disney in Long Beach… or the Anaheim Resort? You will have to wait until December 1991 to find out. (SPOILER ALERT: "Anaheim wins!")