Avengers Campus is now open at the Disneyland Resort for guests visiting Disney California Adventure. This new land is dedicated to Marvel's Super Heroes and lets guests experience what it is like to live among and even become a Super Hero! Throughout the day guests can sling webs with Spider-Man (and see him fly high through the sky above WEB-SLINGERS: A Spider-Man Adventure), see Black Widow face off against Taskmaster, learn the disciplines of the Dor Milaje or the mystic arts from Doctor Strange. They can also drop by The Collector's Fortress to rescue the Guardians of the Galaxy. On top of all of this, there is food, shopping, and other surprises to experience around the land!
With all there is to do in the land, it can get overwhelming to know how to go to Avengers Campus and get the most out of a day at Disney California Adventure. Here are a few things to know before you go for the best experience at Avengers Campus!
Virtual Boarding Group – Be ready to go at 7:00 AM to get your virtual boarding group for WEB-SLINGERS: A Spider-Man Adventure. When your boarding group is called, this will also grant access to Avengers Campus. There IS a standby line that you can hop in if you don't get a boarding group at 7:00. You can also try again at 12:00 PM if you don't get a boarding group at 7:00 AM.
To get your virtual boarding group, have the Disneyland App open at least one minute before 7:00 AM/12:00 PM. At the top of the hour on the dot, click "Join Boarding Group." Then pick the park you are going to (in this case Disney California Adventure). Finally, enter the WEB-SLINGERS: A Spider-Man Adventure virtual queue and hopefully see what number you get!
Have ALL of your party's tickets linked together in the app the day before so you don't get slowed down.
Have someone in your group do a countdown to the second so you can join the boarding group the moment it opens. These go FAST so you want to be as close to the top of the hour as you can.
Food & Beverages with Mobile Ordering – Mobile ordering is utilized to order both food and beverages in Avengers Campus at Pym's Test Kitchen and all of the other dining locations. Once you have a virtual boarding group for WEB-SLINGERS: A Spider-Man Adventure, check the approximate length of time it gives for when your group will be called. This can be done in the Disneyland App by clicking on "My Queues" on the home page in the Virtual Queue section. Once you see how long it will be, immediately mobile order the food and beverages you want for while you are in the land at a time that is at least an hour after your projected entry for WEB-SLINGERS. This will give you a buffer for entry into the land and to experience the attraction within its time window.
Do not make a mobile order earlier than your entry time. While these orders were accommodated for part of the opening day, it does not appear that this is happening any longer. This is why you will want to make a buffer between your virtual boarding group projected time and your mobile order.
Mobile ordering is now only available to those inside the land. Mobile order as soon as you enter the land.
If your entry into the park is later in the day, mobile order something to hold you off from outside of Avengers Campus.
Seating is limited but the queue for the Hyperion Theater has been turned into a dining area. This is the easiest place to find a bench or table to eat.
Shopping – There are shopping locations found in Avengers Campus. The main one, Web Suppliers, has very limited capacity. If you want to get Avengers Campus merchandise but don't need the experience of visiting Web Suppliers, instead head to Stage 17's Disneyland Resort Backlot Premiere Shop that is currently featuring merchandise from Avengers Campus and other Marvel merchandise. A manager at the shop told DAPS MAGIC that it has all the merchandise from Avengers Campus. Shopping here will save time over waiting in line for Web Suppliers. It also is a great stop while waiting for your boarding group to be called. And just outside Mickey, Minnie, Chip, and Dale can be found dressed in their Avengers best currently!
Hydration – Make sure to stay hydrated while in the land! It gets very warm in the land and there isn't a ton of shade. Bring a hydro flask or buy a water bottle ahead of time so as to avoid waiting for a mobile order to get water. Also, over by Doctor Strange's Ancient Sanctum, there is a water fountain and water bottle refill station.
Entertainment – There is a LOT of entertainment to be enjoyed at Avengers Campus. In general, most of it can be found by standing in front of Avengers HQ. Wait long enough, something will happen. Different "shows" happened throughout the day from opening until the late afternoon.
Doctor Strange also visits the Ancient Sanctum throughout the day as well and capacity is very limited. If this is something you really wish to see (and we highly suggest it), be prepared to wait for a while.
Spider-Man will soar above the skies over WEB-SLINGERS: A Spider-Man Adventure multiple times a day. The best place to watch this is across from where you can meet Spider-Man near the main entrance of Avengers Campus. This happened almost hourly starting with the park opening and then tapered off late afternoon.
Showtimes are not currently being shared. Keep your eyes open and when you see people starting to all look in one direction, it's a pretty good indicator.
Legacy Passholders Photo Location – There is an exclusive photo location for Legacy Passholders near the Cars Land exit for Avengers Campus. A Disney Photopass photographer is on hand to take photos all day.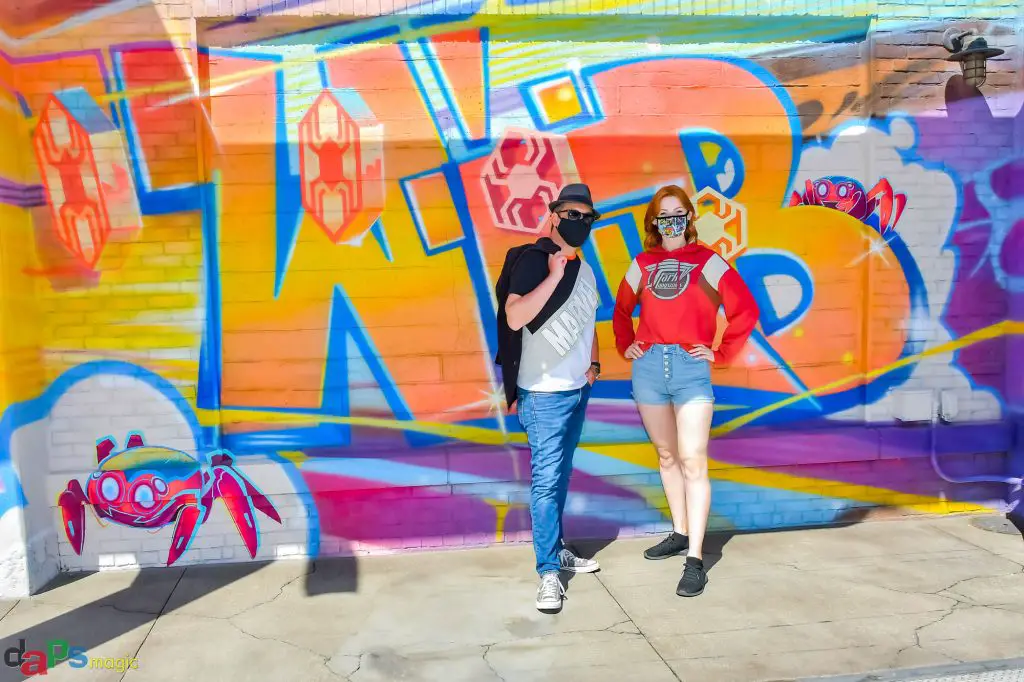 Photography/Photo Opportunities – Avengers Campus is a great place for photos! There are lots of photo opportunities for guests to take photos of their favorite Super Heroes but the land itself is fun to shoot as well! For those looking for specific places for photos, here are a couple of photo locations:
Near the Avengers "A" on the left side of Avengers HQ is a great place for a photo. Some of the Avengers appeared there throughout the day and night, but this is also a great place to just take a photo in the land of yourself.
Across from Avengers HQ there is a curved multi-level cement bench. Throughout the day, Earths' Mightiest Heroes can be found climbing to the top of this and taking photos with and for guests. This is also where the Dora Milaje appears for their training session.
The Ancient Sanctum and surrounding area is just an awesome place for a photo, especially at night. The area is absolutely beautiful!
The entrance to Avengers Campus with WEB-SLINGERS: A Spider-Man Adventure and Web Supplier is a great shot both during the day and night. Time it right, you might get Spider-Man in it also!
The Avengers Campus logo at the main entrance of the land is an instant popular place to take and get photos with or without people in them (without is much harder).
The spray-painted wall on the side of WEB-SLINGERS: A Spider-Man Adventure is a fantastic place for photos, especially if taking one for Instagram!
Guardians of the Galaxy – Mission: BREAKOUT! is still a fantastic location at Avengers Campus. This structure looks even more impressive now that it is a part of Avengers Campus!
Plan Ahead But Be Flexible – The best-laid plans are the ones that are flexible enough to change the realities of the moment. Definitely make plans for your visit to Avengers Campus utilizing the tips found above and the information found on the DAPS MAGIC Avengers Campus page. Plan on how long you want to stay, what you want to eat and drink, the photos you potentially want to take, the attractions you want to experience, and what else you want to do at Disney California Adventure while you are there. Remember to be flexible and kind though as circumstances change. This will make for a much less stressful day and instead be a day filled with magic!
Be Kind – Remember, everyone wants to have a great day at Disney California Adventure and Avengers Campus. This goes for both guests and Cast Members. Approach every situation with kindness (even if it doesn't feel like you should or maybe you have a reason to not be so kind) and the day will go better for everyone!
Avengers Campus is a wonderful place to visit for fans of the Marvel Super Heroes and those who just love an incredible Disney experience. We hope these tips are helpful for you on your next visit to the Disneyland Resort and Avengers Campus. If you have any tips of your own, feel free to add them in the comments below!