We are just two days away from the first-ever virtual CHOC Walk in the Park! To celebrate this incredible fundraising experience, Disney is highlighting Disney Imagineer Katie Barnes, who spent years growing up in the Children's Hospital of Orange County. Barnes has had the opportunity to create magic in children's hospitals, even CHOC!
"The first time I walked in, the memories came flooding back," said Katie, who was diagnosed with a rare kidney disease and spent about seven years in and out of CHOC , beginning when she was only over a year old. "The idea that I would have the opportunity to be part of bringing smiles and positivity to not just the children here who are going through such a difficult time, but also to the families and the staff, well, it's just really special."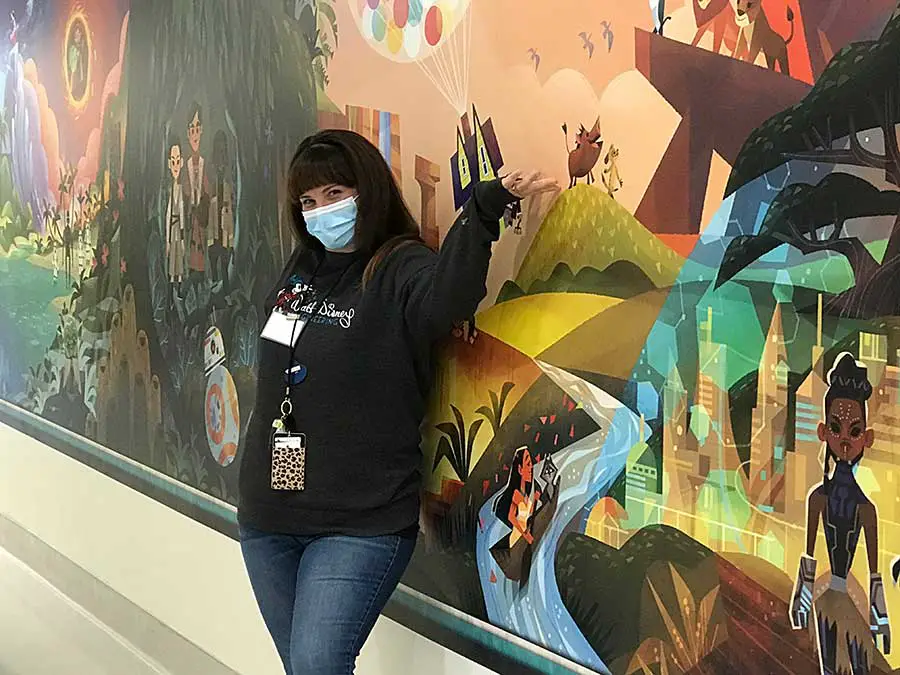 This special project has dedicated $100 million to contribute the magic to children's hospitals. This money allows the entire company to come together to create magical memories and sustainable solutions. This specific part of the project involves the murals with the Team of Heroes app, in which patients and staff can watch the murals come to life from their smart device. Other elements include magic windows, magic art, and play spaces that draw the patients into the enchanting world of Disney storytelling; Disney-themed Starlight Gowns and care packages inspired by favorite characters; complimentary access to movie and TV content through the Disney Movie Moments program, Disney+, and DisneyNOW apps; and children's hospital-centered Disney Institute training and themed staff badges to enhance the engagement between the patients and caregivers.
Disney Imagineer Katie Barnes has noted how she's already watched the magic come alive to patients and staff inside the hospital. "During installation, kids and staff would stop and say, 'Whoa — there's The Incredibles! Whoa — that's Star Wars!' The emotion these characters trigger and the change in attitude is immediate and so gratifying."
Katie will also have a chance to watch the difference this makes first hand as her project comes to life at Children's Hospital of Los Angeles, where her daughter is undergoing treatment for the same kidney disease she has. "I get to experience this as a designer, as an Imagineer and through the memory of what I went through," she said. "But to get to experience it from the eyes of a parent and see my daughter's enthusiasm and smiles, well it makes the magic of what we do that much stronger."
Are you ready to get involved with this year's virtual CHOC Walk in the Park and help make a difference? Be sure to join or support our team at chocwalk.org/dapsmagic!