The Disney Cruise Line's newest ship the Disney Wish will be taking her inaugural cruise on June 9, 2022. One of the big questions many Disney fans have been asking is, "how much will it be?" That answer has now been answered as Disney has posted the prices for the Disney Wish on the Disney Cruise Line website. While prices for the inaugural cruise are higher, general prices seem to be fairly close to what is expected for one going on a Disney cruise.
The inaugural cruise for the Disney Wish has pricing ranging from $5,769 for an inside room to $9,439 for a concierge room.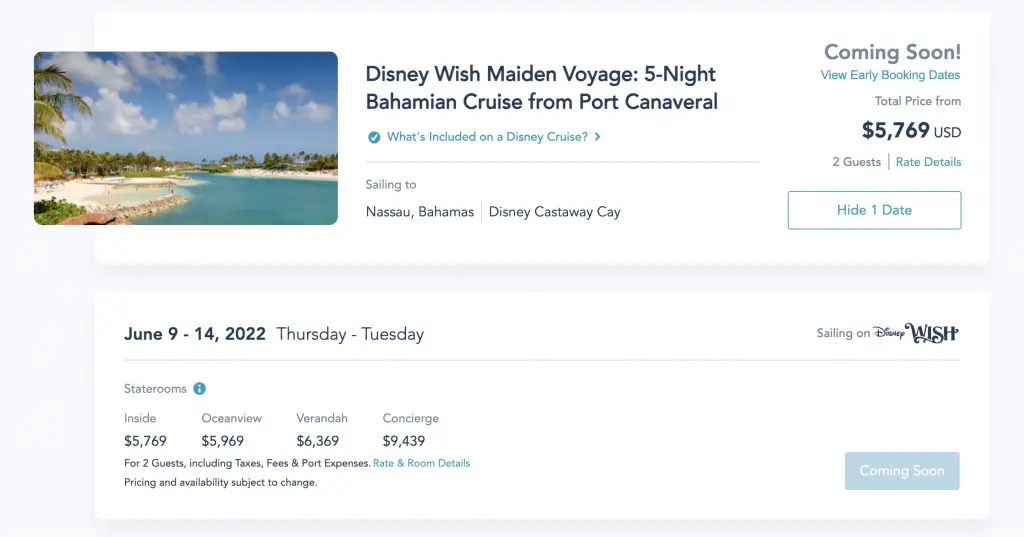 Following this cruise, prices come down significantly. The following weeks' prices start as low as $1,827 for an inside room for a three-night Bahamian Cruise or $2,061 for a four-night Bahamian Cruise. The high end for these cruises currently top out at $4,243 for the second cruise and tapers off for the three-night cruise. The four-night cruise also tops out for the second cruise at $5,728 and then has lower prices throughout the summer as well.
The Disney Wish will be leaving from Port Canaveral for its Bahamian cruises starting on June 9, 2022. The aforementioned rates are for rooms with two guests and include taxes, fees, and port expenses. As with all things travel-related, the prices are subject to change. It is unknown how much the newly announced Wish Tower Suite will cost at this point.
Cruises aboard the Disney Wish can begin to be booked on the following dates:
May 17 – Platinum Castaway Club Members with 25 or More Sailings
May 18 – Platinum Castaway Club Members with 20 or More Sailings
May 19 – Platinum Castaway Club Members with 15 or More Sailings
May 20 – All Platinum Castaway Club Members
May 24 – Gold Castaway Club Members
May 25 – Disney Vacation Club Members and Adventure Insiders
May 26 – Silver Castaway Club Members
May 27 – General Public
If you would like more information on booking a Disney cruise, or specifically a cruise aboard the Disney Wish, stop by Mouseways Travel for all of your Disney travel needs! Mouseways Travel is the official travel partner of DAPS MAGIC! Book your next Disney cruise at mouseways.com/dapsmagic.
What do you think of these rates for the Disney Wish next year? Will you be cruising on the Disney Wish? Share your thoughts and opinions in the comments below!