Today announced the opening of a new store at EPCOT and the return of a fan favorite. Both will be opening this summer.
Creations Shop
Creations Shop will be the replacement of Mouse Gear at EPCOT. This new store will be the main store at EPCOT for picking up souvenirs. However, this won't just be a store. Disney is changing the shopping experience to make it more magical and also to connect it to the larger EPCOT experience. Imagineers have gone to great lengths to not only connect this store's design with EPCOT's past but also use it to look forward to the future.
The design is bright, bold, and sleek. Windows line the walls offering natural light and a connection to nature, even while indoors. The goal is to create a bright and welcoming environment. New colors, materials, and even light are being utilized to help create this new magical shopping experience.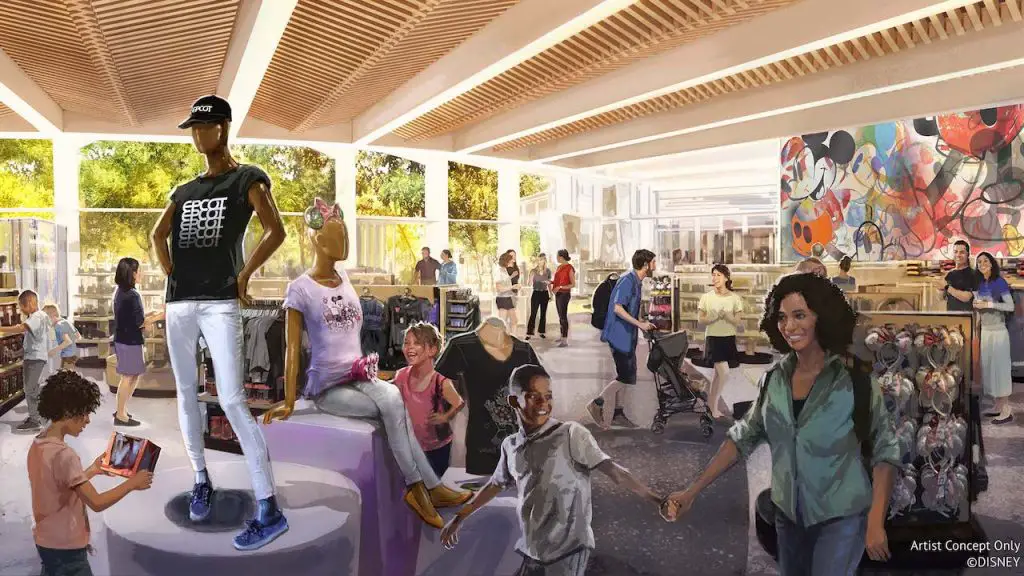 One of the noticeable icons in the concept art is a large mural of Mickey Mouse on the wall. The Imagineers were inspired by Mickey as the "subject for creativity." However, this won't be just the classic Mickey everyone is used to. Throughout the store, there are homages that include some large and eye-catching murals. The Disney Parks Blog explained that there will also be other artistic expressions that will "showcase the global, contemporary icon that Mickey has become for generations around the world." This will be an art program that will feature original works that will fill the Creations Shop. This will be there "as a testament to the park's ability to inspire the dreamer in all of us." 
Disney hopes that Creations Shop will be more than just a shopping location, but part of an experience that will be able to be taken home. This will help extend the Disney storytelling while also encouraging guests to also explore creativity and expressiveness. It is also hoped that this shop will be an experience worthy of the park's vision and tradition.
Club Cool
Next door to Creations Shop, Club Cool will be finding its new home. Sponsored by Coca Cola, this new iteration of Club Cool "will celebrate Coca-Cola in a fresh new way." It promises to bring back the "fan-favorite experience" that allowed guests to explore drinks from around the globe. Club Cool is also promising some new magic when it opens this summer that will bring the "global experience of Coca-Cola to life."
The opening of Creations Shop and Club Cool will be yet another milestone in the continued transformation of EPCOT. Recently, the new entrance and fountain in front of Spaceship Earth were unveiled at EPCOT. The Creations Shop and Club Cool will be a part of the new area of the park called World Celebration.
Creations Shop and Club Cool will both be opening this summer at EPCOT. What do you think of what you are seeing of them so far? Share your thoughts and opinions in the comments below!