On view from Earth Day, April 22, 2021
"Conservation isn't just the business of a few people. It's a matter that concerns all of us. It's a science whose principles are written in the oldest code in the world, the laws of nature. The natural resources of our vast continent are not inexhaustible. But if we will use our riches wisely, if we will protect our wildlife and preserve our lakes and streams, these things will last us for generations to come."
—Walt Disney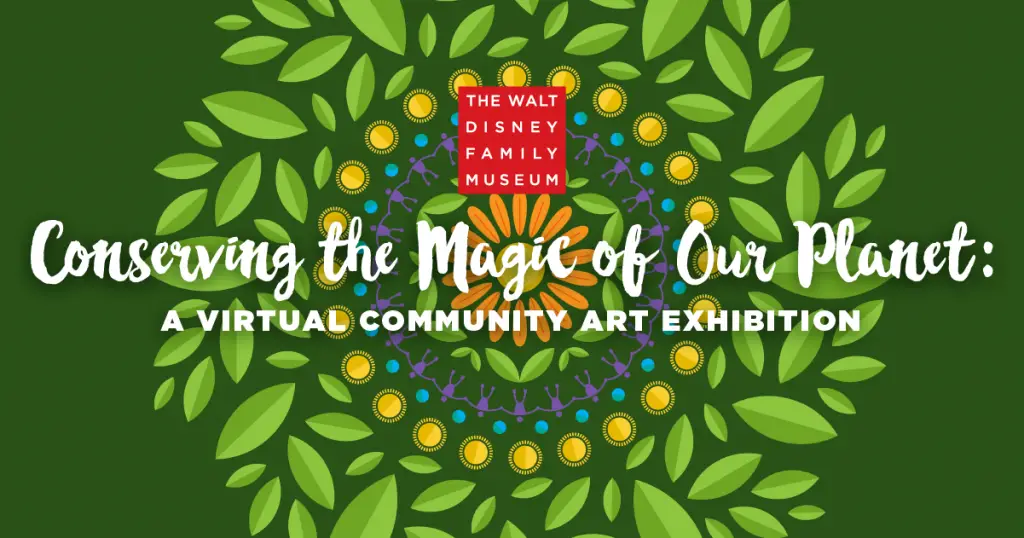 San Francisco, April 20, 2021—The Walt Disney Family Museum is honored to present its third virtual community art exhibition, Conserving the Magic of Our Planet. In celebration of Earth Day, the exhibition is inspired by Walt Disney's passion for stories based on our natural environment and his commitment to the protection of our planet. The exhibition will be virtually available to view through the museum's website and mobile app starting on Thursday, April 22 at 11am PT.
Conserving the Magic of Our Planet showcases a wide range of talent in the form of creations submitted by adult and teen artists not only from the Bay Area, but from across the United States and around the world, including Nicaragua, New Zealand, Mexico, and Spain. A curated selection of their 2D, 3D, and short film work will be on display in a 3D rendering of the Diane Disney Miller Exhibition Hall.
Walt Disney is not only celebrated for his lasting impact on our culture through the pioneering and perfecting of animation, family entertainment, and theme parks, but also for his reverence of nature and support for habitat conservation. Consistently ahead of his time, he recognized the importance of inspiring younger generations to both understand and actively protect our natural world and the diverse forms of life that share the planet with us. 
In the Academy Award®-winning True-Life Adventures series, Walt was the first filmmaker to pair never-before-seen wildlife footage with amusing and engaging storytelling. His audiences were transported to the plains, deserts, mountains, waterways, and forests of our planet, not as mere background scenery for human activity, but as real, balanced ecosystems that support a variety of fascinating creatures. The True-Life Adventures ultimately fueled a mainstream appreciation of wildlife conservation, created the template for the modern nature documentary, and set many conservationists on their career paths.
"Walt's appreciation for this planet was evident in his storytelling, as he and his team thoughtfully incorporated the magic of nature into his films and attractions," says museum Executive Director, Kirsten Komoroske. "This Earth Day, as part of our third virtual community exhibition, the museum is spotlighting Walt's commitment to conservation awareness with remarkable works from our global community. I am deeply grateful to all of the artists who participated in this important reminder—which Walt recognized decades ago—of our planet's fragility. The talented and passionate artists in this exhibition have made this inspiring virtual experience possible."
The 180 works that were selected for display in this immersive virtual experience have been arranged by medium, with galleries dedicated to photography, digital art, collage, film, 3D objects, and traditional pencil, oil, and watercolor paints. Guests will have the opportunity to independently navigate through each room with 360° views and options to zoom in to view additional information about each piece and its artist.
Conserving the Magic of Our Planet is the third in a series of virtual community art exhibitions sponsored by the museum during its pandemic-related closure that began in March 2020. The first exhibition, The World of Tomorrow, called upon amateur and professional artists of all ages to share their ideas and hopes for our future. The second exhibition, it's a small world, invited the museum's global community to share their visions for a just and equitable present.
Conserving the Magic of Our Planet: A Virtual Community Art Exhibition will be available to view free-of-charge at waltdisney.org/earth-day or on the WDFM mobile app from Thursday, April 22 at 11am PT.
ABOUT THE WALT DISNEY FAMILY MUSEUM
The Walt Disney Family Museum presents the fascinating story and achievements of Walt Disney, the man who raised animation to the level of fine art, transformed the film industry, tirelessly pursued innovation, and created a global, yet distinctively American legacy. Opened in October 2009, the 40,000-square-foot facility features innovative technology alongside a vast collection of historic materials and artifacts that bring Disney's achievements to life. Early drawings and animation, movies, music, listening stations, a spectacular model of Disneyland, and much more are presented in a myriad of interactive galleries. The museum is a 501(c)(3) nonprofit organization located in the scenic Presidio of San Francisco.