Jump to recipe
The Brisket Mac 'n Cheese is currently on the menu for Disney guests visiting Disney California Adventure for A Touch of Disney. One of the popular offerings at this special event is this Mac n' Cheese that is topped with smoked barbecue brisket, pickled red onions, and crispy fried shallots.
The Brisket Mac 'n Cheese is currently being offered at the Smokejumpers Grill for this special event and will continue to be on the menu when Disneyland and Disney California Adventure officially reopen on April 30th.
For those who aren't able to visit A Touch of Disney or just want to recreate this dish at home, Disney has shared the recipe so you can make it at home! Give it a shot and then share how it turned out in the comments below!
Brisket Mac 'n Cheese - A Touch of Disney at Disney California Adventure GEEK EATS Disney Recipe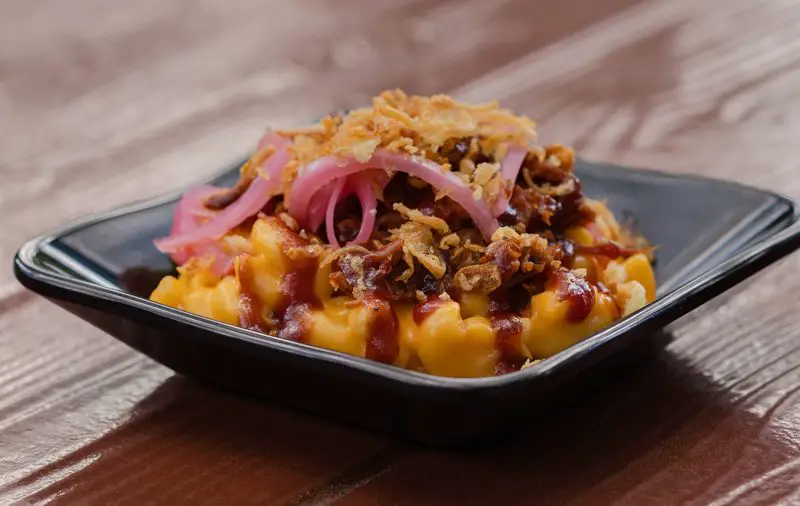 Notes
COOK'S NOTE: You can smoke your own brisket at home following directions for your particular smoker or simply pick up sliced smoked brisket from your favorite barbecue restaurant.
Note: Always use caution when handling sharp objects and hot contents. Please supervise children who are helping or nearby. This recipe has been converted from a larger quantity in the restaurant kitchens. The flavor profile may vary from the restaurant's version.
Ingredients
PICKLED RED ONIONS
1 red onion, thinly sliced
1 cup white vinegar
2 tablespoons sugar
1 tablespoon coarse salt
CRISPY FRIED SHALLOTS
1 tablespoon all-purpose flour
1 tablespoon cornstarch
1/2 teaspoon coarse salt
1 shallot, thinly sliced
1/2 cup canola oil, for frying
SMOKED BEEF BRISKET
1 pound smoked beef brisket (see Cook's Note below)
1 teaspoon garlic powder
1 teaspoon onion powder
1 teaspoon paprika
1/4 teaspoon chili powder
1/2 teaspoon coarse salt
1/2 teaspoon black pepper
MAC 'N CHEESE
1 pound elbow macaroni
Coarse salt, to taste
1/4 cup unsalted butter
1/4 cup all-purpose flour
1 cup milk
2 cups shredded cheddar cheese
1/2 cup cream cheese
Black pepper, to taste
TOPPING
1 cup favorite barbecue sauce
Instructions
FOR PICKLED RED ONIONS:
Place thinly sliced red onions in mixing bowl. Combine white vinegar, sugar, and salt in small saucepan. Bring to a simmer over medium-high heat.
Carefully pour over onions. Cool to room temperature.
Refrigerate until ready to serve.
FOR FRIED SHALLOTS:
Heat oil in frying pan until it reaches 350°F.
Combine flour, cornstarch, and salt in small bowl.
Dip shallots in cornstarch mixture and shake off excess coating.
Fry in hot oil for 1 minute, until crispy.
Drain on paper towels. Set aside.
FOR SMOKED BRISKET:
Shred or chop smoked beef brisket. Season with garlic powder, onion powder, paprika, chili powder, salt, and pepper.
Heat large skillet over medium heat for 5 minutes, until hot. Add brisket and cook for 3 minutes, until hot.
Keep warm until ready to serve.
FOR MAC 'N CHEESE:
Cook macaroni in salted water, according to package instructions. Drain and set aside.
Melt butter in Dutch oven over medium heat. Add flour and whisk until smooth and light brown in color.
Slowly add milk, whisking to break up any lumps that form. Whisk until milk begins to simmer. Reduce heat to low. Add shredded cheddar and cream cheese. Whisk until smooth. Stir in macaroni. Season with salt and pepper, to taste.
Keep warm until ready to serve.
TO SERVE:
Scoop mac 'n cheese onto each plate. Add smoked brisket. Top with drizzle of barbecue sauce, pickled red onions, and fried shallots.
© 2023 dapsmagic.com
How did it turn out? What'd you think of it? Share your thoughts and opinions in the comments below!