Of course by now the world has heard that Disneyland is reopening on April 30, 2021 after over a year of having its gates closed.  Those that have been clamoring to go are probably having sighs of relief.  Yet, there isn't much in the way of details for what to expect and how to go about getting in.  Though I don't have any inside information, I do have a perspective from going to Walt Disney World within a month of its reopening.  Here's what I'm thinking to expect…
Capacity
Walt Disney World opened with limited capacity.  This was both regulated from a state level and company level.  What it meant was only those who made Park Pass Reservations could enter into a single park on a given day.  The good news is that it made incredibly low lines for attractions!  I went to the resort in August about a month after it reopened.  Even in that time I was able to go from ride to ride like I had never been before.  Even Seven Dwarves Mine Train which usually sees lines of a half-hour around park opening stayed low throughout the day and after timing it I waited in a 20-minute line toward the end of the day.
What this means for Disneyland, which will have similar capacity requirements, is that lines will be incredibly low.  And this is for both Disneyland and Disney California Adventure.  Expect to get on every ride you want to (well maybe except one which I'll get to) in one day.  It might still take some finessing of timing, but it's very possible to do based on my experience in the Magic Kingdom.  And all of that is possible because there will be no FastPass!  That's right.  Standby lines only.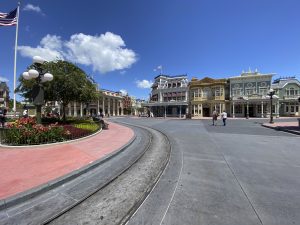 Wait Times
It might sound like bad news to not have Fast Pass, but don't fret.  Wait times that have been posted over in Florida are not what they actually are.  What I mean is that often a ride might say a half hour wait, but it will probably be 15-25 minutes.  The reason is that it is not easy to tell how long a wait is the way the lines will be to give accurate postings.  There will be physical distance markers which will make the lines appear to be much longer than they are.  You might see a line from the entrance of Peter Pan to Main Street, but the wait time could just be about 20 minutes.  My advice is to just hop in line.  The wait really won't be as bad as it appears.
That One Ride
When Disney's Hollywood Studios reopened it was announced that Rise of the Resistance would along with it.  However, it would not open the long awaited Stand By line.  Instead a slightly new Boarding Pass system would be used.  This would have guests able to get a pass at park opening and at 2 pm.  Adjustments were made and now it is that you don't have to be in the park at a 7 am time to get a pass.  You just have to have a Park Reservation.  A second opportunity now at 1 pm does require you to have made it into the park at some point between opening and that time in that day.
All that to say, expect a Boarding Pass procedure to be implemented at Disneyland when it reopens.  Will it be that 7 am outside of the park way?  Very possibly.  It stands to reason that what was learned in WDW this last year will be applied to the Disneyland Resort.  Whenever Avengers Campus opens it's possible that Web Slingers will board that way too.  The good news is it's much rarer to not get a Boarding Pass as long as you follow procedures.  And it means that there might possibly be two opportunities to grab the coveted pass.
Mobile Ordering and Food
As we are seeing with the Touch of Disney event, Mobile Ordering will expand at the Resort.  For Walt Disney World, this is the primary way of getting food.  The good news is not a lot of line standing for restaurants.  The bad news is that there could still be a bit of a virtual wait for grabbing food.  Much of it is going to be in the app, and don't expect to see all the usual dishes you saw before the park was closed.  There can still be in person ordering and purchasing, but it is a bit discouraged in favor of if you have a smart phone and a credit card.  In person ordering is encouraged for cash purchases and food-allergy ordering.
As far as table service, there will be limited capacity once those can open up inside parks.  For now, there won't be table service under the current county tier, but could happen sooner than later.  It will still have distanced tables which means less availability.  Expect to go to quick serve a lot more.  Since the hotels mostly have had buffets, don't expect those to be the same either, but be all menu based now.
Park Pass Reserving
Ah, the big question and concern – Park Pass Reservations.  Disney has stated that this would be implemented for both Walt Disney World and Disneyland Resorts before either reopened.  Think of it like grabbing a FastPass, only you are grabbing a park for a particular day.  And ONE park per day right now.  Yes, there is park hopping in Walt Disney World again, but I would not expect that to be in Disneyland in the first few months.  Once the passes are gone for particular day and particular park, that's it for that time.  It means it's reached the capacity.  But, for example, let's say you are looking at a day that Disneyland has all its Park Passes taken, but Disney California Adventure still has some.  You can get a pass for CA Adventure.  You can go to one of the parks that particular day.  But, not both.
NOW the big warning I have is about the day the system opens up.  I don't know exactly how it will go since no one has tickets or annual passes right now, whereas there were some obtained for Walt Disney World before the system went online.  My testimony is from trying to make reservations the very first day it was possible.  The system got flooded with people trying to get onto the site and make park reservations for their trip.  Then, after virtual queues, some of us were unable to make them once on that page.  The reason was that the computers were not seeing that there were tickets under accounts.  The way it was fixed for me was to call and talk through a guest service representative who was very helpful.  But, it took 8 hours of hold time within that first day.  However, it has all been fixed since then in Florida.
So, I just warn everyone that it could have some bugs in it that first day.  Bring some patience to your computer.
Another possibility in how it will all work is taken from Florida's current system in that there will be groups with separate availability.  WDW has three groups of Ticket Holders (those that bought tickets but aren't staying at a Disney designated hotel), Resort Guests (who must have some kind of ticket or pass), and Annual Passholders that each have their own availability.  One of those groups can be completely booked for one park, but not the other two.  An example is with October 1 of this year (which is Walt Disney World's actual 50th anniversary).  For Epcot, there are currently no Park Pass Reservations available for Annual Passholders.  But, there is availability for those that just have tickets or are Resort Guests.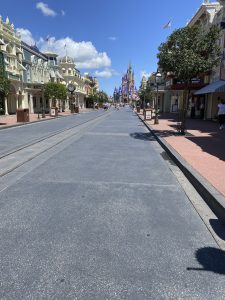 However, since Disneyland Annual Passholders are no more right now, I don't think there will be an Annual Passholder group.  That means it is just Resort Guests who have tickets and separate ticket buyers will be able to make Park Pass Reservations.  Also do not expect park hopping.  It will probably come back as it has in Florida, and in a new way, but not in these first days.  The other rather interesting thing to note is only Grand Californian will be open as far as Resort Hotels go for April 30.  If they have that group it means that only the limited amount of families staying there can utilize those reservations, at least for opening day.  The other two will open at a later date and can take advantage of the reservation category.  But, it all means that it might not matter and there is only one group of ticket holders.  We really don't know!
An interesting thing to note is from state regulations which, in some places, has wording of timed entries.  It could mean that some cannot be there right at rope drop.  Or, there will also be amounts of time in the park within the day.  If you had gone to Galaxy's Edge during its reservation time, that's what I'm thinking it will be like.  That requirement seems to be only within the current tier, and if case counts go the way they are going it won't stay in this tier for long.  It's just something to be aware of in making reservations.
Expect the Unexpected
In all, this is not going to be the "normal" visit to the park.  The bad news of that is things will seem very odd and there will be much more planning than the average Disneyland guest previously had.  The good news is this will not likely be forever, and will keep evolving within the year with capacity changes and things get generally better.  It is going to be a unique time to go, just as it was to go to Walt Disney World when it first reopened.  Sparse crowds.  Fun character interactions at a distance.  And stepping into the magic again!  I think just know that passes might not arrive at first, and there is that planning and patience to initially get back to the Resort.  But, I think we are all glad we are going to be able to again!