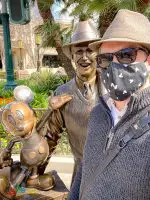 On Friday morning I entered Downtown Disney District at opening to check out Buena Vista Street on its last weekend as a part of Downtown Disney District. Next week, it will no longer be open to guests who want to wander in from the rest of Downtown Disney District in preparation for A Touch of Disney. This weekend also happens to be the one-year anniversary of when both parks at the Disneyland Resort closed. Those thoughts in mind, I brought my camera along to take some photos of Buena Vista Street one year later.
As I drove over to Downtown Disney District, it became quickly evident that there was quite the line for parking just before 10:00 AM. I quickly adjusted my plan and headed over to Harbor Blvd where several hotels have parking for $10 or $15 for Downtown Disney District guests. Once parked, I wandered back to the Disneyland Resort entrance. There was no line and only three other people walked in with me through the health and security screenings.
I entered the Esplanade moments after 10:00 AM. It was fairly empty. Physical distance markers could be seen filling most of the Esplanade indicating where the queues will be forming for entrance to Disney California Adventure for A Touch of Disney. The morning light was beautiful and made for some lovely photos.
I made my way over to the Disneyland side of the Esplanade and took some pictures of the entrance, which was still behind ropes. With the area empty it was nice to just enjoy being close to Disneyland on a quiet morning. The flowers were vibrant for the floral Mickey Mouse in front of Main Street Station. Cast Members could occasionally be seen going to different places as things are being prepped for guests' return by the end of April (hopefully!). A Cast Member still stood by guarding the entrance area.
After enjoying a few minutes near Disneyland, I decided I would head over to Buena Vista Street to check it out before things got too busy. This proved to be fortuitous as I was able to get some fairly empty shots around the area before the crowds started to show up. I slowly made my way into Buena Vista Street and then enjoyed taking quite a few photos around Carthay Circle of the Tabebuia trees which were blooming beautifully. The blooming of the Tabebuia trees is always a highlight every year at the Disneyland Resort. On a normal year, this would lead to beautiful spring pictures both in Carthay Circle at Disney California Adventure and also the Hub in front of Sleeping Beauty Castle at Disneyland.
After taking some photos of Carthay Circle, I made my way up into the dining area near Grizzly Peak towards the entrance of Cars Land. More Cast Members could be seen getting ready for A Touch of Disney. The extended Bountiful Valley Hideaway wasn't open at the time that I was there. A few people could be seen taking pictures or snacking in the area. Others were doing just what I was doing and taking photos.
After strolling around for a few minutes, I returned to Carthay Circle. Near the entrance of Bountiful Valley Hideaway, I took a picture of Carthay Circle Restaurant with some balloons in front of it. Then, I re-entered Carthay Circle to take more photos. More people were beginning to trickle onto Buena Vista Street by this time.
The next stop was a stroll through Grizzly Peak Airfield. This area was mostly empty as well. It was rather weird to think back to one day shy of a year ago when I had walked through this area on the last night that Disney California Adventure was open before closing due to COVID-19. A couple of people were grabbing food at Smokejumpers Grill but for the most part, the area was rather empty. As I wandered down towards the end to take a picture of the plane, I turned around and took a few photos looking back towards Carthay Circle with Guardians of the Galaxy – Mission: Breakout! I took quite a few more of the area as I made my way down and back, mainly because of how quiet it was.
Returning to Carthay Circle, I made my way across to Hollywood Land. This was the busiest area of the Buena Vista Street extension of the Downtown Disney District. I'm not sure if this was because it was now a little after 11:00 AM, because of the WandaVision photo opportunity, or because of the dining and shopping opportunities. Nevertheless, it was the busiest area I had been in so far during my visit. There were lines for both the WandaVision photo op and also for Off the Page. As I wandered around, I also walked through Backlot Premiere Shop, which also wasn't super busy. As I wandered back outside, Hollywood Land was getting busier and there was also now a line for Award Wieners. People were also taking more pictures of themselves in the area.
Walking back into Carthay Circle and Buena Vista Street, it was clear that more people were now showing up to visit Buena Vista Street on one of its last days open as a part of the Downtown Disney District. Lines were growing longer for dining locations, stores, and even photo ops. It wasn't as busy as some days but the day was still rather early so the afternoon and evening would presumably get busier as people get off of work. Although there were more people in the area, it was still possible to get photos of different locations without many (or any) people in them with enough patience.
As I made my way out of Disney California Adventure I noticed that more people were entering Buena Vista Street. There also was now a more significant line to get into World of Disney as the rest of Downtown Disney District was filling up. The other thing I noticed was that there were now people on the other side of the rope that had been keeping guests away from the entrance of Disneyland. I wandered over there only to discover that the ropes on either side of this area had been removed (some were still in the process of being taken down). Cast Members were now allowing guests to take photos at the main entrance of Disneyland and said this area will become a walkway to enter the Downtown Disney District when A Touch of Disney begins and the Esplanade is used as a queue to enter Disney California Adventure I took several pictures of the entrance and through the gates as I savored being so close yet so far from the Happiest Place on Earth! There was a sense of excitement from both guests and Cast Members in the area that I can only surmise comes from growing optimism about Disneyland reopening someday soon.
After enjoying my time right next to the entrance of Disneyland, I slowly made my way back out to Harbor Blvd. I took some pictures of the ticket booths that hopefully will not be empty in the not-so-distant future. I also took pictures of the transportation center, the guest entrance, and also the drop-off area. I also walked over to where the Toy Story buses used to enter the transportation center and took photos of this area now closed off. As I did this, I noticed across the street was the Pizza Planet truck!
After taking a photo of the truck, I made my way back to my car. I had many thoughts as I considered how 364 days ago I was at Disneyland and Disney California Adventure as they closed for what was thought to be two weeks. Now, nearly a year later the parks are still closed and while there is hope for reopening finally, a specific date has not been announced. It seems like the photos I took today will be photos that I someday look back at and "remember when." However, at this point, I'm just looking forward to being able to enter the parks and make new memories rather than just look and dream about what once was. Today though was a great day to visit Buena Vista Street and make some quiet spring memories.