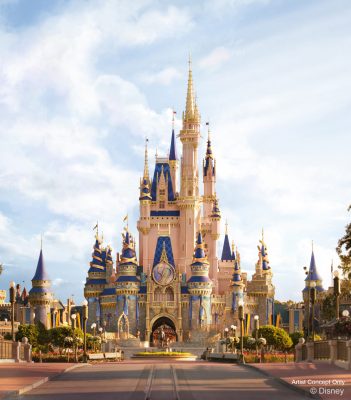 Last week it was announced that Walt Disney World Resort would begin its 50th anniversary celebration on October 1, 20201. With this announcement came the news that Cinderella Castle will be receiving another transformation as part of the festivities. Over the weekend, more details were released about Cinderella Castle's decor for The World's Most Magical Celebration by Imagineer Zach Riddley.
In a post on Instagram, Riddley shared how the new enhancements were inspired by Mary Blair's original vision for elements of the original Cinderella film. The design was created concurrently with the castle redesign that was completed last year so it would all be cohesive.
Here is Riddley's full explanation about the Cinderella Castle enhancements for Walt Disney World's 50th anniversary celebration:
As part of the exciting announcements for Walt Disney World's 50th Anniversary, we released – for the very first time – our brand new décor package for Cinderella Castle at Magic Kingdom.

Since opening day in October 1971, Cinderella Castle at the heart of the Magic Kingdom park has been an iconic symbol of joy and happiness for people the world over. For "The World's Most Magical Celebration," Cinderella Castle will receive the royal treatment inspired by original elements featured in Mary Blair's vision in the classic Cinderella film – shimmering pearls, jewels, and ribbons in royal blues and iridescent golds will wrap its turrets and towers in all directions. Above the castle gate, a dazzling 50th anniversary crest warmly welcomes Guests to join the festivities.

Our Imagineers developed this new décor as part of the larger Cinderella Castle transformation revealed last year – with new colors, gold detailing and vibrant hues that celebrate this enduring icon. These designs were developed together, so that the combined effect will be nothing short of spectacular. We're excited to have this full vision introduced to the world and to reveal more about our design inspiration and innovative approach to bringing this vision to life.
With the announcement for The World's Most Magical Celebration, a video of Cinderella Castle's transformation was also released by Disney. The celebration will officially begin on October 1, 2021. When exactly work will again begin on the castle currently isn't known.
Here is Zach Riddley's instagram post sharing details about Cinderella Castle's transformation:
What do you think of this 50th anniversary Cinderella Castle transformation? Share your thoughts and opinions in the comments below!