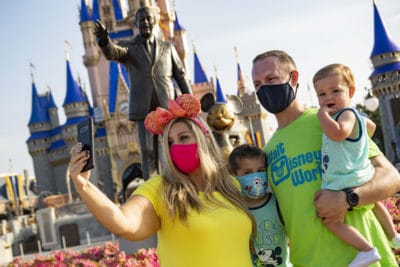 Continuing in the somewhat different top 5 Disney stories of 2020, we come to one that teeters on the edge of good news.  The reason is that it, perhaps, would not have happened without the circumstances of the year.  Yet, it still remained a hopeful light of a story in 2020.
The Walt Disney World Resort was set to reopen in June.  After about three months of closure, there would be limited capacity for guests.  How was Disney going to implement this?  By setting up a new park reservation system.
The Parks Pass Reservation system would allow guests to reserve one park per day, with annual passholders allowed to make 3 reservations at a time without a hotel reservation.  It sounded a bit discouraging, but what it ended up doing is allowing for some low crowds in some parks.
This new system also was not allowing FastPass to be implemented.  That might sound like another discouraging piece of news, but the result was low wait times altogether.  And this was for attractions that have routinely had hour-plus wait times in the summer season.  These attractions were seeing well below that on average times.
In all, the Parks Pass Reservations meant that Walt Disney World was reopened.  It meant there was a chance to visit the parks in a surprisingly comfortable way.  It meant hope as the year continued on.  It also is making people think there could be a change with the Resort overall, yet it might end up being a help to crowds and allow for a better visit overall.
Below is some of the coverage of the Walt Disney World Resort reopening.
Thoughts on the Pros and Cons of Walt Disney World Resort After a Phased Reopening Visit
Here's What Will Be Open and Closed When the Parks Reopen at Walt Disney World Resort
Magic Kingdom and Disney's Animal Kingdom Reopen at Walt Disney World Resort