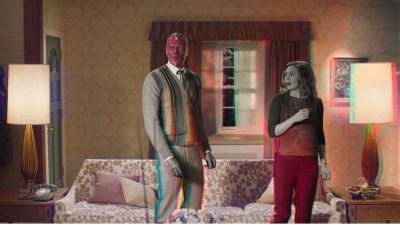 Disney Investor Day 2020 had a slew of new announcements for the company and centered on their streaming and theatrical releases.  Marvel Studios was no exception to this and there were some updates…and some surprises!
WandaVision
An updated trailer was released today with the meeting that highlights some more of the upcoming series that will debut January 15, 2021 on Disney+.  It seems that Scarlet Witch and Vision are looking to help out their neighborhood from a mysterious threat.  From the looks of it they will be discovering as they go what the threat is, and SHIELD will be trying to contact them. It is possible that Monica Rambeau is the one trying to contact them as she has been said to be in the series, and has been a member of Avengers and associated with SHIELD in the comics.  She did meet Nick Fury in the Captain Marvel movie as well.  The other interesting feature of the trailer is Wanda being pregnant.  Why that's important is it's a nod to the comics where she manipulated reality to have twins with Vison…and that might hint at things for the series that it is based on some comics elements like that and House of M.  It will make her a very dangerous character in the MCU because she eventually goes insane in the comics and actually kills characters like Hawkeye.
Dr. Strange and the Multiverse of Madness
A small update was given for this movie…yet it yields some huge repercussions.  First is that Wanda/Scarlet Witch is very confirmed be in Multiverse of Madness, and it plays off of the series.  The second is that it is connected to the upcoming Spider-Man film, which has had some news in the last few days.  And that news, in particular, seems much more relevant considering the idea of "multiverse".  It means that the return of the Sam Raimi Doctor Octopus and Jamie Foxx's Electro could really be those versions from their original movies, and they represent the "Spider-Verse" which is also the MCU Multiverse.  Besides those bits of news for the movie, America Chavez will be a new character in the MCU, but an old favorite from the comics.  She is a character from another universe in Marvel Comics and with strong powers.
Falcon and the Winter Soldier
A teaser trailer of Falcon and the Winter Soldier was released.  It does sound like it deals with Captain America's legacy, though exactly how is not known yet.  Various bad guys were shown and the tension between the two characters as well.  March 19, 2021 is when it will be on Disney+.
Upcoming Movies 2021
Shang-Chi and the Legend of the Ten Rings just wrapped production and will be out in theaters July 9 2021.  Black Widow is still going to be released in theaters on May 7, 2021.  What is interesting is Kevin Feige said Shang-Chi is the first of the Phase 4 movies, which means Black Widow is possibly the last of the Phase 3.  Eternals is on its way for a November 5, 2021 release.  Captain Marvel 2 will be made soon, and will have Monica Rambeau in it along with a new MCU character…
Ms. Marvel
Ms. Marvel will not only appear in Captain Marvel 2, but will first be introduced in her own series.  She will be a teenager dealing with new powers and identity.  She is a Pakistani superhero by the name of Kamala Khan played by Iman Vellani.
Loki
The upcoming Disney+ series with Loki is going to be a crime thriller for the fan-favorite character.  A trailer shows him part of something called the TVA and their headquarters has time move in a different way than normal.  It probably means the Time Variance Authority, which governs some things in the Multiverse.  Some of the scenes looks like it was pulled from the comics, like Loki with a suit and election button from Vote Loki.  Another is a bit reminscent of Loki: Agent of Asgard.  In all, it looks like he will be going all over the place and not certain of what is happening, but becoming a police officer of a sort.
Hawkeye
The new Jeremy Renner series has a release aimed for next Fall on Disney+ along with Hailee Steinfeld as Kate Bishop.
Moon Knight
Discussed in brief was Moon Knight coming to Disney+ with a character that has multiple personalities.  It will also dig deep into Egyptian iconography.
What If…?
A new trailer for the animated What If…? series for Disney+ debuted with anything from a zombie Captain America to a double Dr. Strange.
A Marvel Holiday Special
The Guardians of the Galaxy Holiday Special was announced for Disney+ and is said to be released the winter before the next movie.  The next movie is said to be released 2023, which puts the Special in 2022.  It will be filmed simultaneously with the new film, and has James Gunn helming it.  A small series of baby Groot shorts was also announced for Disney+.
More Series
In the works are some more series announced for the streaming platform.  Ironheart will have Riri Williams as someone that develops the next generation Iron Man armor.  In the comics she becomes a sort of heir to the Stark superhero business, so it'll be interesting to see if she's the next Iron Man for the MCU.  Armor Wars will be a series based on the comics saga where Tony Stark's tech falls into the wrong hands.  It will star Don Cheadle as War Machine.  The biggest surprise of a series is Secret Invasion, which was thought to be originally with the Captain Marvel movie.  It will have a sect of the Skrulls infiltrating much of the world leadership, and has Nick Fury and Talos back in action.
She-Hulk
One series that deserves it's own blurb is She-Hulk, which has Tatiana Maslany as the main character.  In the comics she is cousin to Bruce Banner and gets a blood transfusion which makes her a constant green, tall lawyer.  The series will be a comedy courtroom look at the MCU where she will represent superheroes most often, so Feige said you never know who will show up.  I'm hoping for one episode with Matt Murdock.  Mark Ruffalo will reprise his role as Hulk, and Abomination will be a villain from the Incredible Hulk movie.
Movies In Development
Other movie announcements mentioned included that Blade is still on its way to being filmed and Thor: Love and Thunder starts filming in January.  Christian Bale will be the villain Gorr in that latter film.  Black Panther 2 is still to be made and Feige said they will not recast after Chadwick Boseman's passing.  A bit known, but a bit of a surprise is Ant-Man and the Wasp: Quantumania.  It will have all those from Ant-Man and the Wasp along with Kathryn Newton as an older Cassie Lang.  Peyton Reed will be directing again.  It will also have the villain of Kang the Conqueror.  Which is important considering the very surprise announcement of…the Fantastic Four will finally get their MCU debut!  Marvel's first family will have Spider-Man director Jon Watts at the helm.  But, why that's important with Kang the Conqueror is that Kang was often an antagonist of the family and supposedly a future descendant of Reed Richards, Mr. Fantastic himself.
It was quite the crazy amount of announcements for not just Marvel, but the rest of the production company as well.  Marvel alone was impressive with all it is offering in the future and the Marvel Cinematic Universe is expanding at an intensely good rate!
Which are you looking most forward to?  Let us know in the comments below!