The newest Star Trek series will be arriving on CBS All Access on August 6. The news came from CBS All Access today. Following the premiere of Star Trek: Lower Decks, the half-hour animated series will be available on a weekly basis on Thursdays exclusively on CBS All Access in the U.S. In total, there will be 10 episodes for Star Trek: Lower Decks.
Star Trek: Lower Decks Official Description
Developed by Emmy Award winner Mike McMahan ("Rick and Morty," "Solar Opposites"), STAR TREK: LOWER DECKS focuses on the support crew serving on one of Starfleet's least important ships, the U.S.S. Cerritos, in 2380. Ensigns Mariner, Boimler, Rutherford and Tendi have to keep up with their duties and their social lives, often while the ship is being rocked by a multitude of sci-fi anomalies. The Starfleet crew residing in the "lower decks" of the U.S.S. Cerritos, includes "Ensign Beckett Mariner," voiced by Tawny Newsome, "Ensign Brad Boimler," voiced by Jack Quaid, "Ensign Tendi," voiced by Noël Wells and "Ensign Rutherford," voiced by Eugene Cordero. The Starfleet characters that comprise the ship's bridge crew include "Captain Carol Freeman," voiced by Dawnn Lewis, "Commander Jack Ransom," voiced by Jerry O'Connell, "Lieutenant Shaxs," voiced by Fred Tatasciore and "Doctor T'Ana," voiced by Gillian Vigman.
Star Trek: Lower Decks joins the growing list of Star Trek shows that are being created for CBS All Access. This new era of Star Trek kicked off with Star Trek: Discovery. It was joined by Star Trek: Picard. There will be the third season of Star Trek: Discovery coming later this year. The second season of Star Trek: Picard is also on its way. A new show based on the adventures of Captain Pike aboard the U.S.S. Enterprise called Star Trek: Strange New Worlds is also being worked on. There is also a new series that is based on Section-31 in the works as well along with a CGI Star Trek show that is aimed at a younger audience.
Along with a release date for Star Trek: Lower Decks, a new crew poster was also released. It features the U.S.S. Cerritos, which happens to be one of Starfleet's least important ships. It also has four ensigns showcased that will appear on the show.
Star Trek: Lower Decks Crew Poster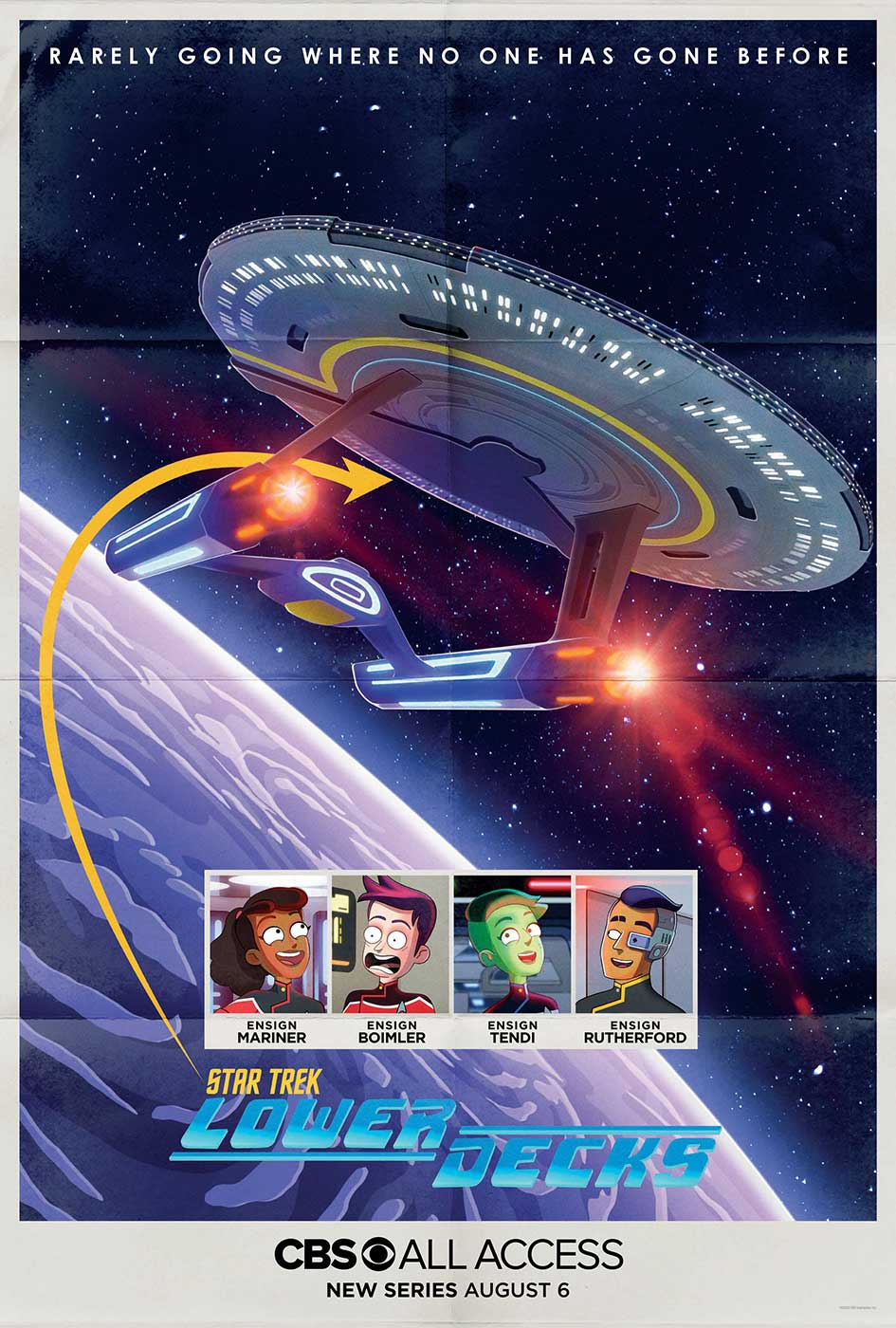 What do you think of this new series that is coming to CBS All Access? Share your thoughts in the comments below or with DAPS MAGIC on Facebook or Twitter!