Downtown Disney District will begin reopening on July 9 in line with the state of California reopening guidelines. A variety of shopping and dining experiences during this initial phase will be open, including the flagship World of Disney store.
Guidelines from health authorities and government agencies, as well as applying learnings from the phased reopening at Disney Springs in Florida to guide our reopening plans will be followed. With the health of guests and Disney cast members at the forefront of planning, several operational changes will be implemented based on guidance from health authorities to promote physical distancing and cleanliness throughout the Downtown Disney District.
During the initial reopening phase, Downtown Disney District will have capacity measures in place, as well as limitations on parking and operating hours.
Guests will be directed to self-park at Simba lot (at Disneyland Drive and Katella Avenue). Please follow signs for clearly defined entrances and exits. In addition, Downtown Disney District hours will be 10 a.m. to 8 p.m., daily. Individual location hours may vary.
Temperature screenings will happen prior to entry. Guests with a temperature of 100.4 degrees Fahrenheit and above will not be allowed entry, nor will those in their party.
There will be an increased focus on cleaning and sanitization, including the addition of hand sanitizer and hand-washing stations in key areas.
Face coverings will be required. Guests, Cast Members, and Operating Participant Employees will be required to wear an appropriate face covering. Guests must bring their own face covering.
Physical distancing and capacity measures will be in place. Ground markings and physical barriers will be in place to promote physical distancing.
Operating hours of each location may vary. Cashless payment is also recommended.
Additional measures and information will be shared closer to the reopening date. Please check Disneyland.com/DTD for the most current information.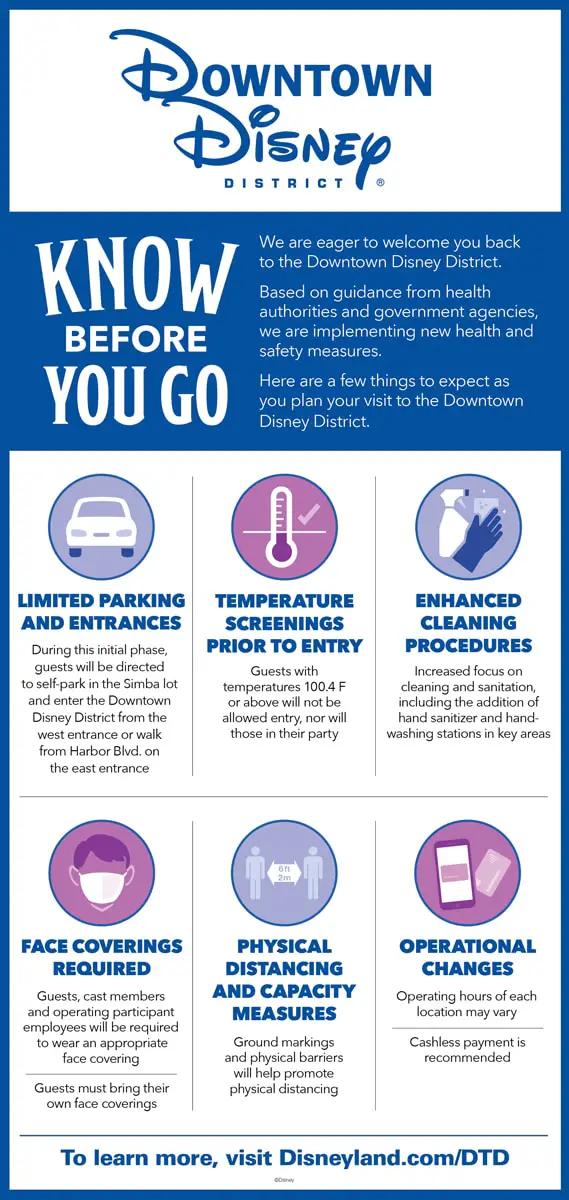 Pending state and local government approvals, Disneyland park and Disney California Adventure park plan to reopen on July 17. In addition, Disney's Grand Californian Hotel & Spa and Disney's Paradise Pier Hotel will begin to reopen on July 23. The Disneyland Hotel will reopen at a date to be determined.
The Disneyland Resort looks forward to welcoming Guests back next month to the Downtown Disney District!