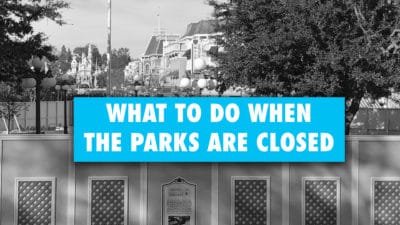 Parks withdrawals can be tough.  Back in the day, before I was local to the parks, I would venture to Disneyland only a few days out of the year.  In between visits I had to find some creative means to satisfy the cravings of a visit.  And this was before YouTube and broadband internet!  With parks closing at times for any reason, usually safety concerns, here are some suggestions to satisfy withdrawal symptoms.
Virtual Videos
One of the easiest ways to have a bit of feeling in the park is to watch various YouTube videos.  But, not just any YouTube video.  360-degree videos are a great way to help!  If you have any VR goggles or a Google VR phone holder you can feel like you're there.  I've gone as far as to get some scented candles to recreate the smells of the rides.  We have a few videos of ride throughs even from the overseas parks!  Here's a link below to a post with instructions and a link to the 360 video playlist.
Disney in 360- POV Ride Thrus For Your VR Headset
Besides the VR treatment, we have vlogs and various walkarounds available on our YouTube channel including this series:
Disney+
Disney Plus has a variety of fun parks related shows.  There's a whole "path" to take that can help satisfy any cravings, and there seems to be more and more added to the streaming service as the weeks go on.  My high recommendations are The Imagineering Story, Disneyland Around the Seasons, and the Fairy Tale Weddings series.
Overwhelmed with Disney+? Here are Some Viewing Path Suggestions to Get You Started
Books
Believe it or not, reading can actually give you a taste of the parks while you're waiting for your next trip.  I've spent many times reading various guides and parks history books to satisfy my eagerness to get back.  Even trivia books can help.  Here are some great recommendations from Mr. Daps that I would recommend as well:
Mr. DAPs Favorite Five Disney Books December 15, 2019
Online Parks Radio Stations UPDATED
One thing I originally forgot to include are online radio stations.  There are several online streaming stations that play many parks music including ride throughs, area music, and even hotel lobby music loops.  The stations I frequently listen to are Subsonicradio.com, Sorcerer Radio at srsounds.com, and Magical Mouse Radio.  Sorcerer Radio and Magical Mouse Radio can also be played on Amazon Echo devices.  Subsonicradio and Sorcerer Radio have apps available for mobile devices.  Sorcerer Radio even has an app for Roku TVs.  So, these are great ways to make your home or car feel like you're at the parks.
Hopefully, these suggestions help ease the pain of being between trips.  And I know it is not as bad as I am making it out to be.  However, I have lived with needing patience before I can step foot on Main Street again.  Give it time.  Life goes on.  But, these are ways to make the time pass a little bit faster.