Valentine's Day is nearly upon us. As February 14th gets closer, many are starting to look around for ways to celebrate this special holiday with their special someone. Others, are suddenly realizing the day has snuck up on them and all that time they thought they had to plan is now gone. Fear not! DAPS MAGIC has a few ideas for you to make this Valentine's Day a most magical and beautiful holiday at the Happiest Place on Earth! Below are five different ideas for how to celebrate Valentine's Day at the Disneyland Resort with your special someone.
All of these ideas are designed for last minute planners who might have missed out on the reservations window for some of the busier venues. There are some more in-depth options listed below and also some simpler options. Hopefully one of them fits your needs! If so, please let us know in the comments what you did and how it went! Happy Valentine's Day!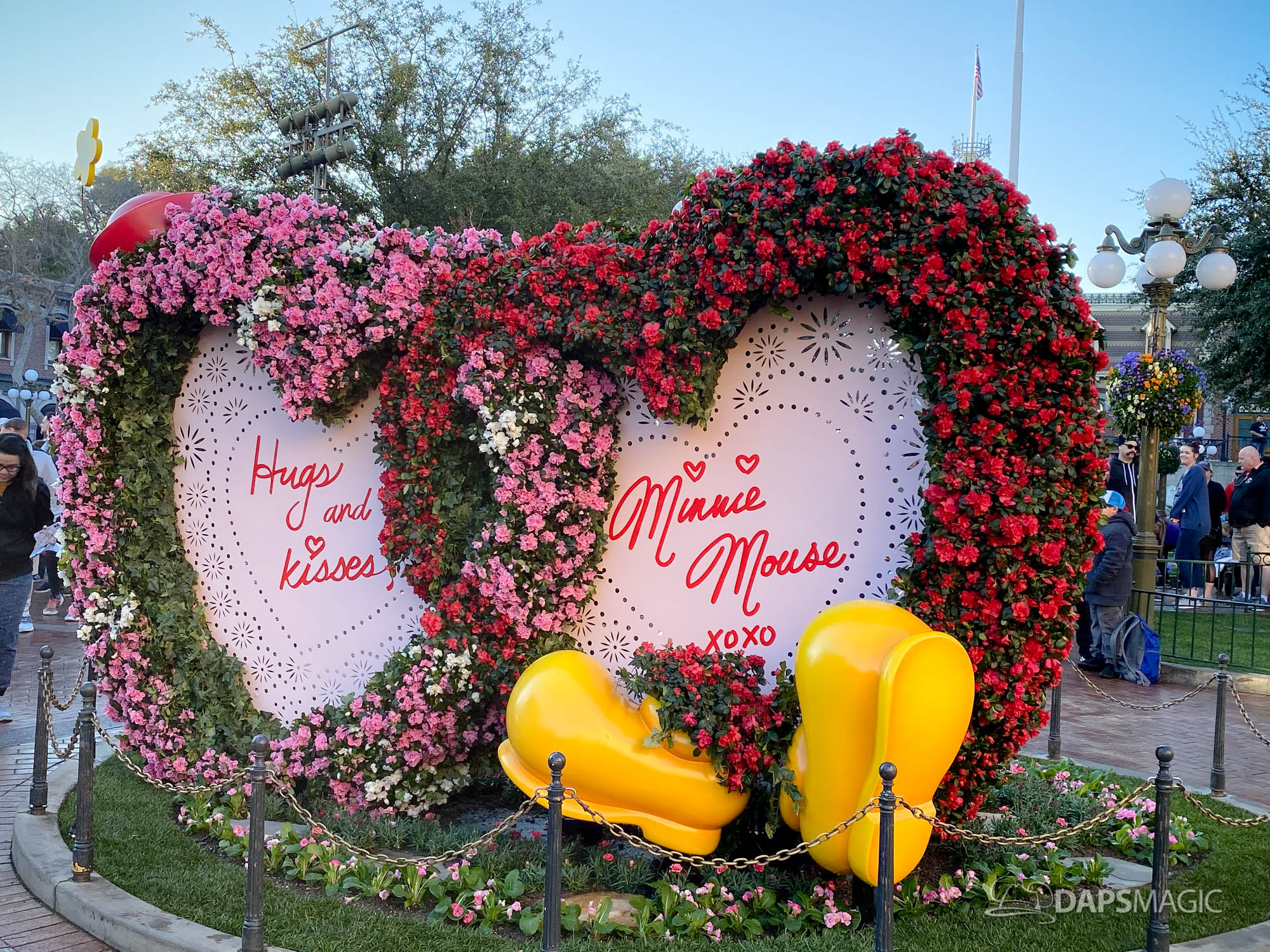 1. A Classic Disneyland Date
Perhaps the most classic Disneyland date, this is a sure fire hit for a wonderful date. Here are ideas for the three main parts of the day. Feel free to utilize any or all of the day's plans for your special day. Because this is the most iconic date idea, there are more ideas shared here for you to pull from.
IF you want dinner at a reservation location, check the Disneyland App for reservations as soon as you possibly can. Sometimes there will still be day of reservations available. 
Morning
Mornings at Disneyland are magical. The light is beautiful as the sun rises up above the park. Generally the park isn't insanely busy (other than people getting boarding groups for Star Wars: Rise of the Resistance).
Food Ideas
Arrive at Disneyland and start the day off with breakfast either at the Market House on Main Street, USA
Make your way back to Star Wars: Galaxy's Edge to get a Sunrise Ronto Wrap at Ronto Roasters.
Activities
The morning is a beautiful time to enjoy a cruise around the Rivers of America on the Mark Twain as you enjoy your coffee and breakfast.
If going to Ronto Roasters, check out the wait time for Millennium Falcon: Smugglers Run. It is often short and worth hopping on before breakfast.
Mornings are also a great time to get in some of the more popular attractions before the lines get super long. Grab a FastPass for Space Mountain and then head over to the Indiana Jones Adventure.
Catch the Disneyland Band performing on Main Street, USA or in front of Sleeping Beauty Castle throughout the morning.
Make a beeline to Fantasyland to be among the first to ride on Peter Pan's Flight!
Get your picture taken! It's a beautiful time of day to get a photo.
Grab a FastPass for Fantasmic!
Afternoon
Afternoons at Disneyland are often the warmest part of the day and can also be the most draining. For doing a full day at Disneyland, this is a great time of day to pace yourself. Since this is a date also, remember that it is all about spending time with your special someone and not necessarily experience everything that Disneyland has to offer.
Food Ideas
This is a great time for a corn dog at the Little Red Wagon at the end of Main Street, USA.
Jolly Holiday Bakery has a nice selection of more traditional lunch fare (and also has mobile ordering) if you'd rather something healthier than a corn dog.
Mid afternoon Dole Whip at Walt Disney's Enchanted Tiki Room!
Activities
Enjoy lunch while sitting at Refreshment Corner and listening to the Ragtime Piano player tickle the ivories. At different times the piano player will be joined by the Dapper Dans or the Mad Hatter and Alice in Wonderland for a game of Musical Chairs! It is a very enjoyable environment to enjoy lunch.
This is a great time to ride it's a small world. It's a nice break during the day and even if waiting in line it's a great atmosphere that is shaded. Enjoy the conversation while you wait!
Go on some classic Disneyland attractions like Haunted Mansion (when open) or Pirates of the Caribbean.
Enjoy a Dole Whip while listening to the birds sing to you at Walt Disney's Enchanted Tiki Room.
Race through the slopes of the Matterhorn and get some awesome views of Disneyland.
Take a ride aboard the Casey Jr. Circus Train. This is always a lot more fun than expected.
Spin around Fantasyland on the Mad Tea Party.
Evening
Evenings at Disneyland are the most magical time of day. As the lights turn on around the park, it's like an extra dose of pixie dust is sprinkled around Disneyland. It is definitely the most romantic time of day!
Food Ideas
Utilize a reservation you were able to get with the Disneyland App upon your arrival!
Stop by the French Market for an enjoyable meal that quite often is accompanied by jazz music. It is a beautiful location in the evening and will also have you close by if you were able to score Fantasmic! reservations.
Visit the Plaza Inn for a classic fried chicken dinner. There are plenty of other options there as well if fried chicken isn't your thing. It's a beautiful place to eat both inside and out.
 Harbour Galley at Fowler's Harbor has lobster rolls, sandwiches, salads, and bread bowls. It also has mobile ordering. There are some tables around Fowler's Harbor that are generally quiet and enjoyable for a simpler meal.
Grab ice cream or a churro mid-evening for dessert!
Activities
If you are seeing Fantasmic! and have a ShowPass for it, show up at the return time and go with the flow. If you were unable to get a ShowPass, simply utilize standby (expect to wait) and show up a couple of hours before the show for the best viewing towards the center. The closer to show time, the less availability there will be. IF it is a two show night and you are doing standby, consider going to the second show which will be not as full beforehand.
Storybook Land Canal Boats are a wonderfully romantic cruise to take through Fantasyland.
Get ice cream at the Gibson Girl Ice Cream Parlor and then enjoy watching fireworks afterwards.
(note: if watching fireworks and Fantasmic!, it is better to catch the second showing of Fantasmic! if available)
Go on Big Thunder Railroad towards the end of the night. It is a beautifully wild ride through the wilderness that is even more exciting at night!
Go for an evening drive on Autopia. There is something fun and romantic about going for a drive through Tomorrowland at night.
End your night with a ride around Disneyland on the Disneyland Railroad.
Ride Fantasyland attractions after fireworks as the lines generally are a bit shorter. A favorite at night is Alice in Wonderland!
Get a photo with Mickey Mouse or your favorite character in Town Square at some point in the evening.
There are quite a few ideas for how to have an enjoyable Valentine's Day date. Use some or all of them for a romantic day together at Disneyland. Remember, it's not necessarily what exactly you do but how you do it. The important thing is to do it together and to invest in each other as you enjoy a magical day together creating magical memories!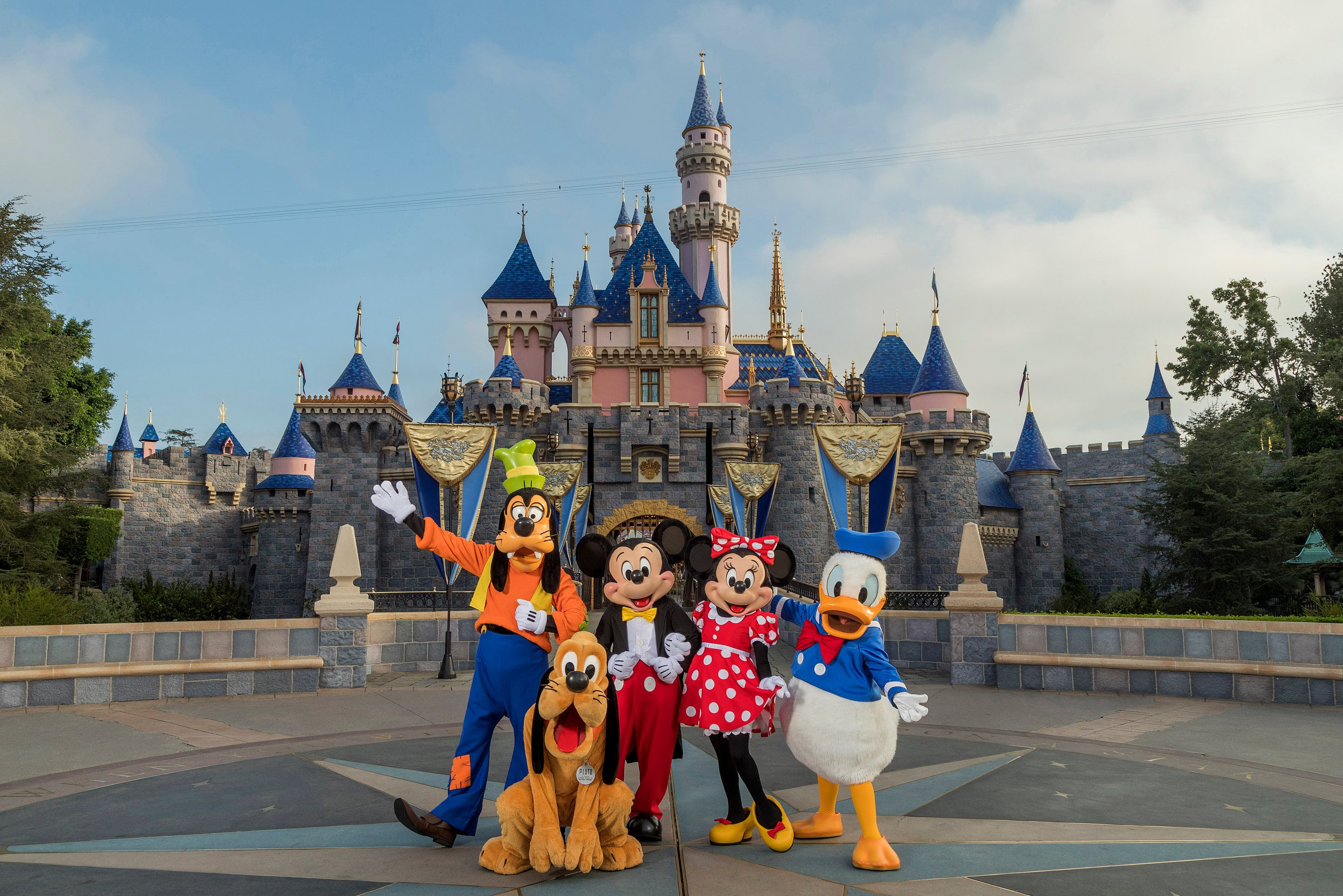 2. A Day of Disney PhotoPass Memories
Not all Valentine's Day dates have to be completely structured and planned out. Sometimes having a big picture idea can be just as effective and the adventure of doing it is where the magic comes from. This idea is one that members of the DAPS MAGIC have had a blast with through the years. The gist of this idea is that every time you see a Disney PhotoPass photographer, you stop for a photo together.
Upon your arrival at the Disneyland Resort (or ahead of it), purchase 

Disney MaxPass. This will allow you unlimited Disney PhotoPass photos from your day. If you are a Signature Plus Disneyland Annual Passholder, you will already have this included with your pass. 

For every Disney PhotoPass Photographer you see, get a photo together. Make sure to start the day off with a photo in front of the Mickey and Minnie Valentine photo op in Town Square!
Utilize the Disney MaxPass to get FastPass on attractions that take photos as well to add to the collection.
Following your day at the Disneyland Resort, download all your photos and create a fun photo album or even a book!
Make sure and link your ticket/annual pass to the Disneyland App so you can use your phone for FastPass selection and also see your photos quicker!

3. A Date of Galactic Proportions
This date idea is for the Star Wars fans looking to celebrate their love of Star Wars with their love. The Disneyland Resort is the best place to visit on Valentine's Day for Star Wars fans since the opening of Star Wars: Galaxy's Edge. This idea requires a bit of flexibility and also determination to make happen but is totally worth it. The goal? Experience all Star Wars offerings that Disneyland has available! DAPS MAGIC suggest utilizing Disney MaxPass for this experience if its offerings aren't included with your annual pass.
Here is the plan:
Link your ticket/annual pass to the Disneyland App before leaving home so you can get a boarding group for Star Wars: Rise of the Resistance at the moment Disneyland opens.
As soon as possible, check the Disneyland App for any possible reservation openings at Oga's Cantina. If this is day of, this might be a small miracle as reservations can be gotten up to 60 days ahead. If you are unable to get a reservation for Oga's, just skip the cantina and plan on coming back when you can get reservations.
Arrive at the Disneyland Resort early in the morning. Plan on parking an hour and a half before the park opens.
Get in line at the Disneyland main gate as quickly as possible. In general after parking and security it will be about an hour before the park opens.
At park opening, get a Boarding Group for Star Wars: Rise of the Resistance. Find out how to do so with the DAPS MAGIFC Boarding Group Guide.
Boarding Group acquired (if you didn't get a boarding group or didn't want to get their earlier, just skip the Star Wars: Rise of Resistance portions of this date plan), make your way over to Star Wars: Galaxy's Edge for breakfast!
Get breakfast at either Ronto Roasters.
After breakfast, grab a FastPass for Star Tours: The Adventures Continue. This should give you a time for sometime late morning or in the afternoon generally.
Make your way over to Millennium Falcon: Smugglers Run and hop in line. The line shouldn't be too long yet since it should still be the first hour or so after the park opened.
Get a photo in front of the Millennium Falcon.
Head over to Tomorrowland and stop by Star Wars: Launch Bay for photos with some of your favorite Star Wars characters and check out some of the exhibits and merchandise.
Hop on board Star Tours: The Adventures Continue when it is your FastPass window. If you didn't utilize FastPass, just hop in line whenever you feel like it. Generally, the line in the morning will be shorter than later in the afternoon.
Get lunch at Galactic Grill. It's not exactly Star Wars but it is close. This is suggested to avoid eating at the same place twice throughout the date.
In the afternoon, it's time to explore the Black Spire Outpost on Batuu.

Do some shopping in the Market Place.
Build a droid or lightsaber (if there are openings).
Check out what Kylo Ren and the First Order are up to.
Visit Rey and Chewbacca at the Resistance camp.
Get popcorn at Kat Saka's Kettle.

Try a different station on the Millennium Falcon if the line isn't too long.
As evening approaches, get dinner at Docking Bay 7.
Throughout the day, watch the Disneyland App for your Boarding Group to be called for Star Wars: Rise of the Resistance. Go on it within two hours of your Boarding Group being called.
Stop by Oga's Cantina for an out of this world experience if you were able to get reservations.
In the evening, Star Wars: Galaxy's Edge gets even more magical. Get more Disney PhotoPass pictures together from around Batuu.
Disneyland's fireworks are visible from many areas in Batuu. As a rule of thumb, if you are standing to the west of a spaceship and face East (think of looking toward's it's a small world from whoever you are), you will be able to see the celebration over Batuu. This is really a special experience and worth waiting for.
End your special day with one last stroll through Star Wars: Galaxy's Edge after the fireworks. It really is beautiful at night, especially when the bulk of the crowds of the day have gone home.

4. An Evening on Route 66
Since opening in 2012, Cars Land has become a beautiful destination for guests to visit at the Disneyland Resort. This land in Disney California Adventure is absolutely stunning at night. Here are some ideas for a magical evening in Radiator Springs!
Arrive at Disney California Adventure in the late afternoon or early evening.
Catch the lights turning on in Cars Land shortly after the sun goes down (check what time that is ahead of your arrival so you aren't late). There is a charming little moment as Sh-Boom (Life Could Be a Dream) accompanies the neon lights turning on.
Get dinner at Flo's V-8 Cafe. There are lots of options. Then get a seat with a beautiful view of Ornament Valley. There are both inside and outside tables that accommodate this view. If it isn't too cold, sit outside as it adds to the magic!
After dinner, hop on Mater's Junkyard Jamboree sometime in the evening.
Stop by the Cozy Cone Motel for dessert. They have both churros and soft serve (among other things) there.
Go for a spin on Luigi's Rollickin' Roadsters.
Take a stroll down Route 66 and through the land for one of the most beautiful views found at the Disneyland Resort.
Go shopping in Radiator Springs. There are a couple of shops to be found and enjoyed. Get a souvenir to remember the day by.
Get a photo with Lightning McQueen, Mater, or sometimes even Cruz Ramirez in front of the Cozy Cone Motel.
Finish your night by getting in line for Radiator Springs Racers sometime before park closes. Do this last in case the park closes while you are in line or on the attraction.
Enjoy strolling through Radiator Springs as you conclude your magical night in Cars Land.

5. A Day of Dark Rides
Some of the most magical attractions to be found at the Disneyland Resort are the dark rides. Found both at Disneyland and Disney California Adventure, these attractions are packed with magic as they retell some the stories of so many Disney favorites! They also let you sit next to that special someone as you experience these magical stories. This date idea doesn't necessarily take all day to do but it definitely could take some time depending on when it begins and ends. The goal? Go on every dark ride at the Disneyland Resort! The main focus is to get on the dark rides, there are some additional ideas added in as well.
DAPS MAGIC suggests starting your dark ride date at Disneyland, specifically in Fantasyland. There you will want to attempt to go on all of the following attractions (if they are open):

Peter Pan's Flight
Snow White's Scary Adventure
Pinocchio's Daring Journey
Alice in Wonderland
Mr. Toad's Wild Ride

After making it through all the Fantasyland dark rides, stop by the Troubadour Tavern for lunch and watch Mickey's Magical Map.
Stop by Mickey's Toontown and go on Roger Rabbit's Car Toon Spin.
Stop by it's a small world on your way out of Mickey's Toontown.
Head over to The Many Adventures of Winnie the Pooh in Critter Country after New Orleans Square!
Now it is time for Disney California Adventure. First stop is Monsters, Inc. Mike & Sulley to the Rescue!
Stop by Sonoma Terrace for a beverage and pretzel for an afternoon snack.
The Little Mermaid ~ Ariel's Undersea Adventure can come next!
If you have time, hop on Soarin' Around the World while you are at Disney California Adventure.
Head back to Disneyland and catch the last show of the day at the Royal Theatre at Princess Fantasy Faire.
Stay with the princess theme and get dinner in Fantasyland at Red Rose Taverne.
Go for a cruise with Nemo on Finding Nemo Submarine Voyage.
Next stop is New Orleans Square to hop on board Pirates of the Caribbean and the Haunted Mansion.
If the line is short, hop on the Indiana Jones Adventure for an added bit of fun.
While not a dark ride, end the night with a ride around the Disneyland Park aboard the Disneyland Railroad.
Valentine's Day at the Disneyland Resort is a fantastic idea in general. Even without a plan, it is a perfect place for a date. Hopefully these plans are helpful for those who are looking for some fun ideas for their Valentine's Day date. Use as much or as little of them as you want with your Valentine. Then, let us know how the day went and if you have any ideas to add!
Happy Valentine's Day!