Disney fans arrived before the rise of dawn at the Disneyland Resort to experience the opening of Star Wars: Rise of the Resistance in Star Wars: Galaxy's Edge. Some guests began arriving on Thursday night in anticipation of the new attraction's opening. Even though the attraction is accessible only through the Disneyland app once the park is open, many guests simply wanted the experience of arriving early.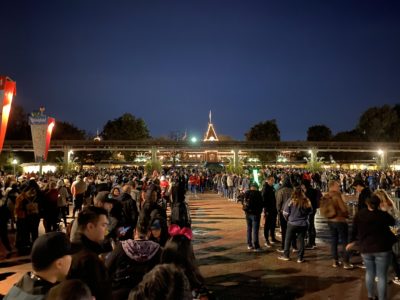 Overnight guests lined up outside of Main Gate and weather some rain as they waited for the gates to open. Around 5:00 am guests started arriving and the small group that waited overnight soon found themselves at the front of a line that was stretching across the esplanade.
The Main Gates opened after a brief countdown at 5:45 AM and guests poured into the park. Initially, they filled the top half of Main Street. The two hours and fifteen minutes counted down until the official opening of the park, Main Street began filling up. Before the park opened, guests were also allowed to fill up the Hub as well.
Disneyland's opening announcement was played at 7:45 AM and guests began to stream into the park. As it got closer to 8:00 AM everyone simply stopped and began to stare at their phones. 8:00 AM arrived and the park was eerily quiet as people scrambled to get a boarding group on the Disneyland App. After a few seconds, different groups began to cheer as they got their boarding groups. The energy was electric as people were stoked to get their boarding passes.
Boarding passes acquired, the crowds dispersed as they waited for their boarding times. Some went to Star Wars: Galaxy's Edge to get the day started. The Ronto Roasters was incredibly popular throughout the morning.
Star Wars: Rise of the Resistance opened to guests shortly before 9:00 AM. Chewbacca, R2-D2, and Vi Moradi were all on hand to welcome guests to the Resistance as they boarded the attraction.
Star Wars: Rise of the Resistance is now open at the Disneyland Resort and with it all of Star Wars: Galaxy's Edge. This is destined to become one of the most popular attractions at the Disneyland Resort.
Have you been on Star Wars: Rise of the Resistance yet? Share your thoughts in the comments below! Or, read our review of this new epic attraction. Or read our review of this new epic attraction! May the Force be with you!