Caroll Spinney, the man behind many beloved Sesame Street characters like Big Bird and Oscar the Grouch died today at the age of 85. He joined Sesame Street at the beginning in 1969 and was a part of the Sesame Street family for decades. He died at his home after living with Dystonia.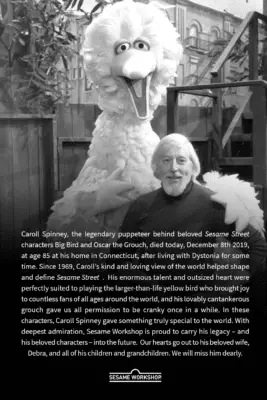 For five decades, Spinney portrayed the 8 foot 2-inch yellow bird and the grouchy Muppet that lived in a garbage can. With these characters, he taught children about how two characters could be so different and still be loved.
Sesame Street co-founder Joan Ganz Cooney said, "Caroll Spinney's contributions to Sesame Street are countless. He not only gave us Big Bird and Oscar the Grouch, he gave so much of himself as well. We at Sesame Workshop mourn his passing and feel an immense gratitude for all he has given to Sesame Street and to children around the world."
Throughout his career at Sesame Street and the Sesame Workshop, he was mentored by Jim Henson, performed in China with Bob Hope, performed at the White House, with the Rockettes, appeared in films, on albums, and appeared on other programs as well. He also would conduct orchestras and perform with them as Big Bird. With Spinney bringing him to life, Big Bird also received a star on the Hollywood Walk of Fame and was named a Living Legend by the Library of Congress.
Caroll Spinney died at his home in Woodstock, Conn. He is survived by his wife, Debra, and their children and grandchildren.