This summer, Walt Disney World Resort announced that they would be bringing Circle of Flavors: Harambe at Night to Rafiki's Planet Watch. These family-friendly events bring food and fun to Walt Disney World Resort. This December, the events are making a comeback and you can make reservations now!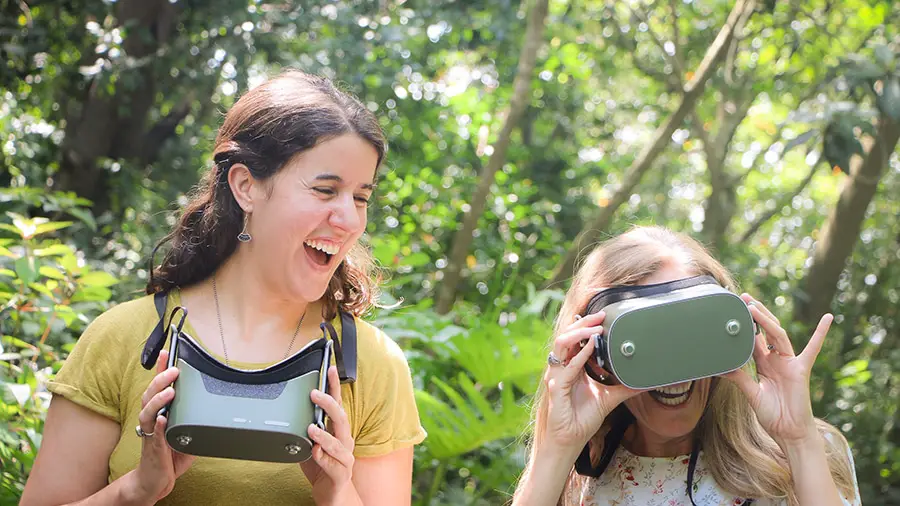 One of the newest experiences is the chance to experience Kilimanjaro Safaris in virtual reality! This unique 360-degree experience will only be available inside these special events, so be sure to grab your reservations!
Once you're inside, you'll be able to enjoy a number of incredible food and beverages that celebrate the spirit of Africa. Whether you're snacking on cheese and fruit or indulging in savory options, you are sure to love what Harambe has in store! Check out all the offerings below.
The African Lion Station
Char-Grilled Steak with Herb-Infused Mealie, Chakalaka, and a Red Wine Sauce
Chicken with Fingerling Potatoes, Kool Slaai, and Mango Sambal
Chicken Tenders (Kid's Option)
The Cape Buffalo Station
Shrimp Curry with Sustainable Shrimp, Cape Malay Green Coconut Curry, and Fragrant Basmati Rice
Grilled Sweet Corn with Farmer's Cheese, Chili-Lime Spice, and Citrus Aioli
Barbecued Ribs (Kid's Option)
Macaroni and Cheese (Kid's Option)
The Rhinoceros Station
Vegetable Curry with Roasted Seasonal Vegetables served over Basmati Rice
Vegetarian Potato and Pea Samosa, Pickled Vegetables, and Tamarind Dipping Sauce
Barbecued Ribs (Kid's Option)
Macaroni and Cheese (Kid's Option)
The African Elephant Station
Smoked Honey-glazed Pork Belly with White Bean Purée, Caramelized Apple-Bacon Chutney, and Curry-Apple Gastrique
The Leopard Station
Sustainable Fish with Coriander-Fennel Slaw and Dhania Chutney
Grilled Lamb with Goat Cheese Polenta and Roasted Garlic Sauce
Mini Corn Dog (Kid's Option)
Harambe Market Courtyard Station
Petite Greens, Local Tomatoes, Cucumber, Sweety Drop Peppers, Citrus, and Citrus Vinaigrette
Boerie Roll with South African Farmers' Style Sausage, Peppadews, and Pickled Vegetables
African Spiced Popcorn
Dessert Station
Honey-Caramel Candy Bar with Crispy Pearls
Animal-inspired Cupcakes
Lions S'mores Pop with Chocolate and Graham Cracker Crumbs
Specialty Beverages
Talking Monkey – Coffee Liqueur, Banana Liqueur, and Espresso-infused Snow Leopard Vodka
Marketplace Sangria – Blend of African Wine and Rooibos Tea finished with a Citrus and Mint Infusion
Safari Sunset – Passion Fruit, Strawberry, Orange, and Guava Juices blended with Rum
Assorted African-inspired Alcoholic and Non-Alcoholic Beverages (Also available at the Welcome Reception and Rafiki's Planet Watch Train Station)
Assorted African Beer and Wine (Also available at the Welcome Reception and Rafiki's Planet Watch Train Station)
These events will also serve to teach families about The Big Five animals and how we can play our part in conservation! So not only will you get a chance to enjoy tasty foods and fun activities but you will also be able to leave with a new appreciation for the animal kingdom.
Will you be making your own reservation for Circle of Flavors: Harambe at Night? Be sure to connect with us on Twitter and Facebook to let us know!