Welcome back to the Sunday Recap Report! It was supposed to be a mild day at Disneyland, but it turned into a very warm and humid day. I got to Disneyland around 11:50am. I sat for awhile outside of Disneyana for awhile, and ended up talking to some friends while waiting for Mr. DAPs and Caitie to arrive. Around 1pm, they arrived but went to Disney California Adventure as the lines to get into Disneyland went past the Monorail beam.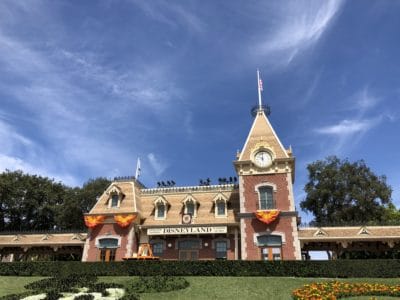 I met them at Sonoma Terrace and sat there enjoying a snack and conversation. While there, we were deciding what to do. The Disneyland AP Corner was back at Tomorrowland, and we thought we should go check it out. But we first decided to get a FastPass for Soarin' Around the World! After sitting at Sonoma Terrace for awhile, we now thought it would be a good time to go to Disneyland. We did, and as we headed there saw a Mickey shaped leaf design that Custodial has just created! Goofy noticed it as he was making his way around Town Square. Moments later, Mickey saw the design. Mickey fixed some of the leaves so that it would be perfect, and it was great to see!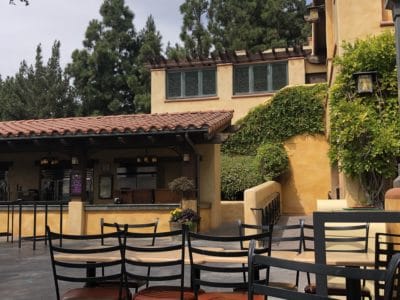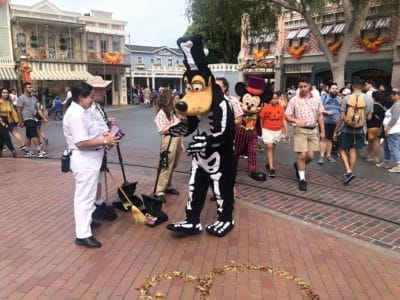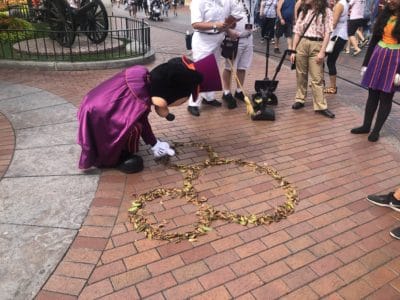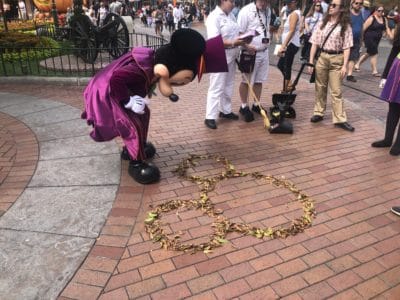 We then made our way up Main Street and towards Tomorrowland. The walls on one side of the Tomorrowland entrance have been moved back, while walls went up on the other side of the walkway. This project involves removing the 'French fry' rocks found at the entrance to the land, as well as removing the curbs so the pathway slopes down. This makes it more accessible to those with strollers and wheelchairs. It was quite warm as we made the walk into Tomorrowland, and quite busy too, when we got to Star Wars Launch Bay, we noticed the huge line of people waiting to get into AP Corner. We decided to skip that and headed towards Adventureland. I ran into some friends later who said they waited a little over an hour to get into AP Corner and get their magnet and button. It was also another half hour or so of waiting for the photo op, so my friends skipped that.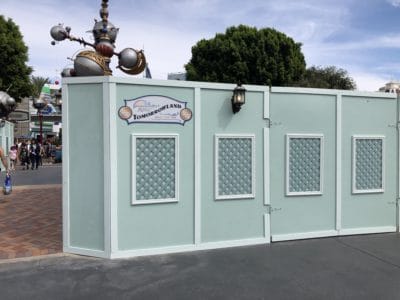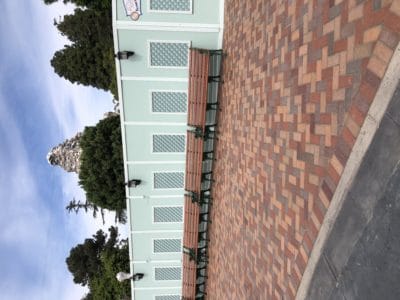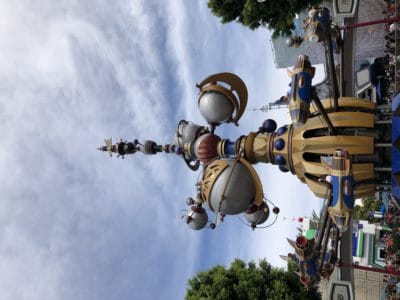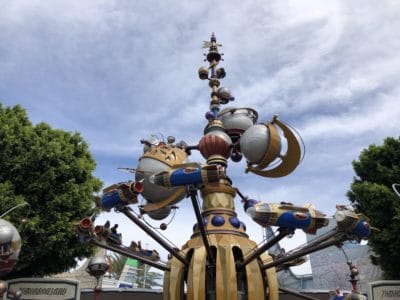 We made a slight detour towards The Royal Theatre for the Beauty and the Beast Storytelling Show. It's always a fun show to see thanks to Mr. Smythe and Mr. Jones, as well as the Disney princess who interacts with them to tell their story. Storytelling at the Royal Theatre is held six times everyday, and show times may vary. As of this writing, the first three shows feature 'Tangled,' while the last three shows feature 'Beauty and the Beast.' Be sure to arrive at least 15 minutes early for a seat inside the Royal Theatre. You may also stand outside the theatre along the railing.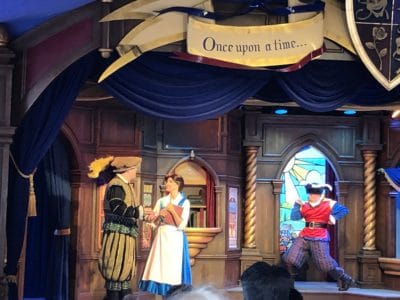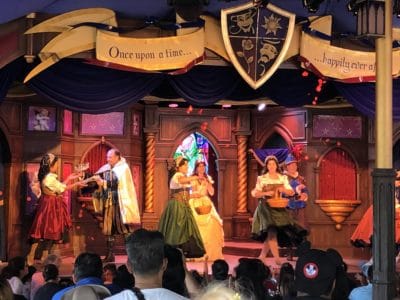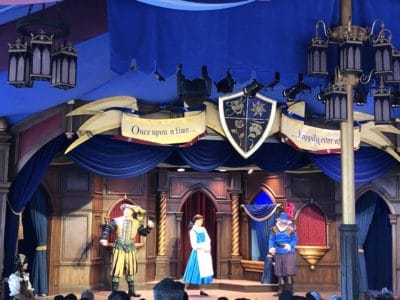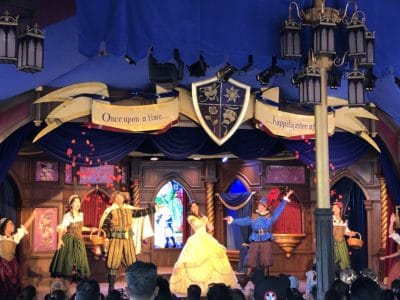 After the storytelling show, we headed to Adventureland and New Orleans Square to take some photos. While in New Orleans Square, we saw Jack Skellington who was walking around and most likely going on a break. But he was wishing people a 'terrible day,' and stopped by and chatted with Caitie for a few minutes. It was quite fun! So if you ever encounter Jack Skellington, you just never know what will happen so be on the lookout!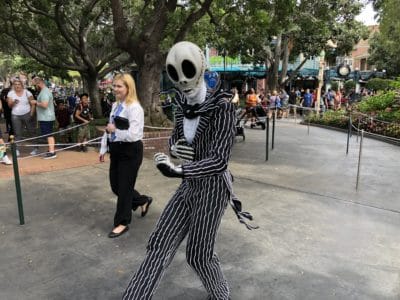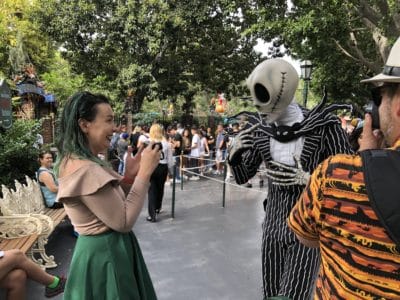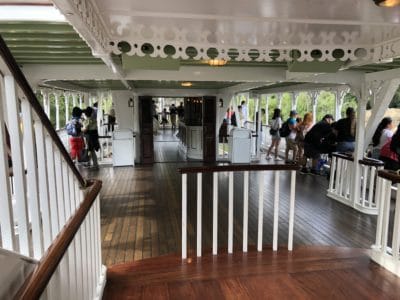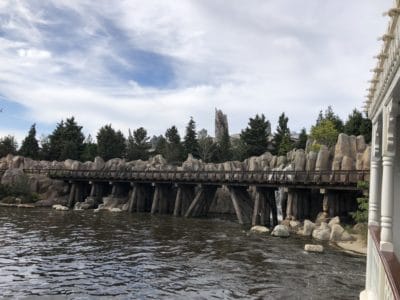 We then took a cruise on the Mark Twain. It was quite warm, but it was relaxing cruise nonetheless. The views are always great, and that's one of the things I love about the Mark Twain. Following a Mark Twain cruise, we headed back to Disney California Adventure as our FastPass time for Soarin' Around The World was approaching. We waited about 10 minutes to board, got seated in the third row, and off we went. We had heard rumors about the film being 'fixed' so as to avoid the weird bending, but we definitely noticed it. We were on the far left hand side and noticed a bent Taj Mahal, trees in Fiji, and a bent and leaning Eiffel Tower. It was a bit annoying, but we enjoyed the ride. We did agree and continue to agree that Soarin' Over California has a better flow than Soarin' Around The World. (Now if they would only fix that bending issue.)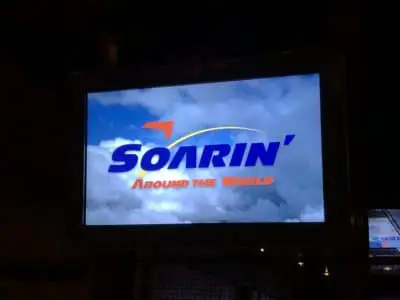 After Soarin', we headed to dinner at Paradise Garden Grill. Cristina met up with us as we made our way there. While waiting for our food to be ready, we saw Miguel, the Mariachi Divas, and the performers from 'The Musical Celebration of Coco' as their show had just ended. I got the green chili chicken burrito with rice and beans this time around. The chicken had lots of flavor, which was good! We sat at dinner for awhile before heading to Cars Land for some photos.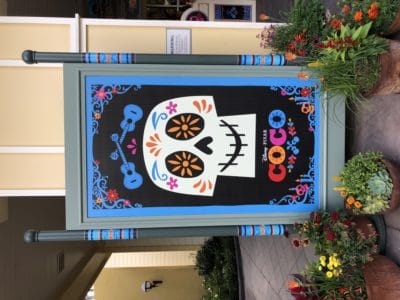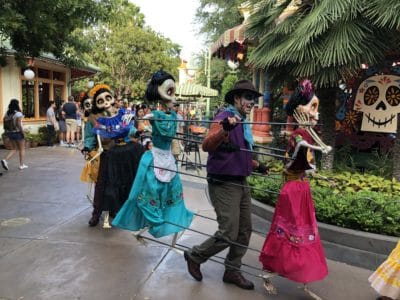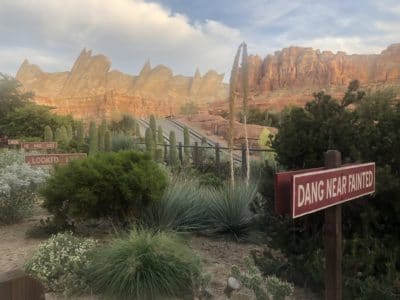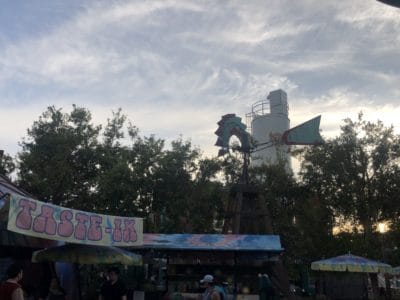 We then made our way back to Disneyland for the Main Street Electrical Parade and Halloween Screams Fireworks. We found a great spot at the beginning of the parade route across from 'it's a small world.' While waiting, we took turns to get coffee or ice cream. I made my way to Mickey's Toontown for ice cream. The sun was also setting so it was the perfect time to get some great photos!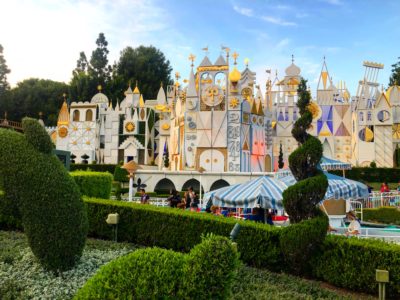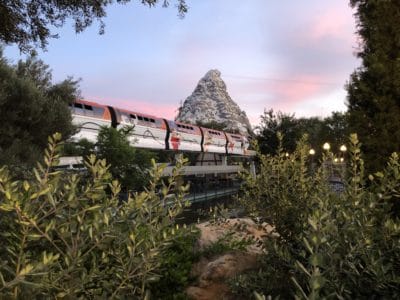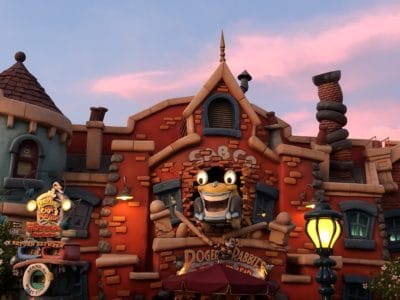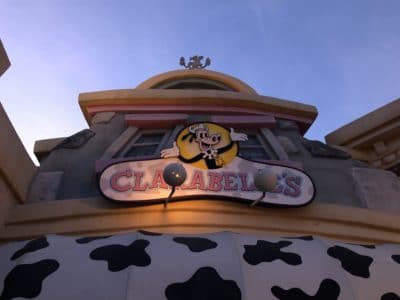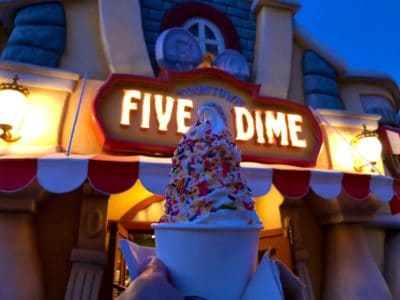 Finally, it was time for the Main Street Electrical Parade! It started a little earlier than usual, but that's okay! It's still a fun little parade. After the parade, Cristina and I headed to 'it's a small world.' We had about 25 minutes before fireworks started and the attraction was still open. We got off of 'it's a small world' with five minutes to spare before showtime!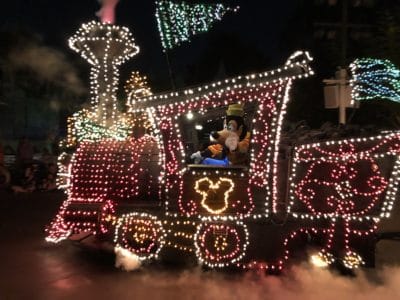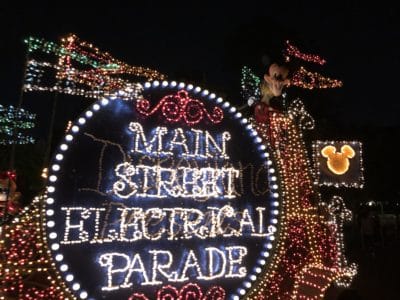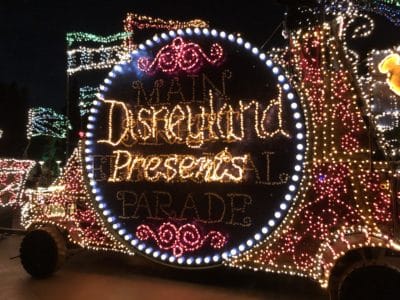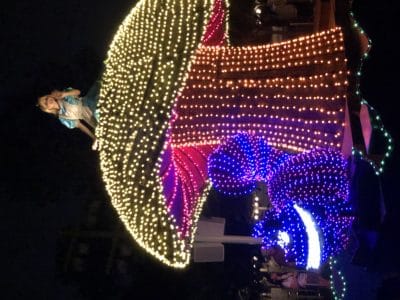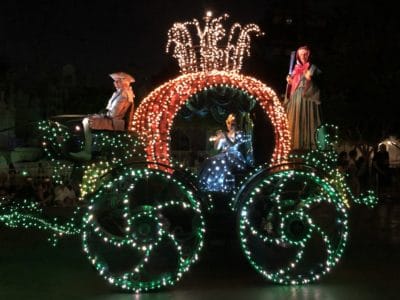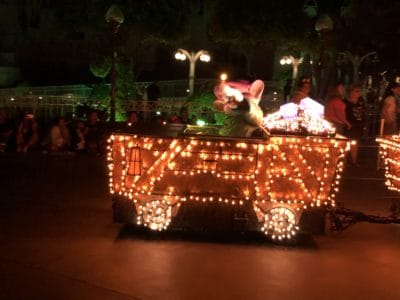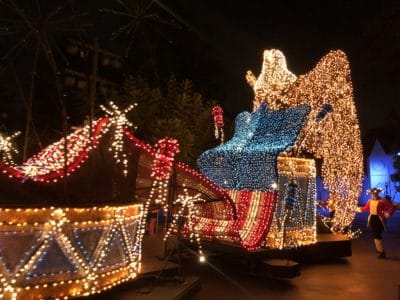 Now it was time to see Halloween Screams! This show has made its first public return to Disneyland since 2009. It was offered exclusively to guests attending Mickey's Halloween Party until 2018. The party was moved to Disney California Adventure and renamed 'Oogie Boogie Bash – A Disney Halloween Party.' Parties start Tuesday, and all Party dates have been sold out.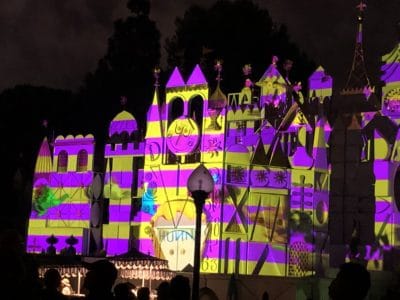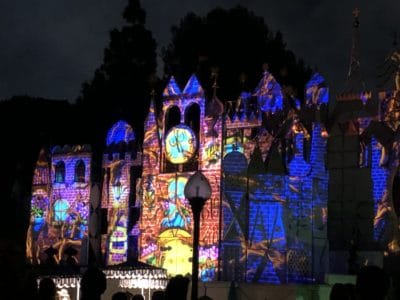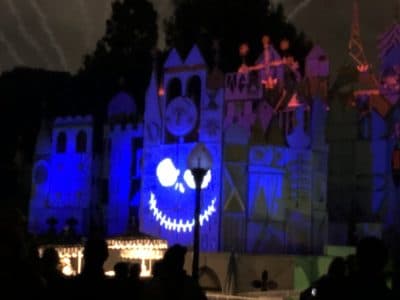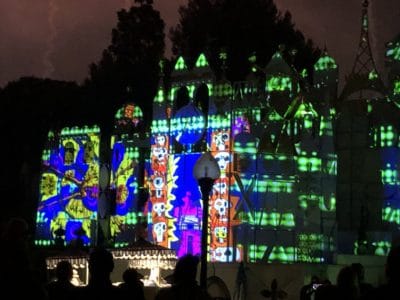 After Halloween Screams, we made our way out of Disneyland via Tomorrowland to Main Street. We thought the Villains Dance Party would be happening, but it was on break due to the fireworks. I know we will catch the dance party some other time.
And with that, another Sunday Recap Report has come to an end! Join us for more adventures next week because you never know what we will do!