When EPCOT Center opened to guests in 1982, it focused on 5 ideals, information, technology, environment, education, and entertainment. This foundation was key to every experience inside this Experimental Community of Tomorrow. This weekend, Bob Chapek announced the changes that would be coming to the beloved park at Walt Disney World. It's no question that Epcot is my favorite park and I am incredibly excited to see these original ideas coming back to life in an all-new and family-oriented way.
World Neighborhoods
It was previously announced that Epcot would be undergoing a multi-year transformation that included the closure of many icons in Future World. This brought up a question of the potential future (no pun intended) of this section of the park. This weekend, Chapek announced that Future World will be designed and given a new name in this project. The park will now be split into four "neighborhoods" named World Showcase, World Celebration, World Nature, and World Discovery.
Each neighborhood will celebrate a specific part of what makes Epcot such a special and different park. While celebrating each of these lands, I truly believe it is tying into the original five rings aspect of Epcot Center. Each part of Epcot will devote itself to these ideals while mixing entertainment into every step.
World Celebration
This neighborhood lies in what is currently the area for Spaceship Earth and Fountain of Nations. This weekend, Chapek announced that Spaceship Earth would be going under refurbishment to give the attraction a new family-oriented storyline. These new scenes, along with new narration, will focus on how storytelling has impacted the world around us and bonded humans together.
Just behind Spaceship Earth will be "Dreamer's Point". This area will offer beautiful views as well as lush gardens and a wishing tree. One of the focal points of this portion of World Celebration will be a statue of Walt Disney sitting and admiring Epcot. Though Walt was not alive for the opening of Epcot in 1982, his dreaming and storytelling has brought us all the way to today, nearly 65 years after Disneyland Park opened in 1955. We all get to enjoy these new additions to this land because Walt had a dream many years ago.
Also coming to the World Celebration land will be an all-new festival pavilion. Because the current festival center, formerly Wonders of Life, is closing and transforming, guests will be getting a stunning new area for festivals. This towering three-story structure will give guests a stunning aerial view of not only the park but the new nighttime spectaculars as well.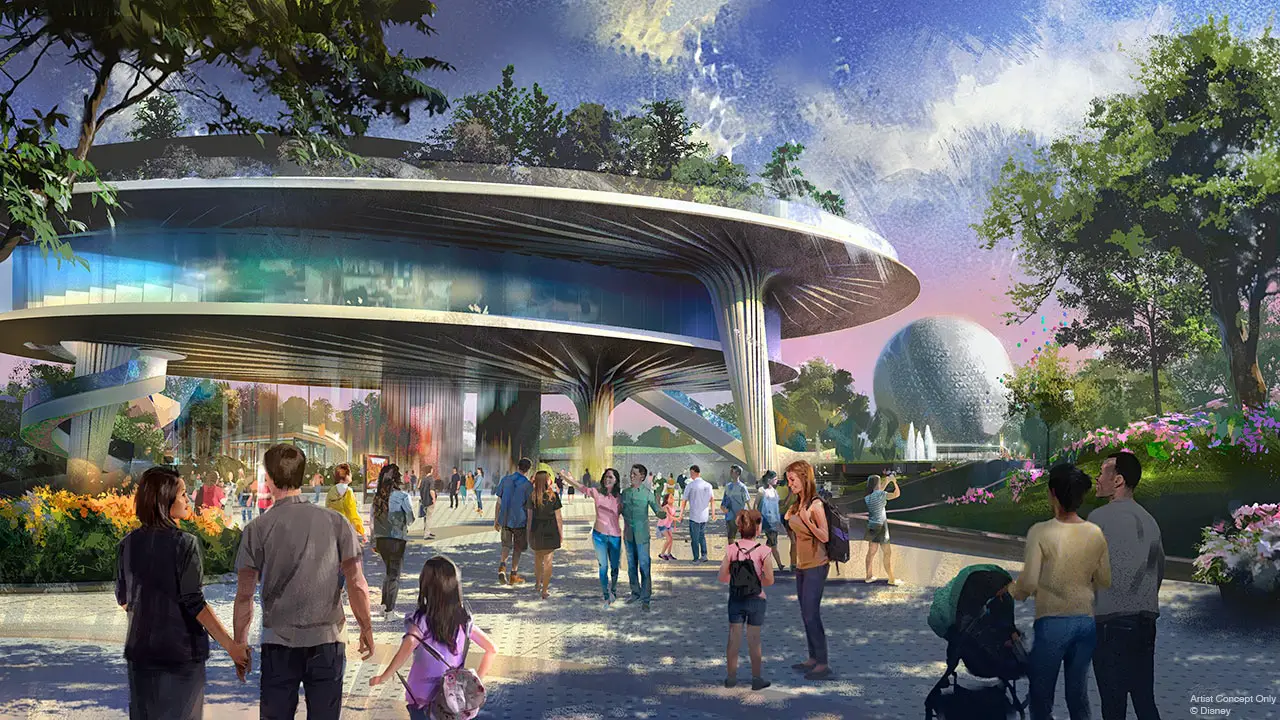 World Discovery
The East side of the former Future World will house something truly super! The Guardians of the Galaxy are getting their own epic coaster. Guardians of the Galaxy: Cosmic Rewind will feature an exciting reverse launch into space. Though it sounds like something too thrilling, this family-friendly attraction that will be a system, unlike anything we've ever seen before. This storytelling coaster will rotate the vehicles to allow the guests the focus on wherever the action is happening so no detail is missed!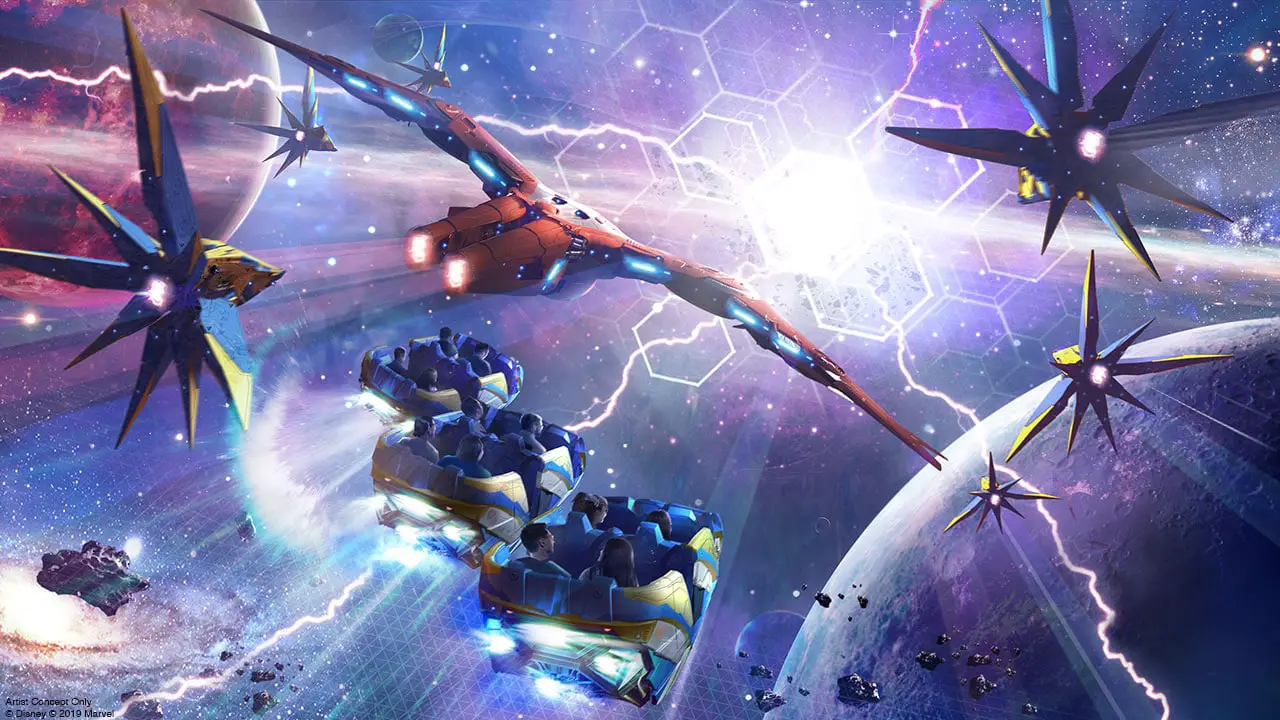 Also in World Discovery, guests will be able to head back up to space while they dine at Space 220. This restaurant, operated by the Patina Group, will take guests 220 miles away from Earth and give them stunning daytime and nighttime views. This space station will give guests a truly amazing experience that is sure to leave every guest that steps foot in awe!
This land will also let guests experience the family-oriented PLAY! pavilion! This will open in time for the 50th anniversary of Walt Disney World Resort in 2021. Guests will have a chance to interact with games, activities, and experiences in a way that will bring the whole family together.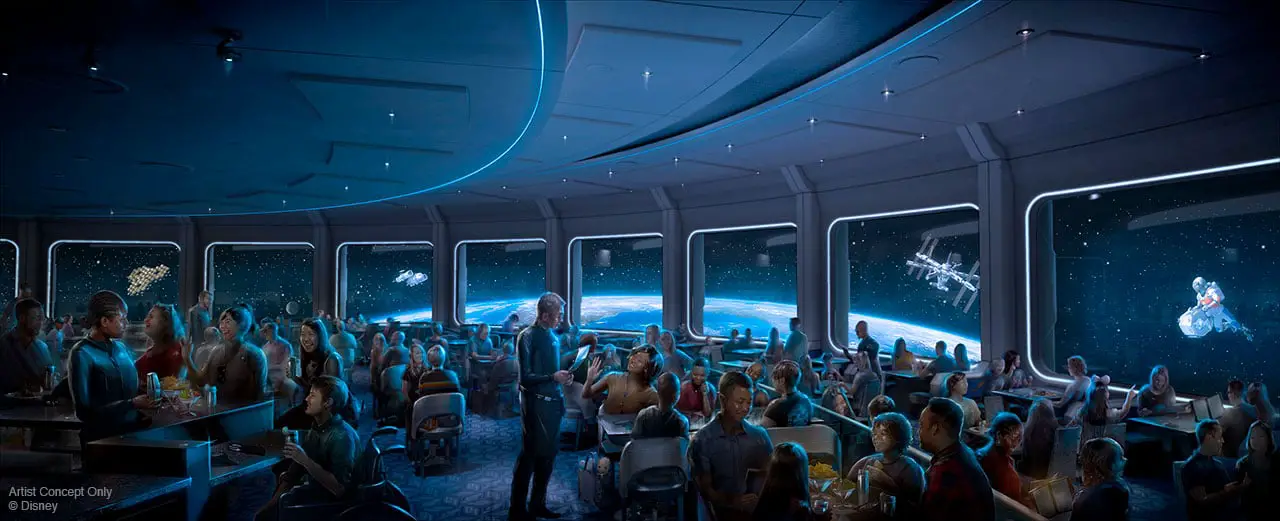 World Nature
The West side of Future World is being reimagined to World Nature! This land will include Journey of Water, Inspired by "Moana". This exciting new experience will allow guests to interact with the amazing feat of water. This inspiring section of the land will let guests see nature in an all-new way while having the familiarity of Walt Disney Animated Studios featured heroine Moana!
The Land pavilion will also get an all-new film that was previously announced named "Awesome Planet." This will tie together the dynamic story of the grand and miraculous planet that we live on.
World Showcase
As Disney continues to tell the story about the expansive and amazing world around us, China and Canada will update their Circle-Vision 360 theaters to reflect that. Canada's film "Canada Far and Wide" will debut to guests in January 2020. "Wondrous China" will be a completely seamless 360 film and we can't wait to see when it debuts at Epcot soon!
As IllumiNATIONS says goodbye later this year, guests will have the chance to experience Epcot Forever, a new nighttime spectacular that focuses on the past, present, and future of this beloved park. This show will open on October 1, 2019, and will run for one year for fans to enjoy.
When Epcot Forever ends, it will be replaced by HarmoniUS, the largest spectacular to come to a Disney park. This will be the permanent nighttime spectacular for Epcot's World Showcase Lagoon and will feature familiar Disney tunes as well as massive floating set pieces, custom-built LED panels, choreographed moving fountains, lights, pyrotechnics, lasers and more.
In Summer 2020, the France pavilion will open the much-anticipated attraction Remy's Ratatouille Adventure where guests will take a wild ride through Gusteau's restaurant from the film. Guests coming out of this exciting new attraction will be able to grab a bite at the new table- and quick-service restaurant. La Crêperie de Paris will feature a spectacular menu from celebrity chef Jérôme Bocuse.
Right alongside all these new additions, guests will be able to experience a "Beauty and the Beast Sing-Along" in the France pavilion. This film will join the classic Impressions de France film and will take guests on a wonderful adventure. The film will be directed by Don Hahn, who produced the original film that is beloved by Disney fans.
Finally, the United Kingdom pavilion is getting the first-ever Mary Poppins attraction! Though not much is known about this attraction yet, we know we will be immersed in the world that we have seen in both films, right down Cherry Tree Lane. We will be able to head to the Banks Home, right past Admiral Boom's home. I can't wait to see this attraction come to life and watch the story of Marry Poppins and the Banks family unfold in a way we have never experienced before!
Overall, I can't wait to see how Epcot comes together over the next few years. Though there has been a great deal difference in opinions among fans of the Disney resorts, I believe it plays directly into the original concepts from Imagineers that were opening the park. While guests will have a chance to experience many of the things that bring us together and make the world great and exciting, they will also be able to do it in an environment that is family-oriented. It is a chance for Epcot to grow in a way we've never seen before. What I am most excited for is the chance for a new generation to get to experience Epcot and see a utopia-like world while interacting and learning with everything around them.
Be sure to check out the entire section of the panel from D23 Expo this weekend below:
So what do you think of the changes coming to Epcot in the next few years? Be sure to connect with us on Twitter and Facebook to let us know what you think about this incredible transformation!