So you've got your reservation for Star Wars: Galaxy's Edge.  But, you're not sure how to maximize your time and are a little concerned.  After two trips to Batuu, here are some tips and tricks to get the most out of your visit.
Making Your Way Through the Crowds
First, checking in will not take as long as you think.  I do suggest getting to Launch Bay two hours before your reservation time as Disneyland suggests, but that's only to maximize time throughout the rest of the park.  Cast Members are present at the to be designated entrance of your reservation time to tell you there is no true lining up before it's time to head in.  Yet, 15 minutes before they usher you in little by little.
Crowds within Galaxy's Edge will seem neverending at first.  The reason is that the beginning of reservation times (with the exception of the very first one of the day) overlaps with the end of the previous group.  Your last hour will overlap with the incoming group and it will feel crowded again.  In between, it is very easy to get around and see things because crowds have dissipated.  So, don't feel like you have to have a crowd mentality overall.  It's better to not and enjoy whatever you get to.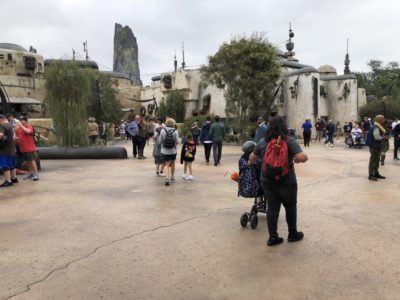 Smuggler's Run Rides
It seems, so far, that multiple rides for Smuggler's Run are possible.  Cast members are marking wristbands, but that seems to be for the end overlap when the line gets long.  Speaking of, in those overlap hours are when the line is longest.  In between the line has been averaging no more than a half hour.  The best time to go is during the middle two hours.  Go do something else when you enter into GE and ride Smuggler's Run after that.
Single Rider Looking For a Crew of Five
Smuggler's Run does have a Single Riders line.  However, I don't recommend using this until after you've gone through the regular stand-by line.  The Single Riders line bypasses Hondo and the photo opp area of the Millennium Falcon.  You also have no chance of picking your position in the cockpit.  Use Single Riders after you've gotten the full ride experience.
What to Do First?
What to when you first get to GE is somewhat up to you.  I already mentioned you can skip going right to Smuggler's Run.  But, there is a lot of other things to do.  This is where I say have a plan before you even get to the park.  Really decide the things you want to do.  And study the map through the Disneyland app.  Which all leads me to…
Oga's Cantina Strategy
Oga's Cantina, which has DJ Rex and some great drinks, has had an average of an hour long line to get in.  The line also will close temporarily and then reopen for anyone to wait it out.  A long stick with a flag on the end a cast member is holding will designate if the line is open or closed.  Green flag for line open, red flag for line closed.  The line has also been known to close off completely at your last hour of the four you have in the land.  What this means is that only the new group coming in can get in line in the last hour of your reservation time.  If this is a place you really really want to hit up go straight to it once you get in the land.  If the line closes immediately, wait around the area for a few minutes and it may open back up within that time.  Also, know what you want to order before going in.  The menu is in the Disneyland app.  As far as I can tell they are implementing the rule of guests staying for 45 minutes and only two alcoholic drinks per ID. [UPDATE: Disneyland has now added a virtue queue at Oga's Cantina that will allow you to get a text message to return when it is your time to dine.]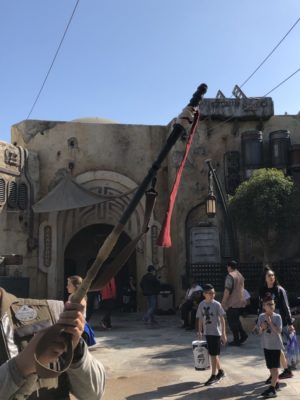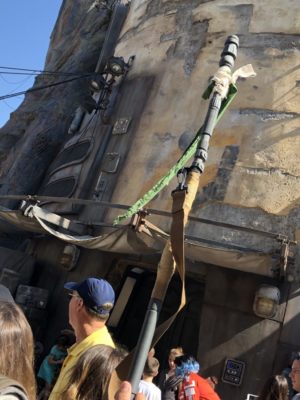 Savi's Workshop
Savi's has had probably the longest line and requires the biggest strategy to getting in and experiencing.  Also know that, in order to go in, one person is committed to getting the hefty priced lightsaber.  This person can bring one guest with them who gets to observe the process.  There is a line to get a return time, and then there's that time.  If you are absolutely dead set on getting a lightsaber and experiencing the workshop, go here first thing.
But, here's a thought: It is a unique experience that is basically an upcharge experience.  In the future to do it again requires that upcharge.  It will be there for a long time past this crowded first year.  Do it on a return trip.  You've saved something to do when you come back, and it can be a special experience instead of the panicked one that is running to the line and making sure you have enough money to pay for the lightsaber.
Spacing Out Space Food
Food is one of the other things that has a line.  One of the more popular items to get are the unique Coca Cola products.  Well, unique bottle shapes, but same Coke.  It is something to head to within the first parts of the reservation time because the lines can get long.  There is a popcorn shop in the marketplace that has the mouse droid bucket and special popcorn mix.  It gets a long line at first and seems to die down in that middle 2 hours.
Out of the two quick serves, the Docking Bay seems to have the longest line.  But, I will say I'm liking the wrap at Ronto's more (still haven't tried everything at the Docking Bay).  My recommendation for these and even the Blue Milk stand is to mobile order.  However, mobile order when you first get into the park.  You can actually select a later time in the app, and even adjust it later and later if you find that some things within the land are taking longer than expected.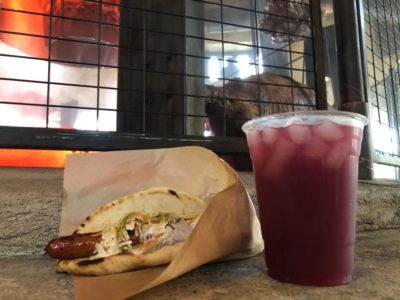 [UPDATE] Get the Batuu Credit Card
A special gift card is released and only available at the Droid Depot.  It requires $100 to be put on the card when you are getting it, but if you are going to drop that much or more on something like a make your own droid or lightsaber at Savi's this is well worth getting.  It's a metal Disney gift card that you can also use throughout the park!  It's been known to have limited quantities each day and sells out within the first few reservation periods.
Relax
Last tip is to just relax and have fun!  Let's face it.  This is not going to be the only time you are going to GE.  It's just the first.  You don't have to do every single thing.  And exploring is half the fun.  There are little show moments that happen all around the area, even over at the Resistance base.  Utilize the Play app for some fun "jobs."  Just soak in the environment and you can certainly save some things for the next visit.