If you're a big Star Wars Rebels fan like me then you can't get enough of this great show.  Fear not, there are some references to the hit series inside Star Wars: Galaxy's Edge, and some are fairly significant!
The Easy
First, there are a few prominent Easter Eggs…well a couple that doesn't really qualify as such…inside the popular Star Wars land.  The first is in Smuggler's Run
Hondo Ohnako, you're employer for the interactive attraction, is a reference to both Star Wars Rebels and the Clone Wars series.  His first appearance was in the Clone Wars cartoon and then became a part of the early rebellion in the Star Wars Rebels series.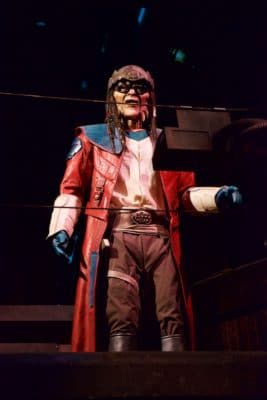 Holocrons are souvenirs for purchase inside Dok-Ondar's Den of Antiquities.  These are widely known in the Star Wars lore, having an appearance in the Clone Wars series, and brief ones in the prequel films.  But, there was a significant Jedi and Sith Holocron in Star Wars Rebels.

Dok-Ondar's
There are so many Easter Eggs in here it's hard to distinguish what is truly part of the Star Wars continuum or made for Galaxy's Edge itself.  There are a few references that are fairly easy to spot, and one maybe not so easy.
Thrawn's military insignia is not only something on a shelf inside the shop, but it is also for sale!  Thrawn has been a popular character first appearing in a now non-canonical novel but recently the Rebels' adversary in the last two seasons of the series.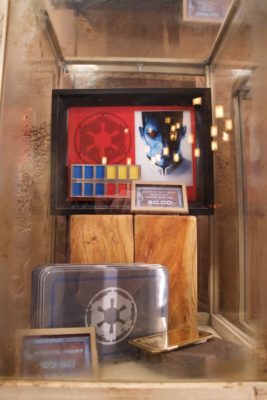 Upon first entering the store there is a mask available for purchase.  When you read what it is you may ask what this is from.  Well, this Jedi Temple Guard mask is from Clone Wars and more significantly from Star Wars Rebels.  In Season 2 of the show, we find out that the Inquisitor was once a Jedi Temple Guard, and is able to knight Kanan Jarrus as a Jedi Master in a vision.

There is something for sale that seems very obscure unless you know Star Wars Rebels well.  A replica of Hera's Kalikori is for sale, but it appears that her actual family heirloom is on display inside the Den of Antiquities.

Subtle But There
Star Wars Rebels had quite a bit of creature to add to the vast alien library of Star Wars.  One very popular animal was the Loth Cat.  In the marketplace, there is a creature shop with a caged, sleeping Loth Cat.

Docking Bay 7
There is one for sure reference and one that I will stretch into it being an Easter Egg.  I'll start with the one I'll stretch.  It is the shuttle parked on top of the eatery.  I think it is a reference to the Phantom 2 – the small shuttle that could connect with the bigger Ghost ship.  It isn't an exact duplicate, but it has some resemblance.  Coincidence?  Not usually in Star Wars.  And especially if it's supposed to be a cargo ship much like the Phantom 2 is considering what's inside the quick service restaurant…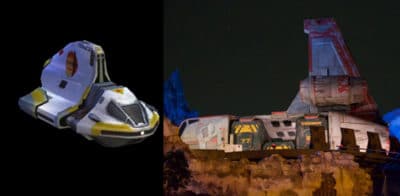 Meiloorons are a fruit that Hera has great taste for in the Star Wars Rebels series.  There is a drink that can be purchased in Galaxy's Edge using the juice of the fruit.  But, there are some meiloorons spilling from a crate inside the restaurant.  An episode of Rebels had the crew transporting these, and other times just trying to get their hands on them.  For me, it makes the cargo ship on top seem more than a coincidence that it looks like the Phantom 2.

That's all I've spotted so far in Galaxy's Edge.  I'm sure there's at least another that I haven't spotted yet.  Have you found all of these?  Do you have any more?  Let us know in the comments below!