LAKE BUENA VISTA, Fla. May 29, 2019—Dozens of local elementary school students took to the stage and stepped into the spotlight as part of the grand finale act of the 2018-2019 schoolyear's Disney Musical in Schools program, held at Dr. Phillips Center for the Performing Arts.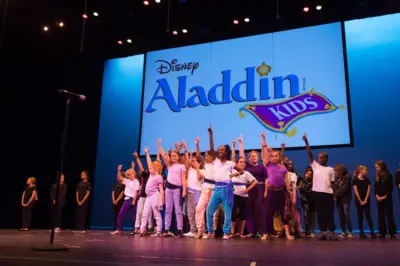 The students recently completed the 17-week immersive program, designed by Disney Theatrical Group, encourages youth to embrace their passion for musical theatre and explore their artistic expression. The program provides free performance materials and professional theatre development to under-resourced public schools, allowing participating students and teachers to experience the joys of theatre with a special touch of Disney magic.
Through a unique partnership with Dr. Phillips Center for the Performing Arts, Central Florida elementary schools have participated in the Disney Musicals in Schools program for the past three years.
"Disney Musicals in Schools encourages our local students to truly embrace their passion for the arts," said Rena Langley, senior vice president of public affairs at Walt Disney World Resort. "The program enables some of the youngest members of our Central Florida community to take the stage, step into the spotlight, and chase their dream, all through the lens of a beloved Disney story."
This year's participating schools are Lovell Elementary School and Ridgewood Park Elementary School of Orange County, Central Avenue Elementary School and Highlands Elementary School of Osceola County, and Forest City Elementary School of Seminole County. Each participating school is assigned teaching artists who work with school administrators, teachers and students to aid in the development of a 30-minute Disney KIDS musical specifically written for elementary-aged performers.
The program is made possible in the Central Florida region through a $50,000 grant from Walt Disney World Resort to Dr. Phillips Center for the Performing Arts, who partner together to bring this unique and immersive arts experience to local children. The experience culminated in a special finale performance at Dr. Phillips Center for the Performing Arts, where students had the opportunity to perform their favorite number from their school's production on a Broadway-caliber stage in front of a cheering crowd of their family and friends.
"Our vision is Arts for Every Life and through collaborative programs like Disney Musicals in Schools we fulfill that mission by creating access to the arts for elementary students right in their schools," said Kathy Ramsberger, president and CEO of Dr. Phillips Center for the Performing Arts. "Together with the students and teachers, our teaching artists and partners like Disney help us to produce this remarkable grand finale event."
The arts play a vital role in every community's social fabric. For more than four decades, Walt Disney World Resort has helped to foster and strengthen the local Central Florida arts community by supporting various organizations that bring unique art and theater experiences to children and families. Disney Musicals in Schools has reached nearly 20 Central Florida elementary schools since its introduction to the Central Florida region in 2016. This marks the third year the program has been part of Dr. Phillip Center's educational outreach.