The newest Knott's Berry Farm attraction is a revamp of an old favorite.  Bigfoot Rapids has transformed into Calico River Rapids, and it is quite the transformation!
Riding the Calico River Rapids
Calico River Rapids takes guests on a journey through the backwoods of Calico – the ghost town of Knott's Berry Farm.  Woodland creatures populate the banks of the river, along with a very legendary one that gets up close and personal with riders.  There's one settler that will surprise – and endanger – passengers with a watery shot.
Mr. Daps and I reminisced over Bigfoot Rapids before riding this much newer version.  It was a fond ride in our minds before.  The ride is even better from the conversion to Calico River Rapids!  It was great having the animatronic animals give great encounters as you traverse the waters.  There are many great details to be seen even in the queue of the ride.  We both were noting it really adds a lot to the Calico theme of Ghost Town.  It gives a much-needed story to the area of the park that the rapids have been part of.
The ride itself was a lot of fun.  It is as relaxing as a rapids ride can be.  It's not too wild but has a good amount of surprises and bumps to make it thrilling.  We did get wet, but only one area of our bodies could be considered soaked.  It's a great attraction for the upcoming summer heat.  Overall, we are quite pleased with how this turned out and would ride again easily!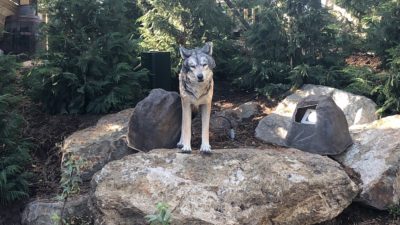 The Town Celebrates
For the opening ceremony of Calico River Rapids, the citizens of Ghost Town Alive came to celebrate.  The mayor introduced the newest residents – Potts and Colter – who have opened the expedition company to take guests through the river.  As the story goes, there are rumors of a big, hairy "skunk" of a creature that could endanger guests who ride.  Of course, they are referring to Bigfoot who is a bit of an homage to the original attraction.
Following the rope cutting ceremony, media guests were able to ride the rapids as many times as they could muster.  A fine selection of Knott's food was available to enjoy.  However, the real delight was watching the citizens of Calico interact with the crowd and trying to get many to take the journey on the rafts.
Surprises
Besides the splashes of water that can occur on the ride, there are some surprises outside of the attraction by Pony Express.  TNT detonators are available for guests to trigger watery explosions.  It's possible to soak riders with these geysers of water.  But, be careful as some spray back can occur!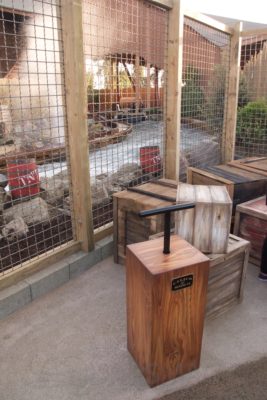 Overall this is a wonderful addition to Knott's Berry Farm.  It is easily re-rideable with so much scenery.  You may miss something the first ride through.  It will be a great relief in the upcoming summer heat as well.  Though it has a height limit, it's still a wonderful family ride.  There are thrills, but there is a serenity to riding that guests of all ages are going to have a good time.  It's a well done, great addition to Knott's Berry Farm and is worth making the effort to check out!
[Review Disclaimer]