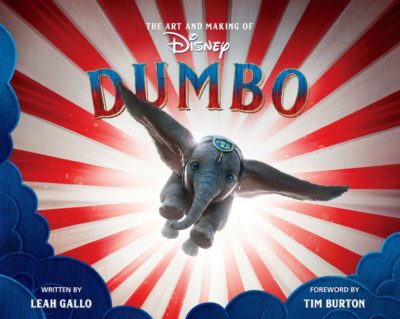 In Dumbo Disney magic returns as an elephant flies onto the big screen. This is thanks to the imagination of Tim Burton who brought this animated Disney classic in the live-action realm. While the movie itself is charming (read my review here), there is also a book about the making of it. The Art and Making of Dumbo: Foreword by Tim Burton is that book. DAPS MAGIC received this book to review.
The Art and Making of Dumbo: Foreword by Tim Burton is not just about the new live-action Dumbo, it also goes into the history of the story. I was pleasantly surprised to discover that there is history included at the beginning of the book about the original Dumbo movie as well. The book goes into the creating of the original story, the animation, the music, and even what was going on at Walt Disney Studios leading up to the movie's creation. It was interesting to see who ended up working on the movie and why.
The majority of the book is spent on the new live-action Dumbo, as imagined by Tim Burton. It includes how this project got started and how Tim Burton came to be involved. Reading this book and learning about the love screenwriter Ehren Kruger has for the original really added to my appreciation for the movie. I look forward to seeing it again after learning how Kruger wanted to expand on Dumbo's story, and not just retell it. When the dream was caught by executives at Disney, Tim Burton was always the only choice to direct it. While not a huge fan of the circus, he did like the story that was told. He also liked that it was about a group of outsiders coming together.
The book shares many different facets that went into making this new telling of Dumbo. There are so many different things that go into making a movie that one may not consider. From creating characters to casting, to set design, to even the actors that brought the characters to life! This book is chalked full of stories behind how this movie came together. It was great to read some of the backstories behind the actors in the film. Some of them had long-running connections with Tim Burtons. Others faced their fears to help create this movie. All of these details and stories are shared alongside some incredible photos.
The Art and Making of Dumbo: Foreword by Tim Burton is really a beautiful book. It was very enjoyable spending a few afternoons reading through it to review it. I also found myself having a deeper appreciation and affinity for both versions of the movie as I read through this. There was clearly some passion put into this movie and that passion could be caught while reading through this book's pages. This is a quality book and if you are into making-of books, definitely go out and grab it. Personally, I would grab it just for how it pulls back the curtain and shares even more about Disney history.
If you would like to purchase this book, please consider purchasing it here and also supporting DAPS MAGIC while at the same time through our affiliate link.
<i>Daps Magic received a sample product or experience for this review in exchange for an honest review. The views of the reviewer are wholly their own. Read full disclosure policy at dapsmagic.com/disclosurepolicy.</i>