Black Tap – a new restaurant at Downtown Disney – has just opened its doors today.  It's known for handcrafted shakes and gourmet burgers.  How does the new eatery stand in the resort?  Here's a review of the first public day of operation.
Setting
The interior of the eating establishment isn't fancy but isn't so simple either.  It has a nice modern design that is upscale quick serve.  There's a small bar where drinks can be served, but most of the restaurant is dedicated to tables.  Inside there is quite a bit of seating for families.  There is even stool seating along the window for a nice view of Downtown Disney as you dine.  A patio next to the walk-up window allows for more seating and space for those wanting the open air arrangement.
As far as decoration, a few pictures adorn the walls, but most of it is black and white patterns on some wood paneling.  Near the entrance is a crazy multi-colored, multi-patterned wall that signifies what's in store for shakes.  Along the top of the open kitchen and ordering counter is various candy filled panels to pay homage to the shakes.
Ordering
For it being the opening day there was a significant line that ran outside.  But, it was a false pretense for how quick it was to get up to the counter.  A friendly cashier asks for your order, and there is a touch screen checkout process.  There is an Annual Passholder discount at about 10% which the cashier asked if I was one to apply.  After ordering a pager is handed out and it's explained to leave on the part of the table that says "Place Locator Here."  The servers know to come out to the right place to hand food and drink to the appropriate spot.  For those familiar with some restaurants at Walt Disney World, it is similar to Be Our Guest Restaurant and other places that have locator beacons.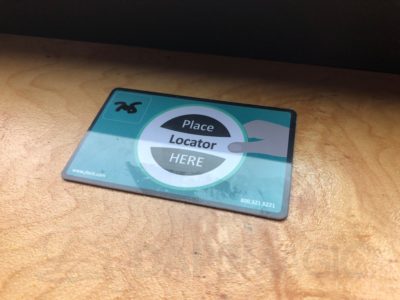 Food
I know what you're all wondering about.  How is the food?  Excellent!  Maybe more than excellent if there is such a thing.  The prices seem a bit much, like $16 (non-discount) for a burger and fries.  But, this is a great burger!  And the fries were delicious too!  If you think about the price of cheeseburgers within the park it is probably about $12 for a fairly decent burger and decent fries.  For $4 more you can get a prime meat burger and very good fries!  It's a win!  The burger actually goes on my list of top burgers I have had thus far in life!
Burgers are not the only type of item on the menu.  There are many sides to choose from.  I am one who enjoys onion rings and was torn between trying the standard fries or upgrading for $2 more for onion rings.  I did fries, but very gratefully there was a family who sat next to me and ordered the rings separately only to find out there was a lot and they only ate one each.  I was able to eat a few to satisfy my ring appetite.  I will say I will go with the onion rings next time.  I may even just order them.  They are not the typical fast food onion rings.  They seem hand-dipped in batter and are very crisp and juicy!
Of course, I had to get a shake.  But, not just any shake.  I wanted to try one of the Crazy Shakes they are known for.  Upon looking at the menu I found out that the Cake Shake is limited daily.  I wasn't sure if I'd be back in an optimal time in the future so I decided on that one.  It has cake batter ice cream and a sprinkle-laden rim on the glass.  To top it off a whole slice of a cake is placed on top of the glass!  Yeah, it's dessert overload.  It's a pricey shake at $17 but is a delectable dessert.  It sold me on the milkshakes, though I don't know if I'll do this one again in the future.  Mostly because I need to find my favorite shake here.  As someone with a huge sweet tooth for ice cream, this is going to be a common stop for me.  The simpler shakes run $9.  It's not a bad price for a really good drink.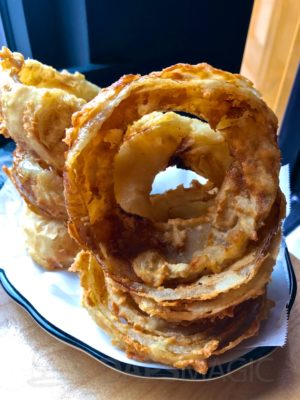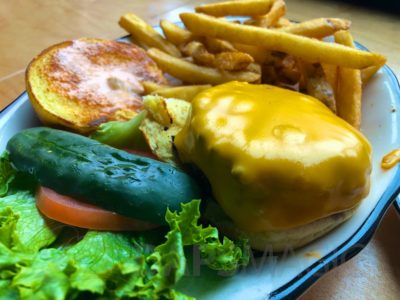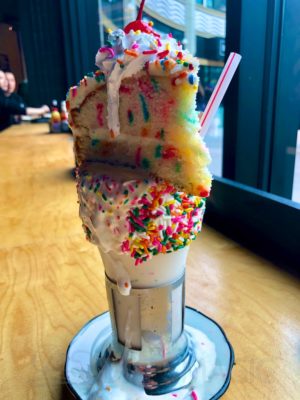 Conclusion
This is a wonderful addition to Downtown Disney.  It's not exactly a sit-down restaurant.  It's not exactly counter service.  It's in between which provides a nice, casual break from the parks.  The burger is worth venturing out of the parks for!  As I said, it is a little more than ones in the park but if you're worried about taste to price ratio then this is worth the effort.  If you've got a sweet tooth this is the spot to satisfy it.  I've been heading to Salt and Straw quite a bit, but this may take the cake…like it literally did today…every trip.  Definitely check it out sometime soon!