15 years ago today what would eventually become DAPS MAGIC began. Originally called DAPs for Disney Magic, the seeds for this organization were planted in the form of a dream and a small group of people rallying around this dream. The result was a Yahoo! group and a splash page to accompany it. Soon this would grow into a full-fledged website. DAPS MAGIC was created as a place to celebrate a mutual love of Disney (and later geekdom, in general, was added). Today, that is still what DAPS MAGIC is about.
Mission Statement:

To be a family friendly website offering positive Disney and geek information, news, and activities by celebrating a mutual love of Disney and geekdom.
The mission of DAPS MAGIC is as much about making happy memories as it is about talking and reporting about the memory makers. Through the years the pursuit of this goal has led to many memories for me (Mr. DAPs) and the team. We hope that the first 15 years were just the start of many years of memories. Here are a few of our team members' favorite memories and thoughts:
Mr. DAPs
There are so many different memories I could come up with. Walking into Disneyland on its 50th anniversary and getting welcomed by Cast Members lining Main Street, USA. Each of these memories is always accompanied by the people that they were made with. The team we have on DAPS MAGIC has created memories of D23 Expos, talking Mickey experiences, new shows and fireworks, historic Disney events, creating content, meeting amazing people, and building friendships that will last a lifetime. If I had to choose just one memory, it probably would have to be the first time I met Richard Sherman and hearing him play Feed the Birds on the piano he played the same song for Walt Disney with. 
DAPS MAGIC has always been about sharing the magic but it is also about sharing the magic together! I look forward to many more memories together!
Merlin
As I reflect back on the past 15 years, I find it nearly impossible to pick a single favorite memory, as there have been innumerable memories that have all become favorites. For me, the memories really begin with first suggesting and then creating and coding the first DAPs Website:
Knowing that we could do better, we figured out how to make the site look a little cleaner and professional than just images and static content by creating version 2 of the site. This included "DAPs for Disney Magic Review", or D.D.M.R as we abbreviated it, where we compiled Disney news from various sources and placed it all in one central location. Of course when I say "we", I mean that Mr. DAPs did most of the work to maintain this while I filled in on nights he wasn't able to make it happen. It was a lot of copy and paste work, but our first news was underway and I was pretty proud of my first real coding automation for a website!
A couple of years later, we redesigned the site and moved it to the current location. The process was exciting and I had a lot of fun and struggles to learn how to code a rudimentary, custom content management system so we could begin to automate more of the site and allow for many more options on the site:
With all this work, we found that there were many others who shared our vision of "a place on the internet that people young and old could share their love of Walt Disney and his legacies in a safe and fun atmosphere." As we grew, we had a lot of fun camping out for things like Disneyland's 50th celebration kickoff (and an overnight stay waiting for the actual day). We were just having fun sharing good times and memories going to the parks, making videos and friends, and generally just enjoying the positivity and magic that often comes with all things Disney!
Soon, we had all sorts of news categories, an automated Caption of the Week contest, Mr. Potato Head Adventures & Darth Tater, the No Name Game, and more! We also had plenty of fun with things like attending the D23 Expo, where I got to see Dick Van Dyke sing (and dance!) live in front of my very own, captivated eyes!
As the website and it's complexities grew, it became apparent that I would not be able to keep up with all the necessary coding upkeep with the custom system I had built and so we eventually moved to an open-source content management system so that we could have more flexibility, and so the next generation of the site was born. While the logo remained the same, the entire look of the site was a little more standardized, inching us closer to today's look. Here is a shot of the site during our 10th year of DAPs: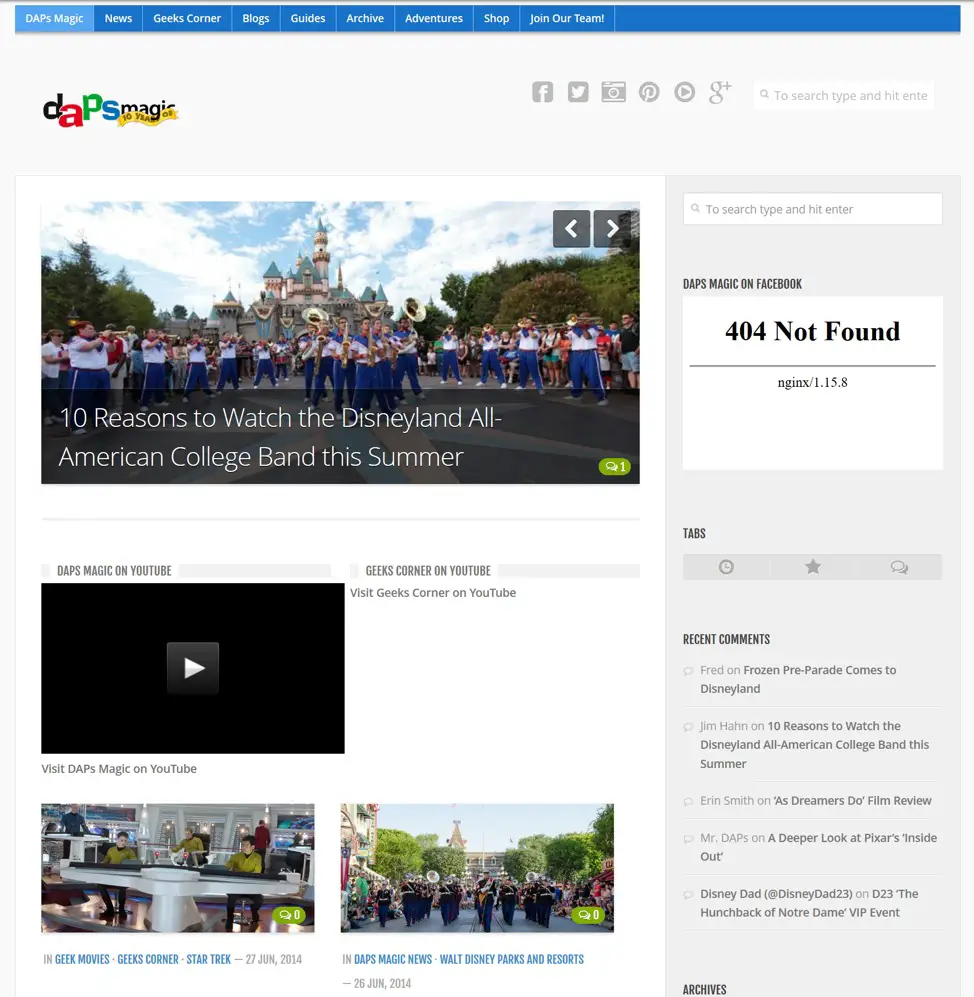 Throughout all these years, I have enjoyed videoing so many events and shows and have loved each and every one of them! Some of the waits were grueling and some of the editing and rendering seemed endless at times, but I could never keep myself from coming back for more! The fun of sharing the Disney magic with others has always been too much to ignore, and I don't know what I would do without Disneyland's All-American College Band each summer and Candlelight each December!
Somewhere along the way, we started getting invited to some of the Disney Press events and I started feeling like I was royalty when pampered by Disney! I got to walk past Disney legends, hear Jodi Benson sing from The Little Mermaid, and I was absolutely blown away when World of Color opened with its overwhelming display of lights, water, and projections! I still have my original "Glow With the Show" ears and will never forget seeing a see of them for the first presentation of the show!
So much has changed over the years, and we continue to work on the site along with the many other outlets we now have. I don't go a day without checking for what DAPs has to say on my Facebook feed, while many others interact on Twitter and subscribe to our newsletter. Our YouTube channel is constantly showing new and exciting things, from allowing me to enjoy the parks from home to feeding my inner geek with Geek's Corner, to live vlogs (video blogs), to the Disney Reporter segment… there's always something new at DAPs, and I love being a part of it!
Caitlyn
I've been a part of the DAPS MAGIC team for almost 7 years now, which is crazy to think that when I joined, I was still just a college student, living in the Bay Area and watching DAPS videos on YouTube to live vicariously through them since I couldn't be at the parks regularly. To narrow down a favorite memory proved to be pretty tricky, as I have so many fond memories.
Before I lived here, getting to hang out with the DAPS team was something I always looked forward to on trips. I would purposely try to plan my flights as late as I could on Sunday nights, or try to stay till Monday morning so I could be a part of the Sunday crew, and dinner at Earl of Sandwich always was a highlight. It was hours of sitting and laughing and just enjoying each others company. Two other memories stuck out to me that I wanted to share. One of the first times I really got to hang out with Mr. DAPS was at the 2013 D23 Expo. I was still fresh to the team, but we had so much fun walking around the expo halls, and also got to see the first episode of Agents of SHIELD – which kind of blew our minds! That weekend made me feel like I was really part of a cool team of people.
My most favorite memory was from July 17th, 2015 – The 60th Anniversary of Disneyland. It was miserably hot that day, but a few of my friends and I came into town for the celebrations, and we met up with Mr. DAPS and a couple of others from the team bright and early that morning. They opened the gates way earlier than normal, so we camped out at the castle for I want to say around 4 hours for the celebrations! The waiting paid off, and we got to see and hear Richard Sherman come out and play "Feed the Birds" while Ashley Brown sang. We all sang "Happy Birthday" to Disneyland, while characters poured out from the castle. It's one of those memories that still brings tears to my eyes because of how incredibly special it was to be a part of it, but that I got to enjoy it with some even more incredible people!
DAPS has brought so many friends into my life, some that are practically family to me, and for that, I am grateful.
Caitie
A favorite memory of mine is my first time on GEEKS CORNER. I got to teach Mr. DAPs, the coffee lover, everything I knew about coffee as a barista. It was one of the most intimidating, yet rewarding, moments of my life. That was when I truly moved from being a fan of DAPS MAGIC to being staff. The wackiness will always be something that I look back on fondly!
DC Sarah
DAPS MAGIC has been a part of my life for just about a decade now. It was where I got my real start in blogging, met some of my favorite people, and really grew as a Disney fan. 
Throughout my time as a contributor to DAPS MAGIC I've been able to write about some really fun things (Hawaiian Friday Haikus- I mean who doesn't love a year's worth of weekly haiku about The Enchanted Tiki Room) and meet some great people (Richard Sherman, Bret Iwan, Bill Farmer, and more). I've seen movies, attended conventions, and become a part of a Disney family. None of which would be possible without DAPS MAGIC! 
Mr. DAPs is and always will be like a big brother to me. Our decade long friendship would have never happened if DAPS MAGIC hadn't existed. I am forever grateful for the fun, opportunities, memories that DAPS MAGIC has given me!
Cameron
An easy highlight was wrecking the old TARDIS. What started as just a silly way to improve the set turned in to an entertainment of its own! Sledgehammers and destruction aside, I appreciate all the non-documented moments. We're on camera and paper a lot, but we still can find entertainment and comradeship without a focus.
Annie
Some of my favorite memories of being a DAPS contributor is actually when we have come together as a cohesive team and strategize for the future. Creativity and brainstorming are some of my favorite things to do within a like minded group and the DAPS Magic team members are rich in both! Be it articles, events, Vlogs, or even simple photos of coffee cups in front of the Matterhorn, there is something about starting with a single idea that is then built upon as different minds mull it over. Together we've come up with some awesome plans of action and have seen our vision grow to fresh life.
Luke
I got a bottle of clam juice for my birthday on GEEKS CORNER's pre-show because, $1. I popped the bottle open and got an immediate reaction of "No!" I took a sip which was followed up by another "NO!!!"
William
I've enjoyed the community that I've got to meet that has a passion for Disney, and I appreciate the opportunity to get to write about fun and unique topics that show how great it is to be a Disney geek!
Mikey
Being asked to share a DAPS MAGIC memory is a task that may be worth its own episode of Mikey's DAPS Quest. But seriously, I've had so many great moments and memories being connected to and surrounded by such an amazing team of people. Though one of the things that stands out the most to me was finding the GEEKS CORNER show on YouTube, which was the launching point of my love of DAPs. Not long after finding GEEKS CORNER, I learned that they would live stream the show and would allow us outsiders to join in the conversation. The moment my first comment was read on the show, I knew that these guys were the real deal. Little did I know at the time that this would lead to all new opportunities to share my love of all things Disney, through the late, great DAPScast, Mikey's Daps Quest, and whatever else the future may hold here. I have forged friendships which will last a lifetime through DAPS MAGIC, and love them all dearly. Here's to fifteen amazing years, and to many many more to come!
15 years in and DAPS MAGIC is really just starting its adventure. As we look forward we aim to provide better coverage, better videos, better adventures, and more memories! We hope that you'll join us as we continue this adventure. Thanks for sharing the magic with us!
What are your favorite DAPS MAGIC memories? Share in the comments below!