Knott's Berry Farm's Boysenberry Festival is always something I look forward to every year.  Not only is it a great time of entertainment and fun at the park, but there is good food.  LOTS of good food!  This year is no exception and there was a preview to sample all the berry goodness coming during the festivities.  In addition a look at the new merchandise for this year and the return of "Tied Up in Knott's" – the art show featuring great artists.
Tied Up in Knott's
Over at the Wilderness Hall is a great art exhibition featuring several artists having a tie to Orange County or Knott's Berry Farm.  It's a wonderful showcase of talent and some great subjects of Knott's past.  Among them is artwork with homages to Calico, Bear-y Tales, rides, and even Boysenberry treats which is painted via our very own Annie Hobbs!  The artwork is for sale, and there are sometimes prints available for purchase as well.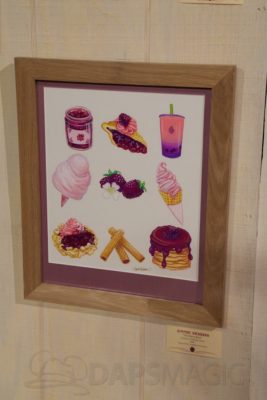 Boysenberry Festival Merchandise
The Boysenberry Festival is teeming with berry themed souvenirs.  Besides the usual craft and food items available there are some new offerings to pick up.  A special shirt and pin set is available in both women's and men's designs.  There is an amazing Boysenberry Pie Candy bagged and ready to be picked up.  A can of boysenberries is available and a cobbler mix that pairs together.  Boysenberry caramel and fudge can be obtained.  Some great home goods are up for grabs too, including an oven mitt, apron, lotions, and soaps.  Jelly beans and a patch round out the merchandise availability.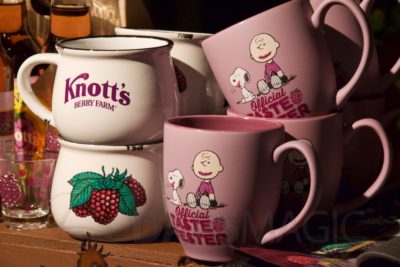 The Food!!
Of course, the real reason to come by the Boysenberry Festival is the food!  There was much more to partake this year than any year before!  Returning favorites include chicken wings, sausage in a bun, boba tea, hummus, and macaroons.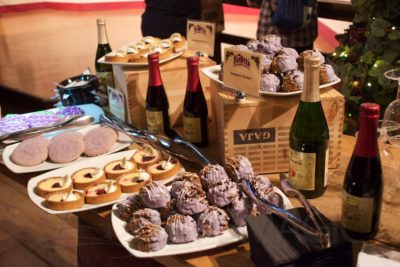 In addition to the favorites, there is so much more to feast on!  New sugar cookies, a lime tart, baked macaroni and cheese, boysenberry cinnamon chips and ice cream, chicken and flank steak skewers with their own different boysenberry sauces, boysenberry chili, boysenberry sausage and chicken jambalaya, boysenberry pot roast and mashed potatoes, a new elote, boysenberry salad with smoked salmon, a 2-foot long hot dog, and boysenberry pulled pork tostada!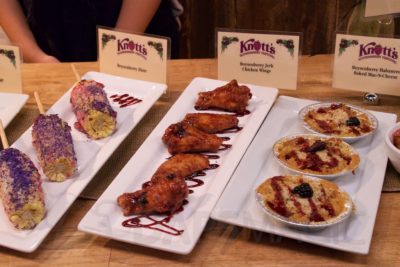 The king of the food was the Berry Beast!  Yes.  It is a beast!  It is over 5 pounds of green peppers, breaded pork tenderloin, and bacon wrapped onions with boysenberry bbq sauce in a ciabatta bun!  It needs to be attacked!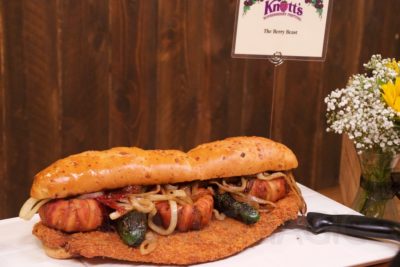 Food Favorites
Out of all that I ate (and I ate almost everything…the macaroons was the only item not eaten), there are a few favorites.  The new elote was delicious and worth eating every bite.  The pot roast was tender and juicy and had a great berry flavor.  I liked both skewers with a sweet berry sauce on them, but also a good smoky flavor for the meat itself.  The jambalaya was very flavorful and not spicy.  I would have everything again, but those items are the ones that I would definitely grab if I could only grab a few.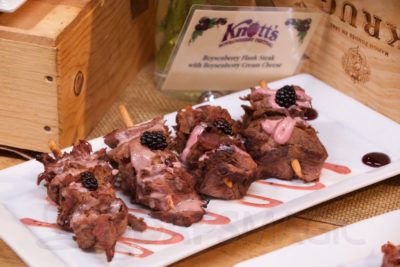 Yogurtland
Besides the berry treats at the park, Knott's and Yogurtland have teamed up to showcase a boysenberry pie flavor in the Yogurtland stores.  It had that good boysenberry flavor but was not overpowering.  The stores will also have a special discount coupon so that guests of Yogurtland can easily be guests of the Boysenberry Festival.  The flavor debuts in stores on March 18.
Get Ready
This year is going to take more than one day to really savor all of the treats at the festival.  Not to mention all the entertainment, and if you want to take on rides.  There will be a tasting card available (see this post for more information) and a Season Pass is a great way to come back again and again during the festival to get your fill!
Daps Magic received a sample product or experience for this review in exchange for an honest review. The views of the reviewer are wholly their own. Read full disclosure policy here.