At the start of each year, we always say it's going to be a huge year for Disney fans, and this year is no exception. 2019 is truly going to be a huge year for Disney fans! From the parks, to movies, and the D23 Expo, there are numerous exciting things that we'll be able to experience this year. This article will be a comprehensive look into what's new or celebratory in 2019!
Disney Parks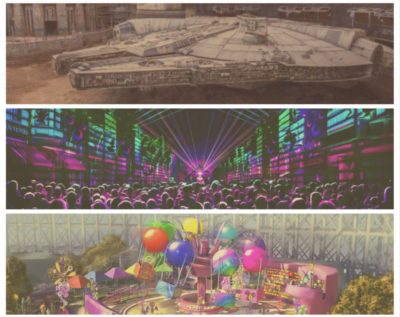 Disneyland Resort
Disneyland
      • Most notably, the biggest highlight of the year will be the opening of Star Wars: Galaxy's Edge this summer in Disneyland. The 14-acre land will immerse fans into the incredible world of Star Wars. The two attractions are Millennium Falcon: Smugglers Run and Star Wars: Ride of the Resistance, and will also include a Cantina, as well as other dining locations. While it will bring an influx of guests to the resort over the summer, it's definitely going to be the biggest Disney story of 2019.
      • Later this month, "Mickey's Mix Magic" will light up the night in an all-new projection show celebrating 90 years of our favorite mouse! Mickey's Mix Magic will debut on January 18th.
      • January also brings the start of Get Your Ears On!, a celebration of Mickey and Minnie Mouse! It will feature "Mickey's Mix Magic", the return of "Mickey's Soundsational Parade" – with a new opening float, Valentine's Month, and specialty food and merchandise.
Disney California Adventure
      • In Disney California Adventure, two new attractions are opening in Pixar Pier! Jessie's Critter Carousel and Inside Out Emotional Whirlwind may not have opening dates yet, but they are scheduled to open later this year.
Downtown Disney
      • Over in Downtown Disney, two new restaurants should be opening soon: Ballast Point and Black Tap. They'll both reside in the former building of Ridemakerz and Build-a-Bear Workshop. Ballast Point Brewing Company is most known for their beers, and their menu selection has shareable plates, salads, flatbreads, tacos, and burgers. Ballast Point is opening on January 16th! Black Tap Craft Burgers and Beer menu is well-implied in the name, but their featured items are their CrazyShakes. We're pretty excited to try out both of these restaurants!
      • With new experiences coming to Disneyland this year, and the influx of guests, there is an urgent need for more parking at the resort. Right next to Mickey and Friends Parking structure, the new garage is nearing completion. While it may not be the most exciting thing to look forward to in 2019, it will hopefully ease some parking issues, which will be welcomed by Disneyland guests.
Walt Disney World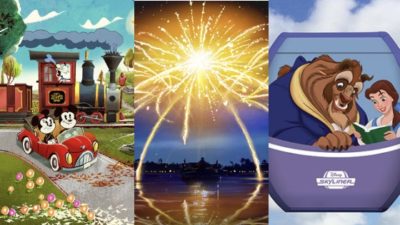 Disney's Hollywood Studios
Disney's Hollywood Studios is the park with the most to celebrate in 2019! Not only is it the 30th anniversary in May, but has multiple exciting new offerings for guests!
Star Wars: Galaxy's Edge is opening in the Fall, and will be pretty similar to its West Coast counterpart.
In addition to the new attractions in Galaxy's Edge, Mickey and Minnie's Runaway Railway will delight guests in this all-new adventure. This is the first ever ride starring Mickey Mouse, and we can't wait to see it!

 

As I mentioned earlier, Hollywood Studios is celebrating 30 years in May, with a new projection show, "Wonderful World of Animation," highlighting 90+ years of Disney animation.
Another new show making its debut on March 31st, 2019 is "Lightning McQueen's Racing Academy." Join Lightning as he teaches young new racers about racing along side his friends Mater and Cruz Ramirez. This show will take place over at Rock 'n' Roller Coaster.
Epcot
This spring at Epcot, guests will be able to experience dining in Space. Well, not literally in Space, but the dining room will be encapsulated in a large screen to simulate dining in the stars. This restaurant is due to open in the Spring near Mission Space and Test Track.
A new fireworks show will debut this Fall, before an all-new spectacular replaces Illuminations in 2020. "Epcot – Forever" will highlight the music that we all know and love. While the show is temporary, it's sure to be a wonderful nostalgic trip into some Disney history.
Around the Resort
The new experiences aren't limited only to the parks, a new DVC resort is under construction near Caribbean Beach Resort. The Riviera Resort will have a Mediterranean vibe, and is projected to open in the Fall.
At Disney's Coronado Springs Resort, the Gran Destino Tower is nearing completion, and will open to guests in July 2019. Reservations can be booked for guests wanting to stay there later this summer. In addition to this new tower, a new rooftop restaurant, Toledo – Tapas, Steak, and Seafood, will open as well. This restaurant will be a great addition as it will give guests a dining experience with a view of the resort, and opens on July 9th, 2019. Coronado Springs has a new lakefront restaurant, Three Bridges Bar and Grill, opening on July 9th, 2019.
One of the most exciting additions to the Walt Disney World Resort is a new form of transportation. Although it may be a little more limited, the Disney Skyliner is something that many Disney fans have been looking forward to. Not only will it serve as transportation between some resorts and parks, but it will be an awesome way to take in some of the views. I, for one, would love to go on at night while nighttime entertainment is happening.
Disney Springs
Over at Disney Springs, the NBA Experience is scheduled to open this summer. Fans will be able to dine, watch games, and play interactive games. It sounds like it will be a larger, basketball-only version of ESPN Zones, and perfect for sports fans!

 

On the West Side of Disney Springs, Jaleo by José Andres is coming soon. This fine dining restaurant has a Spanish menu that

 

features tapas, paella, and sangria.
City Works Eatery and Pour House is also opening on the West Side. As listed on their website, they serve "Classic American Food with Modern Twists." City Works is scheduled to open this summer.
International Parks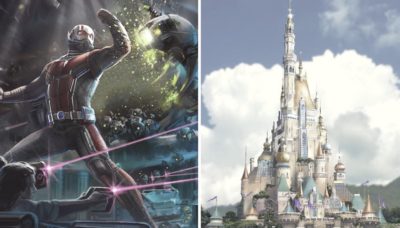 Hong Kong Disneyland
One of the parks in China will see a couple huge changes this year, most notably, their castle unveiling. Major renovations are underway as they enhance Sleeping Beauty Castle, the first time a castle has ever been added to. It's reveal will be later this year.

 

Hong Kong Disneyland is the first Disney park to have a Marvel attraction, and they'll also have the second attraction in addition to the Iron Man Experience. Ant-Man and the Wasp: Nano Battle is an interactive attraction that will shrink guests to the size of an ant as Ant-Man and Wasp battle Hydra swarm-bots. Ant-Man and the Wasp: Nano Battle will open on March 31st, 2019.
Tokyo Disneyland
Tokyo Disney has a couple of new shows making their debut this year, as well as the opening of a new attraction. "Donald's Hot Jungle Summer" will start in July, while "Song of Mirage" will also open this summer. "Song of Mirage" will replace the show "Out of Shadowland."
As a part of their multi-year expansion, Soaring: Fantastic Flight will open this summer in the Mediterranean Harbor of DisneySea. This is based on the attraction Soarin' Around the World, and will feature original scenes from that attraction.
Disneyland Paris
Disneyland Paris' Phantom Manor has been under refurbishment for about a year, and has had the opening date pushed back, now to April 2019. Phantom Manor will see some enhancements to the illusions, as well as to the storytelling, and will have guests "dying" to get inside.
Legends of the Force: A Celebration of Star Wars will make it's return from January 12th to March 17th with a couple of new additions. Guests will be able to meet their favorite Wookie, Chewbacca during this celebration. Darth Vader will also make an appearance during the new Imperial March, similar to the March of the First Order at Disneyland and Walt Disney World, but with Darth at the helm of the Stormtroopers. New additions are being added to the Star Wars: A Galaxy Far, Far Away show, with new scenes depicted on screen, and BB-8 and Boba Fett making appearances.
The Avengers will also assemble again this summer, and this time, they're bringing everyone's favorite Guardian of the Galaxy, Groot, for guests to meet!
Disney Cruise Line

To continue with the travel adventures around the world, some new experiences are coming to the Disney Cruise Line:
Mickey's 90th Birthday celebrations continue in a brand-new deck party on 7-night sailings on the Disney Fantasy.

 

Marvel Day at Sea is making its return, but Captain Marvel will greeting guests before her movie hits theaters in March.
If you're looking to adventure somewhere new, Disney Cruise Line is adding 7 new ports of call in Europe. You'll be able to visit spots such as Belfast, Northern Ireland, Cartagena, Spain, and Stockholm, Sweden.
D23 Expo
This August, Disney fans will congregate at the Anaheim Convention Center to see previews of upcoming movies and find out new experiences coming to the parks. It's always a fun weekend for Disney fans!
Movies

"Captain Marvel" – Follows the story of Carol Danvers as she becomes an intergalactic hero, and is the first movie from Marvel Studios to feature a female as the lead in a superhero film. "Captain Marvel" opens March 8th, 2019.
"Dumbo" – This adaptation is a live-action retelling of the 1941 classic of the same name. This film is directed by Tim Burton. "Dumbo" lands in theaters on March 29th, 2019.
DisneyNature "Penguins" – "Penguins" follows Steve the penguin as he travels the Antarctic in search of a nest and mate. "Penguins" opens in theaters on April 17th, 2019.
"Avengers: Endgame" – Taking place after the snap of Thanos, the remaining Avengers must fight to save the universe. "Avengers: Endgame" opens on April 26th, 2019.
"Aladdin" – A live-action retelling of the 1992 classic of the same name. Directed by Guy Ritchie, and stars Mena Massoud, Naomi Scott, and Will Smith, arrives in theaters on May 24th, 2019.

"Toy Story 4" – Woody and the gang must accommodate new toy, "Forky" into the group, and they embark on a road trip adventure. "Toy Story 4" opens on June 21st, 2019.
"The Lion King" – Directed by Jon Favreau, "The Lion King" is a live-action re-telling of the 1994 classic that we all love. "The Lion King" opens on July 19th, 2019.
"Artemis Foul" – Based on the book by Eoin Colfer, "Artemis Foul" follows 12-year-old Artemis Foul as he searches for his missing father and embarks on an adventure and finds an ancient civilization – full of fairies. "Artemis Foul" opens on August 9th, 2019.
"Frozen 2" stars original voice cast: Kristen Bell, Idina Menzel, Jonathan Groff, and Josh Gad, and opens on November 22nd, 2019.
"Star Wars: Episode IX" opens on December 20th, 2019.
Disney+
With a majority of TV users subscribing to Netflix, Hulu, Amazon, and other outlets for watching media, it's no surprise that Disney is creating their own service. While we don't know when Disney+ will be available, we're looking forward to the new content they're creating. The Star Wars original series, "The Mandalorian," and Marvel's new original series about Loki are two things we're excited about subscribing to.
Kingdom Hearts III
The Kingdom Hearts videogame series has become quite popular as it takes games through Disney and Pixar worlds. This next installment follows Sora, Donald, and Goofy to stop the evil force, the Heartless, and save the universe. Kingdom Hearts III is slated for release on January 25th.
Milestone Anniversaries
2019 also brings some milestone anniversaries that are worth noting and celebrating!
85 years – Donald Duck
80 years – Marvel Comics
65 years – "Disneyland" television series
50 years – Haunted Mansion
40 years – "The Muppet Movie"
30 years – Disney's Hollywood Studios

 

30 years – "The Little Mermaid"
25 years – The Twilight Zone Tower of Terror
10 years – D23 The Official Disney Fan Club
What are you most looking forward to in 2019?