Last spring, I discovered an Instagram account called The Maddest Hatter Co., and it combines two of my favorite pastimes: Disney and sports. The site is on Etsy, and shoppers can be sure to see plenty of Disney inspired hockey, baseball, and basketball jerseys, as well as a fun collection of hats. When you see something you like, you better act fast because the shop is quite popular. You're sure to see many of Manny's designs around the parks (and even at sporting events).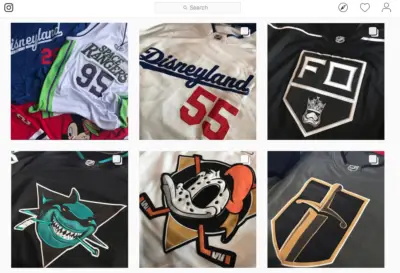 Designs
Some of my favorite designs feature a twist on a professional sports team's logo. For example, the old Anaheim Mighty Ducks crest replaced the original duck with Fab 5 member Donald Duck. He also created a series of Disneyland jerseys based on several Major League Baseball teams. Princess jerseys are a new popular option, featuring the names and release years on the back, all with the proper color scheme of each respective princess (including Princess Leia). Not a Disney fan? There's a collection of jerseys based on the houses from Harry Potter.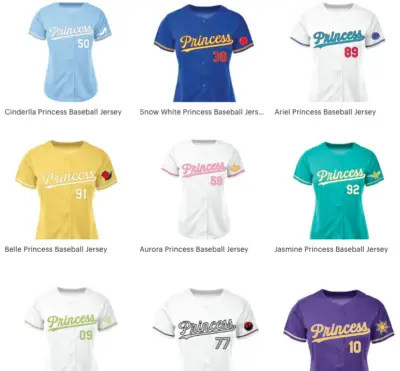 His hats are equally as clever! While some hats match up with jerseys, there are also a handful of unique designs that are exclusively on the caps. Saturday Night Live fans may spot a familiar design in the Walt's World hat, and one hat features the skull found on the shirt of Toy Story villain Sid Phillips.
Jerseys for Everyone!
Jerseys come in all sizes, so everyone can have something fun for their collection. Want a Space Rangers basketball jersey for your toddler? First Order hockey jersey for a kid? Anyone can get involved! I would say it's pretty clear  that he's created and cultivated a very family-friendly shop.
Quality
The quality of his gear is top notch. All jerseys are carefully stitched instead of heat pressed or printed, and the attention to detail is impressive. Manny cares tremendously about is care and customer service, and he will not sell something that he deems is less than the best.
Shop
Yesterday, Manny released a batch of jerseys, and they will be gone quickly. Go to https://www.etsy.com/shop/themaddesthatterco to take a look! His Instagram handle is @themaddesthatterco, where you can get all the latest updates.