Earth's mightiest heroes are making their way into the Disney Parks around the globe. This is all part of an effort to save it and also have cohesive storytelling globally. Today on the Disney Parks Blog, this was explained by Scot Drake, Creative Executive, Marvel Global Portfolio. He shared the following:
There was an idea. To bring together a group of remarkable people, to see if they could become something more. It was called the Avengers Initiative.
That original idea has now evolved into a brand-new global Avengers Initiative. One that brings us—the next generation of remarkable people—together. To find our power and become something more. To see if we can work alongside the Avengers so we may all become stronger together.
The Stark Expo in Hong Kong was to be a first step: A world exposition whose theme of 'A Better Tomorrow Today,' was meant to inspire and motivate through technological innovation. However, shortly after it opened, the Expo was attacked by the forces of Hydra. When even more powerful forces threatened the entire planet, the Avengers realized that the Earth needs more heroes.
So today, to better defend the planet, the Avengers are setting up new Headquarters and technology sharing exchanges around the globe to empower and inspire all potential recruits willing to step up and become heroes.
In California and Paris, Tony Stark is retrofitting two of his father's Stark Industries sites into new hubs for training and innovation. Through partnerships with S.H.I.E.L.D., Pym Technologies, Masters of the Mystic Arts and the new Worldwide Engineering Brigade, The Avengers and their allies will forge new global campuses to champion the next generation of heroes. Who's ready to answer the call?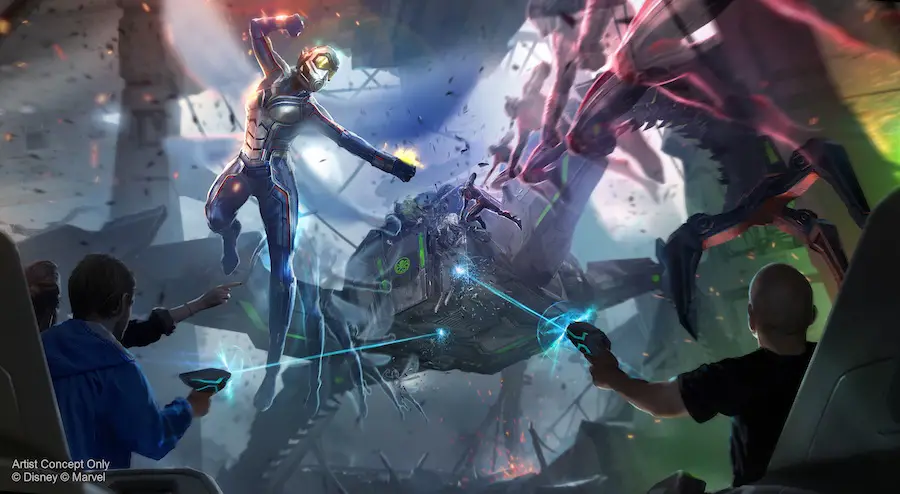 The goal of all of this is to bring all of these super stories into one bigger world that spans the Disney Parks experiences cohesively. Drake explained that while there will be different experiences in different parks, they will all be connected. The whole thing got started with the Iron Man Experience, where guests battle the forces of Hydra at Hong Kong Disneyland. In March 2019 by the Ant-Man and the Wasp: Nano Battle! will offer guests another opportunity to partner up with Super Heroes at Hong Kong Disneyland. In this case, it will be Ant-Man and the Wasp as they battle Arnim Zola and his army of evil Hydra Swarm-bots for this interactive attraction.
Over at Disney California Adventure, guests can already join the Guardians of the Galaxy escape the Collector's Fortress in Guardians of the Galaxy – Mission: BREAKOUT! Soon there will be new Super-Hero experiences coming to both Disney California Adventure and also Disneyland Paris. Guests will be able to encounter the Mystic Arts through Doctor Strange or defy gravity with Spider-Man. Guests will also be able to experience the most recent technological feats from Pym Technology and see Ant-Man and the Wasp. Iron Man, Captain America, Black Panther, and Captain Marvel will also be on hand to jump in should anything go wrong.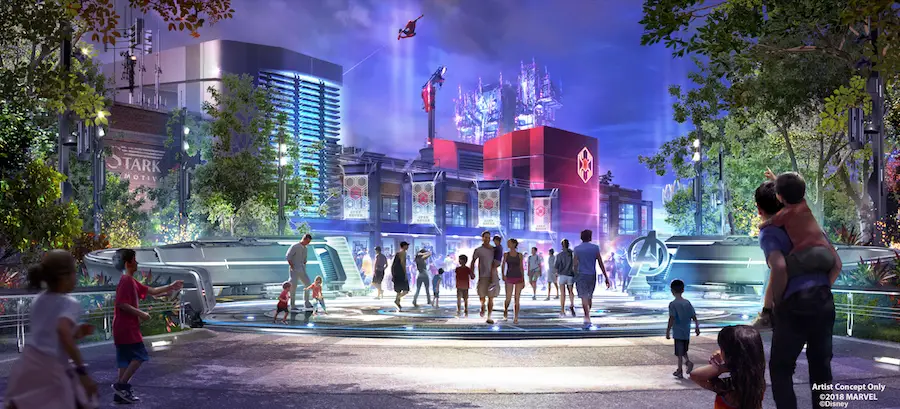 There is a lot of new Marvel adventures coming to the Disney theme parks around the globe. Some are available already to experience and some will be coming soon? What do you think of the increased presence of Marvel in the Disney parks? Share your thoughts in the comments below!