Hong Kong Disneyland now has its first Starbucks store. The store is now found on Main Street in the Market House, much like is found at Disneyland in the United States. The store offers guests their favorite Starbucks beverages and also food.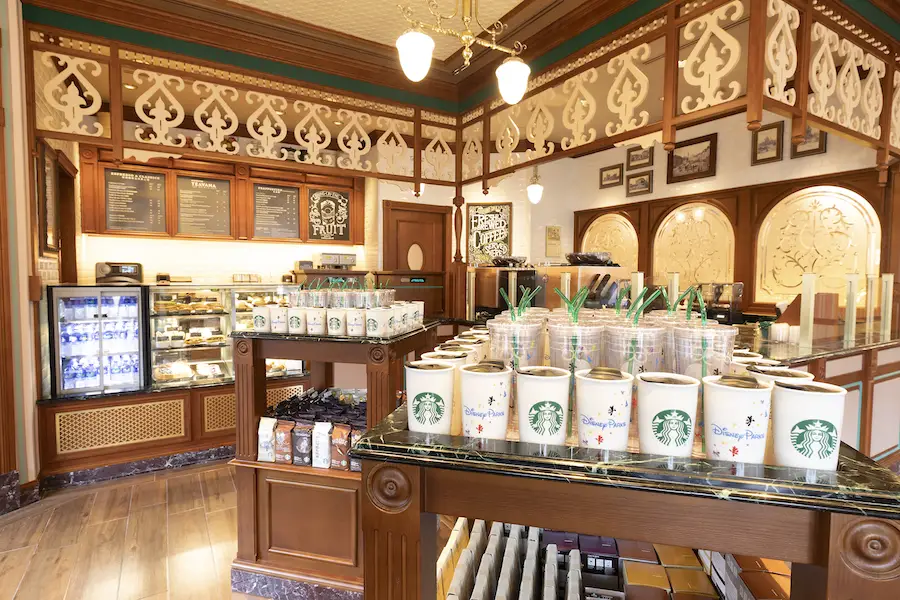 The theme for Market House is that of a Victorian styled cafe. The interior is similar to its cousin at the original Magic Kingdom. It has a lot of natural wood, warm light, and comfortable seating. This should create a nice place to grab a drink, a snack, and relax for guests at Disneyland in Hong Kong.
Along with opening the new Starbucks store, there is also now a Starbucks + Disney Magical Series merchandise collection. This has been found in other Disney Starbucks store in the United States but will be the first in a Disney Park in Asia. There are two options for these cups. The options are the 24oz Starbucks + Disney Magical Cold Cup and the 12oz Starbucks + Disney Magical Double Wall Mug feature Mickey Mouse and other Disney friends.
What do you think of this new Starbucks location and the mugs/cups inside it? Let us know what you think in the comments below!