Marvel Reveals New THANOS LEGACY #1 Art by George Perez!
New York, NY—August 13, 2018—Marvel is excited to celebrate THANOS LEGACY #1 from Donny Cates, Gerry Duggan, and Brian Level with a new variant cover from acclaimed artist George Perez!
"Donny is cooking up a 20 page story that answers the questions you're definitely going to have regarding the mind-blowing events of INFINITY WARS PRIME…while Gerry Duggan is writing a story about the connection between Thanos and Requiem. Both shine new lights on the villain of INFINITY WARS and how the story comes from what came before," editor Jordan D. White teased to Marvel.com earlier this summer.
Don't miss the opportunity to dive into this exciting cosmic adventure September 5th, when THANOS LEGACY #1 hits comic shops!
THANOS LEGACY #1 (JUL180975)
Written by DONNY CATES and GERRY DUGGAN
Art by BRIAN LEVEL
THANOS LEGACY #1 MILLER PEREZ VAR (JUN188396)
On Sale 9/5/18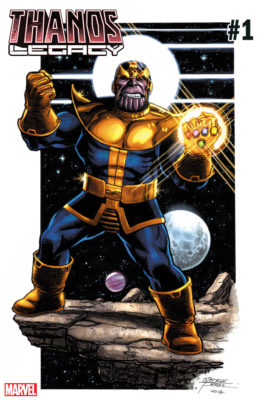 The Warmasters of Thanos Strike!
Black Order #1 by Derek Landy and Philip Tan, coming this November!
New York, NY—August 16, 2018—We felt their wrath in Marvel Studios' blockbuster Avengers: Infinity War, and we recoiled as they laid a path of destruction right to Earth…now, this November, five of Thanos' most feared warriors take the stage! Award winning fantasy novelist Derek Landy, author of the critically acclaimed Skulduggery Pleasant series, joins acclaimed artist Philip Tan (Uncanny X-Men, Iron Man) for the limited series BLACK ORDER, an unhinged super-villain adventure!
Dispatched by the Grandmaster to work their ruthless tactics, the Cull Obisidian have set their sights on destruction – but they may discover that there's someone even bigger and badder standing in their way…
"Springboarding from their last appearance in AVENGERS: NO SURRENDER, BLACK ORDER sets the flagitious five on a bloody, brutal, head-rolling take-no-prisoners tear that will pit them against the forces of an entire Galactic Empire–and where they'll encounter some familiar Marvel faces as well as some bonkers new faces along the way!" teases SVP and Executive Editor Tom Brevoort.
Don't miss BLACK ORDER #1, on sale November 7th at your local comic shop!
BLACK ORDER #1 (of 5)
Written by DEREK LANDY
Art and Cover by PHILIP TAN
On Sale 11/7/18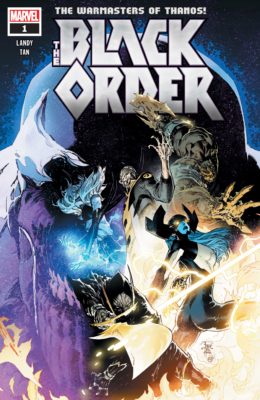 Luke Cage #1 Joins the Marvel Digital Originals Line!
First Issue On-Sale Now on the Marvel Comics App, Comixology and Kindle
New York, NY—August 15, 2018— Innovative. Original. Double-Sized. The Marvel Digital Originals add yet another new series to this exciting line of digital comics: LUKE CAGE #1, on- sale now from writer Anthony Del Col with art from Jahnoy Lindsay and Ian Herring, and covers by Declan Shalvey and Jordie Bellaire!
When Harlem faces an unprecedented heat wave, the people look to their hero—the unbreakable man, Luke Cage! But the heat wave turns out to be the least of Harlem's worries. Someone has their sights set on the city's 1%, and the rich and powerful are dropping dead from mysterious illnesses. In LUKE CAGE #1, Harlem's Defender springs into action to stop this killer—but he's just received a devastating diagnosis of his own…
"Between Jahnoy Lindsay and Ian Herring on interiors and Declan Shalvey and Jordie Bellaire on covers, the art direction on this book has been very much Hitchcock-style noir, which we're having a lot of fun with," said series editor Alanna Smith. "On both this and JESSICA JONES – MARVEL DIGITAL ORIGINAL, we're working hard to create distinct visual worlds that really sing in the digital format. As people have already experienced with JESSICA JONES, this new format allows us to get stories to readers quicker, in a more binge-able format that keeps the tension high and the action plowing ahead. Now, a story that would usually take half a year to deliver will only take three months, and the trade will drop shortly after that. It's a format we're very excited to explore, especially for books like LUKE and JESSICA which are more popular with our digital and trade readers!"
Series writer Anthony Del Col said, "Luke Cage is an amazing character, and I'm honored to create an original story that takes him in a completely different direction. He's almost impossible to defeat physically, so it took me a while to realize that perhaps the biggest challenge he could have to overcome would be something internal. And after doing research and talking to specialists about CTE incidents amongst football players and soldiers, it seemed natural that it could make for a very compelling and relevant storyline for our 'Hero for Hire.'"
After reading Luke's DOUBLE-SIZED #1, be sure to check out the other thrilling Marvel Digital Originals coming soon to your favorite reading devices!
JESSICA JONES (MARVEL DIGITAL ORIGINAL) #2 (of 3)
Written by KELLY THOMPSON
Art by MATTIA DE IULIS
Cover by MARTIN SIMMONDS
On Sale 8/29!
CLOAK AND DAGGER (MARVEL DIGITAL ORIGINAL) #2 (of 3)
Written by DENNIS HOPELESS
Art by DAVID MESSINA
Cover by MAHMUD ASRAR
On Sale 9/19!
Celebrate 80 Years of Marvel with Exclusive Anniversary MARVEL DECADES Collections!
A decade-by-decade celebration of the stories that defined the Marvel Universe, starting January 2019!
New York, NY—August 15, 2018— Next year, join fans around the world for Marvel's 80th anniversary and celebrate eight decades of incredible storytelling, groundbreaking art, and inspirational Super Heroes that continue to shape entertainment and pop culture to this day!
Starting in January, readers will be able to explore a different decade of Marvel each month with the brand-new eight-volume DECADES collection series, featuring some of comic's most iconic characters, themes and stories from each magnificent Marvel era. From the 1940s to the 2010s, fans can relive the formative journeys of their fan-favorite Super Heroes like the Human Torch, Captain America, Spider-Man, and more!
"After almost 80 years, our fans have continued to embrace Marvel's characters as their own, following their adventures through decades of thrilling stories," said Marvel Editor-in-Chief C.B. Cebulski. "To honor and celebrate this legacy, we can't wait to share some new and exciting projects for the world to experience the history of the Marvel Universe – through comic books, video games, toys, blockbuster films, television shows and more."
In addition to getting access to some of Marvel's most classic comics, each DECADES collection will also include a decade-by-decade commentary chronicling the evolution of the Marvel Universe and the world that inspired it. More DECADES collections will be announced at a later date.
Stay tuned for more exciting announcements around Marvel's 80th anniversary celebration, starting in January 2019!
DECADES: MARVEL IN THE '40S – THE HUMAN TORCH VS. THE SUB-MARINER TPB
ISBN: 978-1-302-91658-9
DECADES: MARVEL IN THE '50S – CAPTAIN AMERICA STRIKES! TPB
ISBN: 978-1-302-91659-6
DECADES: MARVEL IN THE '60S – SPIDER-MAN MEETS THE MARVEL UNIVERSE TPB
ISBN: 978-1-302-91660-2
DECADES: MARVEL IN THE '70S – LEGION OF MONSTERS TPB
ISBN: 978-1-302-91661-9
How to Paint Characters the Marvel Studios Way!
Celebrating the Marvel Studios Visual Development Team in April 2019
New York, NY—August 16, 2018—Black Panther. Thor. Captain America. You've seen them fight on the big screen—now, you can paint them yourself! While celebrating the Marvel Cinematic Universe, Marvel invites fans of all ages to learn the tips and tricks of painting your favorite super heroes from the masters themselves…with a brand-new book called How to Paint Characters the Marvel Studios Way!
In this beautiful hardcover, you'll discover insights from some of the industry's leading concept artists. Ryan Meinerding, Charlie Wen, Andy Park, Jackson Sze, Rodney Fuentebella, Anthony Francisco and more of the artists behind The Marvel Studios Visual Development team will share their method behind creating iconic designs for all your favorite characters, from Captain America to Black Panther!
Within the stunning pages of this keepsake book, readers will learn these artists' favorite tools of the trade, their tips for visual character development, their process of collaborating with filmmakers and other artists on the team, and the costume and props departments—and how it all comes together to create seamless film designs! Each five-ten page "character study" will take readers on a step-by-step journey through the artist's approach to bringing a specific hero or villain to life. Not only will readers get a sense of how each artist works, from their tools to their process, they'll also get to see how a character's design was created—from blank page to a final approval!
Don't miss How to Paint Characters the Marvel Studios Way, coming this spring!
How To Paint Characters the Marvel Studios Way
ISBN: 978-1-302-91314-4
On Sale 4/17/2019
Cover art by Ryan Meinerding, Andy Park, Jackson Sze, Anthony Francisco & Rodney Fuentebella (cover not final)