Thanks to friends at SoCalThrills.com, I was able to spend a day at Universal Studios Hollywood.  Here's all that I did…
Studio Tour
When going to Universal Hollywood it's quintessential to go on the Studio Tour.  It's the one that started them all!  And it's a unique attraction to the park.  Guests get to go through sets and attractions that have been used on movie and television shows.  There is also a great chance to witness filming being done!
And that's what happened to me.  During the tour, there was a show from Hallmark being recorded, an episode of SWAT on the metro set, and a mysterious filming on the western backlot.  It made for a bit of an odd ride as the guide couldn't speak through a lot of it because of the filming.
It's still a very fun tour through a famous studio.  There's always the King Kong 360, Fast and Furious Supercharged, and Earthquake.  It keeps guests surprised and full of laughs.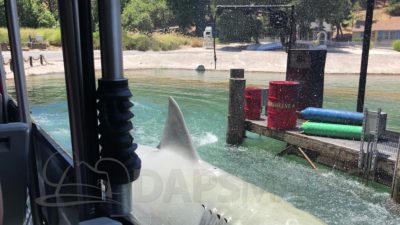 Wizarding World of Harry Potter
There were some new experiences within Hogsmeade.  Harry Potter and the Forbidden Journey, the signature attraction, has new 4K projections.  Where it used to be 3D, this made for a better experience for many riders.  Having done both versions, having the 4K made it more seamless somehow.  The practical elements didn't clash with a sudden projection.  It also made it brighter and easier to see, since 3D glasses make for a dimmer experience.
Around the village of Hogsmeade have been spell casting spots for those who purchase a wand.  Brand new are two spell casting spots near the Hogwarts Express station.  Incendio and Alohomora are the new castings that reveal fire and unlock a door.  It made for impressive effects as you walk around.
One of my favorite things to get at any park is Butterbeer.  New for either Universal Resort in the US is Butterbeer ice cream!  It's hand packed into cups and available at carts and Three Broomsticks.  This is a great summer treat that is delicious and very cold.  It has that great butterbeer flavor swirled into vanilla.  There's a nice balance to it.
Dreamworks Theater
The newest addition to Universal Studios Hollywood is the Dreamworks Theater and its new plaza.  Since Universal acquired the animation department of Dreamworks they swiftly made use of the former Shrek 4D theater to turn it into this new attraction.
It currently houses the Kung Fu Panda Adventure, though the theater has appearances from various Dreamworks properties.
The adventure really begins in a preshow where a projection show outlines what the theater is about.  In the show are characters from Shrek, Madagascar, Trolls, and Kung Fu Panda.  We find out the plot of the actual attraction through Po and his friends.  Before we enter the theater, the villain, Kang, grabs a mystical hammer in order to steal a vial of potion from Po.
I had seen Shrek 4D before and it wasn't all that impressive to me.  I was expecting something similar where seats move and there's a movie screen.  It wasn't that.  Well, yes the seats move and there's a movie, but there was more to it.  The seats moved a whole lot more than I thought they would.  The warnings they have for people should be taken seriously.  The movie was projected almost all around the audience, with the back wall being the only non-projected surface.  There are some fun in-house effects, and a surprise ending that I won't give away.  It's an attraction I would do over again, whereas the previous Shrek was only if there was absolutely nothing else.
Across the way is a newish plaza that has some great character greetings of Dreamworks characters.  Immediately across is Donkey's waffle stand where an interactive Donkey from Shrek poses for pictures and talks.  Other Shrek characters including Puss In Boots, Fiona, and Shrek himself appear by the stand.
Another area has a backdrop from Kung Fu Panda where Po and Tigress come by.  Right beside it is Mr. Ping's Noodle House.  It serves as both actual food stand and an interactive character greeting.  Mr. Ping is in the back kitchen window greeting guests by actually talking to them.  It's a great way to have a very themed food area.
Lower Lot
Down a lot of escalators is the Lower Lot.  In the area sits Revenge of the Mummy The Ride, Transformers The Ride, and Jurassic Park The Ride.  That's really what they're all named.
Transformers and Mummy are steady attractions for me to venture on.  Mummy is a fun and sophisticated roller coaster with great effects.  Transformers is a great moving simulator 3D ride that I've been on multiple times, and in a row!
The one ride that I did not want to miss was Jurassic Park.  It's not because the movie in the franchise just came out.  It's because this ride is closing in September to become a different ride.  It will become Jurassic World The Ride.  But, really this ride was something that I thought was awesome to have as a kid.  I loved the movie and was fascinated with their being a ride.  I used to get my hands on as much information as I could and when I would go on it I imagined actually being in Jurassic Park.
I can't say I'm entirely sad to see it go.  It's still going to be a similar attraction.  But, this version of it was a classic.  I'll miss this form.  I'm glad I got to ride it one last time.  And I look forward to the new one with cool new dinos!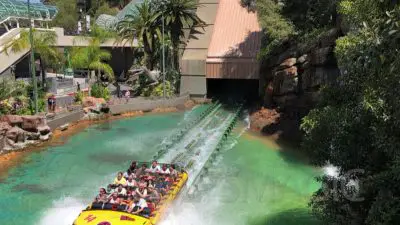 Shows
I was able to watch a couple of shows, which is a great way to beat the heat.  The Animal Actors show is a wonderfully fun way to enjoy a unique look at Hollywood.  There is quite a variety of trained animal actors, and there's a big comedic element to the show.  Afterward, there's a chance to get up close and personal with some of the canine stars.  One such star is Bailey from A Dog's Purpose, whom I was able to pet and found very soft.
The Special Effects Show is a general view at the history and behind the scenes of special effects in films.  The show ramps up to a couple of grand stunts including a real engulfed man on fire!  It's a good stop for getting out of the sun and getting off your feet as well.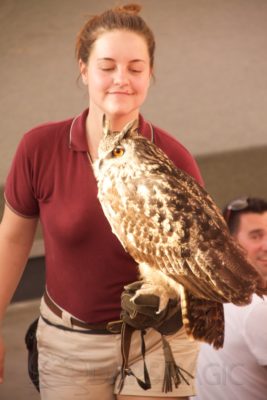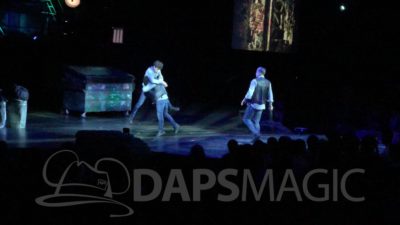 Nighttime Lights at Hogwarts
A summer-only event is the Nighttime Lights at Hogwarts.  It's a projection show on the castle above Harry Potter and the Forbidden Journey.  Though short and simple it features a dramatic soundtrack and a fun way of looking at the different houses of Hogwarts.  The trees and statues around the area get into the magical act.  And there's a few pyrotechnics!  It was a great cap off to the night, and a magical experience.  It is shown three times nightly, and though the times were listed on the wait screens throughout the park it started earlier than listed.
In all, Universal Studios Hollywood has a lot for the summer.  It's a great place to head for a summer day to enjoy some movie magic!  And some of these activities are just for the summer, so you'll want to head there soon!
<i>Daps Magic received a sample product or experience for this review in exchange for an honest review. The views of the reviewer are wholly their own. Read full disclosure policy at dapsmagic.com/disclosurepolicy.</i>