Jon Favreau announced on the red carpet that his upcoming Star Wars live action series will take place 7 years after Return of the Jedi.  There was also indication that half the show is already written.
A Resistance animated series will also be debuting in the future from Dave Filoni, who has produced Clone Wars and the very popular Rebels animated series.  The series will take place closer to The Force Awakens and use an Anime style of animation.
What is exciting about both of these projects is that Star Wars was a bit closed to the history between the Return of the Jedi and The Force Awakens, with the exception of a few novels.  It is a big time gap, consisting of about 30 years.  It's hard to have series or movies in between without consistent direction.
Speculations
Oscar Isaac is supposed to voice Poe Dameron for the Resistance series, which means he will most likely be ace pilot in the X-Wing squadron he commands.  It also means that we'll see the likes of Snap Wexley.
Who is Snap Wexley?  He's a character that first "appears" in the Star Wars: Aftermath novel series, but is also portrayed by Greg Grunberg in The Force Awakens though he's not named there.  He is a key character in the novels where he, along with friends and family, help develop a resistance to the remnants of the Empire.  It also takes place before the battle of Jakku, which is becoming an important battle in the history of Star Wars.
What is interesting is that Jon Favreau's series would be close to this battle, but still take place after.  With Wexley being an established character at that time we may see him in the live action series, though it's been said there will be original characters to carry it.
Another novel with possible ties to both series is Bloodlines which has Princess Leia dealing with the emergence of the First Order.  This takes place well after the Battle of Jakku, but also well before Force Awakens.  It's the beginning of the Resistance and will influence the animated series.  But, we may see some elements that lead up to it in the live action series.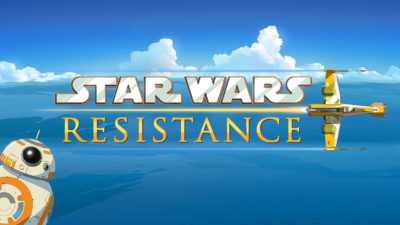 Questions
There is a lot to contain in both television series.  There are questions about Snoke, the First Order establishment, the Resistance gaining an army, and anything associated with them.  Will we see what happens between Luke and Kylo Ren as well?  It's doubtful, but even that is something that needs to be addressed at some point too.
It is an exciting time for Star Wars on the small screen!  Jon Favreau has a great track record as a filmmaker, and Dave Filoni does a great job with the animated series.  I'm looking forward to the new shows.  But, what do you think?  Let us know in comments below!