Today, it was announced that Lamplight Lounge will be opening alongside Pixar Pier on June 23. Lamplight Lounge will find is home in the building that used to house Ariel's Grotto and Cove Bar, and will use both stories of space to accommodate every member of the family. This is the first official announcement to give us insight into what will replace beloved Cove Bar, and we wanted to take a step back and look at how it became the official spot for everyone to looking to escape the crowds, even if just for an hour or two.
Originally an overlooked attachment to Ariel's Grotto, Cove Bar was a hideaway for adults to avoid the heat and hectic atmosphere of the theme park. As we moved forward into the age of Instagram, guests caught on to the colorful drinks and beautiful view, and the line quickly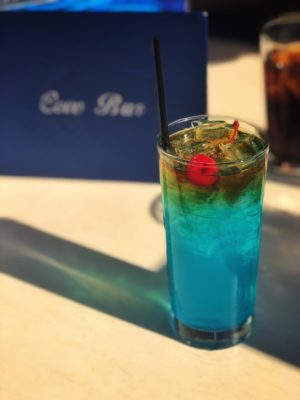 grew. The hype, however, wasn't just for the drinks and lobster nachos. Guests were meeting up with friends to make memories, as entire groups or even families could enter the family-friendly Cove Bar. While Cove Bar may be gone, Lamplight Lounge is sure to serve up an all-new tray of memories.
Lamplight Lounge will feature California gastro-pub cuisine, including the fan favorite lobster nachos and signature cocktails. During the day, guests will be able to enjoy a view of Pixar Pier and watch fellow guests blast off with the Parr family at Incredicoaster. When night falls, guests can enjoy the wonderful "World of Color" from the outdoor seating.
The location was renovated from an old warehouse building, exposing concrete and brick walls and repairing them to paint a picture of the building's past. The original wood boards from the factory were refinished and given new life as ceiling panels and floors. The furniture style echoes a relaxed feel and the end result is an open, airy and bright place that is organic yet sophisticated.
When guests step inside Lamplight Lounge, will feel the influence and personality of Pixar storytellers. The lounge will celebrate creativity and display pieces of Pixar concept art, character collectible toys, and many more personal touches from Pixar "regulars" that have shaped the stories we've seen.
For guests wishing to visit Cove Bar one last time, the popular refreshment spot will reopen briefly beginning March 16 before closing again at the end of May for its permanent transformation.
What is your favorite memory from Cove Bar?