Hey Daps Magic Readers!
Welcome to the first post of a new foodie series all about the plant based snacks, treats, and full dining options available at the California Disney Parks!
Currently, Disney's California Adventure is commemorating the Year of the Dog (Yay Pluto!) with its ever-popular Lunar New Year festivities. Now through February 18th, the park boasts different themed events, activities, live entertainment, and, of course, food offerings to help ring in the celebration.
Since we're focusing on the plant based/vegan dishes, what are our choices?
Unfortunately, there isn't a whole lot available to us at the various food booths. While the Korean Marketplace does have vegetarian options such as the veggie dumplings and veggie fried rice they both contain egg ingredients. There is, however, one particular dish served at the Paradise Garden Grill, which makes up for it!
The Japchae – Sweet potato noodles, onions, shiitake mushrooms, carrots, spinach, snow peas, broccolini and lightly sauteed tofu tossed with sesame oil and sweet and spicy sauce and topped with toasted sesame seeds
I was able to grab a plate the first weekend of the Lunar New Year festival and it is ridiculously delicious! The snow peas and broccolini still had crunch to them, the spinach wasn't soggy, the noodles and sauce were really flavorful and it was a nice sized portion. I'm not a huge fan of tofu, but it was also flavored and cooked well.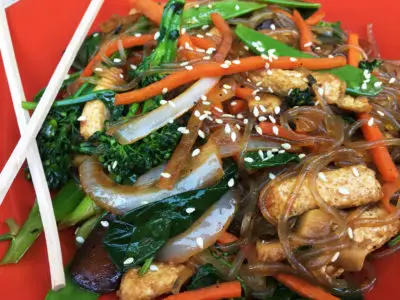 Alongside the dish you are served a packet of Kikkoman Soy Sauce and a packet of Sriracha Chili sauce. The Soy Sauce gets a thumbs up but the Sriracha did contain fish.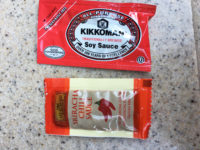 Overall, I highly recommend all of you to try it! I wish it would stay as a permanent addition to the Paradise Grill menu, but it will disappear with the celebration when it's over on the 18th. The Grill constantly brings out new items coinciding with California Adventure's theming and overlays so it's a good place to keep your eye on for new food options.
There are a few drinks available at the booths that look like they may fit the bill, but I have not had the opportunity to try them.
Here's a list of what looks promising and worth checking:
Black Beer Stout (Paradise Garden Grill)
Mae Shil Ju (Korea Marketplace) – Plum wine cocktail
Hite Pale Lager (Korea Marketplace)
Baixiangguo Lucha (China Marketplace) – Passion fruit green iced tea with lychee popping pearls (non-alcoholic)
Tsingtao Lager (China Marketplace)
That wraps it up for this first installment of A Disney Vegan series. I am so excited to be bringing you guys along with me while I embark on my journey discovering (and tasting) all these veggie options!
Go have a blast at Lunar New Year!
If you try out any of the drinks or order up some of that Japchae, pease let me know in the comments what you thought!
Coffee and Confetti,