Splitsville had a slight bit of a delay in opening, but tonight, the first floor of this new restaurant and bowling locale opened its doors in Downtown Disney. The second floor is expected to open later this week, as a few more additions are required prior to its opening. There are 7 visible lanes on the first floor where I was able to have a look. The back area for private parties was closed off, so my guess is that the other 3 bowling lanes on the first floor are located there.
Inside, the seating area isn't as large, but the bar wraps around the inside and outside on the patio area. The patio has much more seating, which is perfect for those who want to enjoy what the restaurant has to offer and maybe don't want to bowl. There will be live music on the patio every night, Sundays through Thursdays, with music all day on Fridays and Saturdays.
The menu has a pretty wide variety of foods, which should cater to just about everyone, and has a kids menu as well. Beer, wine, and cocktails are also available but note that Splitsville does not do a Happy Hour.
The bowling prices vary depending on the time of day and day of the week, and the timeframe looted depends on the number of people bowling. You can find the prices below.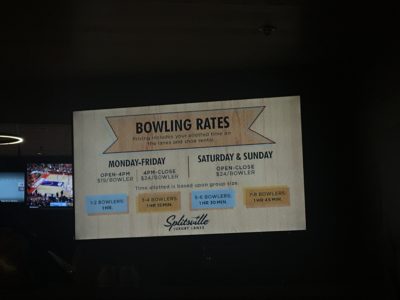 Parts of the facility can be rented for private parties, or the entire facility can be rented as well. It's going to be a great place for groups, from what we can already tell.
I look forward to checking out the restaurant portion of Splitsville soon, as I think it is a fun addition to Downtown Disney. It will be a great hotspot on the weekends with the patio area and live music.
Are you looking forward to checking out Splitsville?
Until next time,
Caitlyn