When Kelly Marie Tran walked the red carpet for Star Wars: The Last Jedi, she stole hearts around the world. While seasoned actors remained poised as the walked, Kelly was crying, excitedly stumbling over her answers, and hugging her castmates. Some could argue that this was the exact moment she became the breakout star of The Last Jedi, and she has continued to brighten every interview she has stepped into since.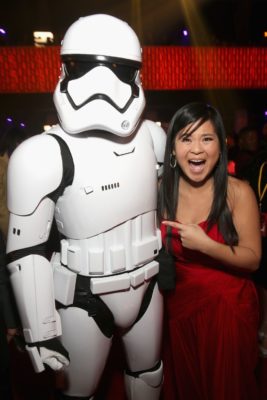 Kelly Marie Tran's first exposure to Star Wars wasn't when she was growing up, like many other people, it was her script for Star Wars: The Last Jedi. After she has read her script, she went back to watch The Force Awakens, and then went back even further to watch the original trilogy. Along the way, she became one of the biggest Star Wars fans in the cast, even noting that the twist in Empire Strikes Back genuinely caught her off guard and left her in shock. She continues to love the franchise, citing in a recent interview that she had seen The Last Jedi in theaters three separate times, trying to get over the shock of seeing herself on the big screen so she could finally enjoy the new story to the Star Wars universe.
Tran's success wasn't total smooth sailing. She spent eight years simply going to auditions day in and day out, without much luck. She had minor roles in television and online content, but Star Wars was her first major role, and her first casting in a movie ever. Tran took her success from Star Wars and did something most young adults can relate to, paid off her student loans.
Tran has faced some backlash over her character in the Star Wars universe. She has seen numerous comments saying a multitude of negative things about Rose, her character, and even about her personal character. It would be easy for her to get caught up in all of the negativity and let it overwhelm her. Instead, she takes her optimistic demeanor and applies it to the hate. She wrote a long Instagram post encouraging her fans to be who they are and celebrating individuality. She ended one of her "journal entries", as she calls them, with " trolls live under bridges for a reason. They hate light. So let yours shine brightly despite their stink!", and I think that's something we can all learn from Kelly Marie Tran.
https://www.instagram.com/p/BdEk8iyHExJ/?taken-by=kellymarietran