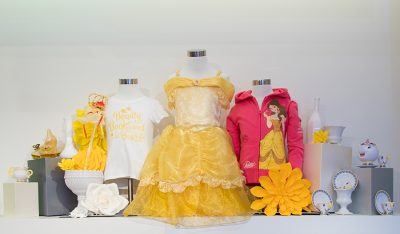 Starting this weekend, every little dreamer can find the perfect outfit for any character they can dream of. The Dream Boutique, opening October 7, will carry acessories, headwear, and outfits to coordinate with many different Disney princesses, and a variety of other characters as well.
Also in the shop, little adventurers can find plush recreations or toys of all their favorite characters.
It should be noted that unlike the Bibbidi Bobbidi Boutique located inside Disneyland park, this newly reimagined space will be merchandise only, and makeovers will not be provided in this space. Any guests between the ages of 3-12 are invited to make reservations inside the park if they wish to have a royal transformation.
Guests visiting the Downtown Disney District this weekend are invited to enjoy a magical opening moment Saturday October 7 at 9:00 a.m.