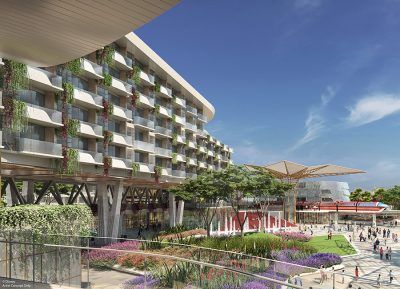 Disney Parks Blog has unveiled concept art for a new Disneyland hotel set to open in 2021.  This hotel has been announced previously, but little was known about it.
Green
The hotel has a very nature feel to it, with lots of landscaping and having natural elements on every level of the hotel.  As the Parks Blog puts it, "Extensive landscaping and water elements will create a resort oasis."  A plaza will have fountains and greenery.  Also, gardens and walkways in them will connect the four hotels of the resort together.
Rooms and Lounge
It will be a 700 room hotel.  Many of the rooms will have a view of the Downtown Disney district.  There will be some rooms and a restaurant/lounge at the top that will have views of Disneyland and specifically for fireworks.
Entertainment, Shopping, and Food
The ground level of the hotel will have an expansion of dining and shopping.  From the concept art it looks like the hotel goes right up to the Lego Store in Downtown Disney.  What is currently there is a Starbucks, AMC Theater, and Earl of Sandwich among other shops and restaurants.  On the other side is Rainforest Cafe and ESPN Zone, but those don't seem to be visible in the concept art either.  Whether these places will be incorporated into the hotel are yet to be seen.  There will be some amount of dining and shops within the hotel, most likely accessible for any resort guest.
Monorail
Probably the most interesting feature of the new hotel is that the Disneyland Monorail will have a stop inside the hotel.  Like the Contemporary Resort at Walt Disney World, this lets guests at the hotel have a unique experience.  It doesn't appear that the track will be altered to serve Downtown Disney guests as well, but this is still concept art.

The hotel is set to be a four diamond resort.  Construction will begin summer of 2018, and no exact date of opening has been said yet.