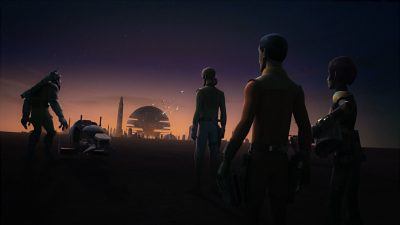 Star Wars Rebels is heading into its fourth and final season. Now, a lot more is known about when that will be happening and where things will be going. Lucasfilm released another official Star Wars Rebels Season 4 trailer and there is a LOT to glean from it. There are new characters and new ships. There are new plot lines it appears. It also looks like quite a few connections will be made between Rebels and some other movies, in particular Rogue One: A Star Wars Story. This trailer also appears to be setting up the end of the show. There will definitely be some surprises along the way though! Check out the trailer below!
Season 4 will be coming to Disney XD in a one hour season premiere on October 16th.
Star Wars Rebels Season 4 Trailer 2
What do you think of this trailer? It appears that Ezra is going to be continuing to discover more about himself and the ways of the force. Grand Admiral Thrawn will be potentially facing off against Director Krennic. It will be interesting to see if Krennic actually shows up in the show. The love story between Kanan and Era is going to be dug into deeper. Saw Gerrera is back. X-Wings are arriving! Things won't go so well on Mandalore. Finally, it appears that this show will be ending where it began on Lothal.
Are you excited for the fourth and final season of Star Wars Rebels? What are you most looking forward to? Let us know in the comments!