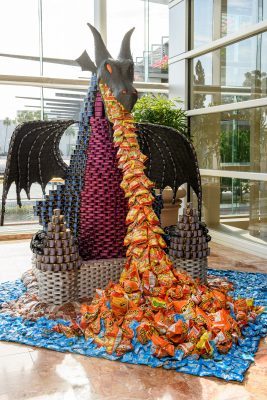 Late Friday night, teams converged of volunteers converged on South Coast Plaza in Southern California to build grand designs out of canned food and non-perishable items. The Disneyland Resort had its own team of voluntEARS that constructed a 10 foot tall recreation of Maleficent from Fantasmic!
2017 not only marks the 10th anniversary of CANstruction Orange County, but also 10 years of the Disneyland Resort coming together for a great cause! In the last decade, the Disneyland Resort has provided the OC Food Bank more than 65,000 meals for the local community.
Disneyland Resort 2017 CANstruction Build
Built 10-foot-tall Fantasmic! dragon, Maleficent
A team of five cast members VoluntEARS from the Disneyland Resort Design andEngineering team plans and constructs the build
It takes about 12 hours to build overnight
The team plans for six months
Materials used:
Canned Chunk White Chicken
Canned Sardines in Olive Oil
Canned Sardines in Water
Canned Water Chestnuts
Canned Bamboo Shoots
Canned Black and Pinto Beans
Drink Mix Packets
Black Tea
Assorted Chips
Fruit Snacks
Disneyland Resort CANstruction Build History
2017: Don't Let Hunger Drag on! – 5,250 cans (Fantasmic! Dragon)
2016: Together We CAN Turn Hunger Inside Out! – 6,425 cans (Inside Out- Sadness)
2015: If Elephants Can Fly, We CAN End Hunger! – 4,200 cans (Dumbo) | Award for Best Use of Labels
2014: Melt Away Hunger… (because some things are worth melting for) – 4,932 cans (Frozen- Olaf) |
Honorable Mention
2013: Scare Up Some MONSTROUS Eats – 4,084 cans (Monsters Inc.)
2012: TOW Away Hunger – 5,700 cans (Cars- Tow Mater) | Award for Juror's Favorite
2011: Sea the Difference a CAN Makes… – 5,400 cans
(The Little Mermaid- Flounder and Sebastian) | Award for Best Use of Labels
2010: Make a Wave in Your Community – 12,000 cans (Finding Nemo- Crush)
2009: CANnecting to Environmentality – 10,000 cans (Mickey Ears)
2008: We CAN Make a Difference – 3,800 cans (Wall-E)
Total cans donated: 61,791 cans
Statistics from CANstruction DISNEYLAND RESORT
If Disneyland donated 61,791 cans of food (assume each can on average weighs 10 oz.) that would be 38,619 lbs. of food or the equivalent of 32,183 meals
This could…
o Feed a single low income Senior–3 meals a day for 29 years
o Feed a family of 3–3 meals a day for 10 years
o Feed a family of 6–3 meals a day for 5 years
To see the finished project for yourself, and to donate for a vote, go to South Coast Plaza from now until September 24th! Make sure to check it out before it fades back into your imagination!