This last week as I was leaving the house to go to Disneyland, I took one last look at my outfit. I suddenly realized my entire outfit, including most of my makeup, was black and white. Had I put together an entire Disneybound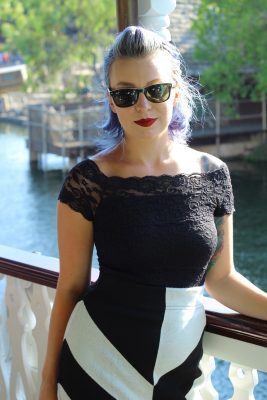 without even realizing it? I decided I would run with it and see what happened.
My favorite part about this Disneybound was that it was all things that I already owned! This means I didn't have to go outand buy anything new to accomplish this look, which makes my life even easier!
Steamboat Willie
Black Top from Sidecca
White Queen Pencil Skirt from Elhoffer Design
Black Converse
NYX Studio Liquid Liner in Extreme Silver
Not only was the outfit easy to put together, I realized it was incredibly versatile. Whenever I would say I was Disneybounding, my friends would throw out a huge range of options of what I could be, giving me even more ideas for the future!
Check out more on how I put it all together, and let me know what I should take on next!