This week was a nice light week for the Disneyland Resort as it gears up for both the D23 Expo and return of classic attractions.
Collector Cards
Speaking of classic attractions, in Frontierland, New Orleans Square, and Critter Country there are collector cards scattered.  These are free to guests and among shops and restaurants.  You have to ask for them in various location.  Among the locations are…
River Belle Terrace
Pieces of Eight
Bonanza Outfitters
Briar Patch
The cards are individually highlighting attractions and shows.  The cards are:
Mark Twain
Columbia
Fantasmic
Disneyland Railroad
Explorer Canoes
Tom Sawyer's Island
On the back are pieces of a map that, when put together like a puzzle, form a map of Tom Sawyer's Island.  It's a great summer scavenger hunt when these attractions are being worked on.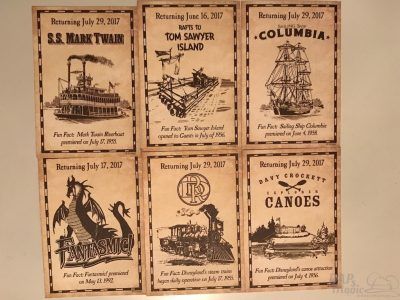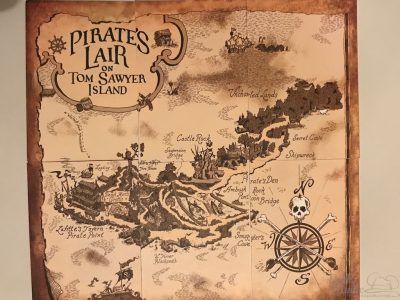 All-American College Band
The 2017 All-American College Band continues to play throughout the summer.  One of the fun ways to view them is during a clinician.  It's a way for the college musicians to learn with and from professionals.  These professionals are often alumni of the college band program.  Steve Houghton was the most recent this last Friday.  You can find out more about this performance here.
Disneyland Band
The Disneyland Band has a new medley in their repertoire and is performed at the Sleeping Beauty Castle set.  The medley are selections from the Pirates of the Caribbean movie franchise.
Rivers of America Last Bits of Construction
Around the Rivers of America and Disneyland Railroad there is still construction, but it's slowly coming to a close as the attractions are getting ready to open at the end of the month.  From Tom Sawyer's Island there are a lot of animals put into place.  It's fun to see how many scenes are coming in.  A lot of them are homages to past elements of both the river and former attractions like Mine Train Through Nature's Wonderland.
One construction piece that is not in Disneyland itself is Splitsville.  The bowling alley is coming together more and more.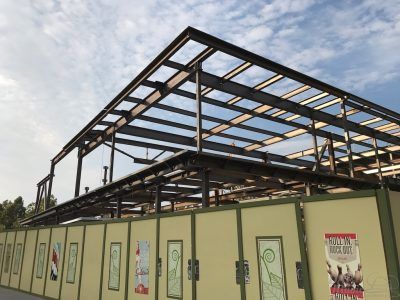 That's all for now!  We'll be at the D23 Expo this week, so be sure to check back often as we post news and other items from the Expo, and then the anniversary of Disneyland!