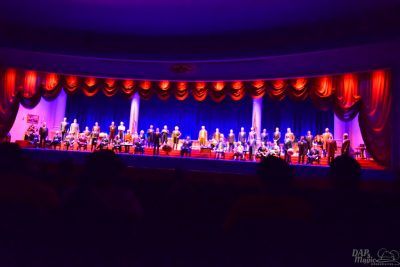 Walt Disney World has tweeted a statement saying that President Trump will have a speaking role in the Hall of Presidents.
— Disney Parks (@DisneyParks) June 27, 2017
Hall of Presidents
The Walt Disney World attraction has been an opening day show with Audio-Animatronics of all the Presidents of the United States.  For much of its life, the President Lincoln animatronic was the only one who gave a speech.  George Washington would be heard in narration over a montage of paintings on a film portion.
Starting in 1993, whomever is the new President records dialogue for their animatronic.  Presidents Clinton, Bush, and Obama have each recorded for the show.  The George Washington Audio-Animatronic is another President besides the current and Lincoln to speak in the attraction.  Morgan Freeman was also added as a narrator for the most recent adaptation of the attraction.
The Rumor
With the attraction down for renovation and installment of the new figure of President Trump, a rumor had been circulating that Disney and the Trump Administration were at odds.  The rumor was reported by Vice and supposedly a source within Disney was giving the information to them.  It was centering around writing the speech that would be used in the attraction.
The Statement
Disney Parks tweeted a statement that the rumors were false and that the President Trump animatronic will speak in the Hall of Presidents.  They also have gone on to say that the attraction has been scheduled to reopen late this year all along.  This may come from rumors even before the current one that a delay was on purpose for after Independence Day and even the summer though the installment would be complete.
The long time before reopening probably has to do with the number of upgrades and changes to the show overall.  Disney Parks Blog stated that the attraction will have new enhancements including multi-screens.
We would love for you to comment about this.  But note that we are reporting Disney news as it is released, and not making any political statement.  Please try to be respectful of anyone's opinions in the comments section.