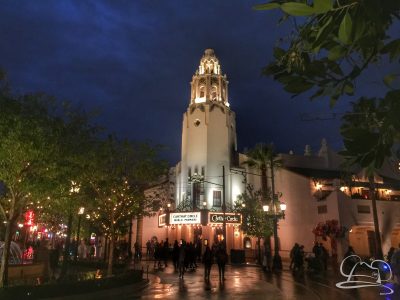 Disney California Adventure is a park that is relatively young compared to others in the Disney family.  In its 15 plus years there have been quite a few attractions that have come and gone.  But, there are quite a few that have been around for a while and seem to be sticking around for the foreseeable future.  So, here's a list of the top 5 attractions you don't want to miss.
Before giving the list, let me explain my criteria.  I wont' say that it's what everyone should go by, but I'd like to think it's some things Imagineers think of when they build the things they build.
One thing is theme/story.  What kind of story is it telling?  Is the story very prominent, or too hidden to be realized by guests?  Imagineers tell stories through attractions and this is something that should be taken into consideration.
Then there's detail.  How detailed is the theme?  Does it immerse the guest into the story?  Disney is known for taking time and energy into little details that complete the attractions.  It's something to think about with how good the ride is.  And not just in the ride, but the queue as well.
Another criteria is thrill/entertainment.  Not every ride is thrilling, but can be entertaining.  How thrilling is it?  How entertaining is it?  I know those can be a mega category for other aspects, but it's something to consider.
Lastly is popularity.  This could be the only category anyone would consider, but I think it's just a factor.  It says something if a ride has been very popular over time.  It usually spells that timelessness and immersiveness that makes Disney great.
And, all of these will be on a 5 point scale.
So with that, here we go!
5. Grizzly River Run
Theme/Story: 4
Grizzly River has a period backstory that supplies the great detail of this ride.  And it does help make it fun.  Some of it is a bit mystical as the mountain seemingly has a bear spirit in it.  Also the story may seem straightforward, but it has enough going for it that it puts us easily in the middle of it.  We are passengers on an excursion with a rafting company.  The simplicity does subtract from the score, though.
Detail: 4
Like I said, the story gives way to much detail.  From the rugged peaks of the mountain to an abandoned building that now takes rafts up to the top, this has a lot on the ride.  But, it's the queue and surrounding area that gives much of the story too.  We see items of mining.  We see the river company's belongings.  There's actually a lot to take in as you travel around.  But, not a lot of detail in comparison to attractions like Indiana Jones Adventure.  So, just one point down for that.
Thrill/Entertainment: 3
It is a pretty thrilling ride with plunges and bouncing rapids.  But, the high chance of getting soaked doesn't sit well with everyone.  Also the lack of animatronics and other possible Disney-quality items makes it a little less entertaining.  Middle score for all that.
Popularity: 3
The wet nature of the ride makes this not so popular in non-hot months.  Though for California are not many, it still makes it a not too popular attraction.
Total: 14
Grizzly River Run is fun, but the liquid nature of the ride doesn't help it to be in top spots.
4. Toy Story Midway Mania
Theme/Story: 3
The toys have set up Andy's carnival play set to be their own set of games.  It's a simple theme and story.  It's fun and is immersive.  But, a little incomplete.  We don't know much more than this, and it's not really told through the attraction.  It's present, but for that I give a middle grade for story.
Detail: 3
Detail needs to convey the story, and there isn't much detail to give to the story.  On the outside there's a strong midway presence, but it doesn't fit with the overall story.  In the exit there's a great room detail as if we're growing to normal size and coming back to the real world, but we don't know if that's the story or just neat detail.  What's really detailed is inside the ride in between the games.  We are thrust in between sets of Andy's games and toys as if Woody and the gang are pushing us through.  Helpful in the story, but not too detailed.  So, middle grade for this too.
Thrill/Entertainment: 5
Not too thrilling, but this is highly entertaining!  An interactive game is what this attraction is about.  It makes repeat visits possible with a different outcome each time.  This is a high value for an entertaining attraction!
Popularity: 5
Midway Mania has a consistent line, though maybe because it takes a bit to load.  However, I think this is one of the highly family friendly attractions that has guests come back to play and ride every visit.  It's far remembered after family's vacations.
Total: 16
It's story and detail set this attraction low, but the entertainment and re-ridability make up for it.
 Soarin'
Theme/Story: 4
I know, it may seem very simple, but it's a well executed story to be a passenger on a magic hang glider.  We're passengers going around the world.  We board in an air hangar.  It's not a lot, but it works.  And it's exciting.  But, not perfect.
Detail: 2
I give this a lower score because there really is almost no detail here except for the outside.  Inside is a gallery for a hangar.  It's got detail, but pretty low.
Thrill/Entertainment: 5
This is one of the highest of entertainment values of the park, and almost anywhere.  It's thrilling as well because of catching people surprised with transitions and the sheer height factor.  It's unique to Disney, and is a big ride to have for many.
Popularity: 5
Soarin' is one of the most popular rides at the Disneyland Resort, let alone the park.  It is possibly the most known attraction at Disney California Adventure, and is easy to give it the high score.
Total: 16
Though tied with Toy Story Mania, I want to give its popularity a higher score for being the most beloved and known ride at the park.  So, I will still put it above Toy Story Midway Mania for that reason.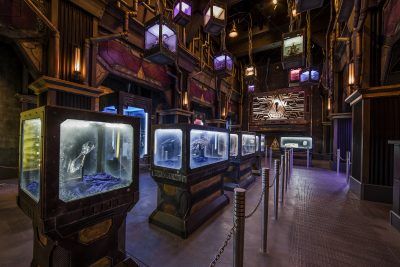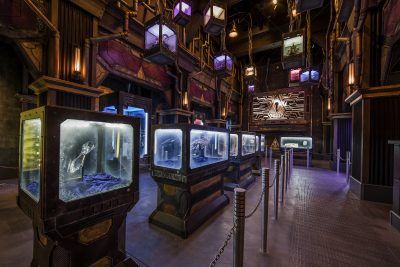 Guardians of the Galaxy – Mission: BREAKOUT!
Theme/Story: 5
This is a story that has some layers to it.  The first layer is that we are going to an exhibit at The Collector's…collection.  The next layer is that the exhibit is the Guardians of the Galaxy and we are enlisted by Rocket Raccoon to help break them out.  The elaborate story is well communicated and is an easy way to get people involved in this immersive environment.
Detail: 4
There is A LOT of gems within the walls of the Collector's treasury.  Tons of Marvel easter eggs and even Disney park ones too.  So why the 4 score?  It's an overlay, and I think the Imagineers did an amazing job with taking the previous building and making it into something else.  But, there are two major details that don't quite add up for the story.  One is why are we watching a video of the Collector in his office?  To me, it doesn't make sense to have customers having free access to your private office.  And the other is the detail of the loading area.  It's still a boiler room.  There's not a lot of change from Tower of Terror.
I'm not saying it's not great.  I'm just subtracting one point.  It's not perfect.  But, close.
Thrill/Entertainment: 4
This ride is all about the thrills.  From the start we are thrust up, and then thrust down.  Then that's repeated with some great scenes with the Guardians.  The different songs and possible ride profiles makes this very entertaining as well.  But, the thrills may be too much for some which doesn't help.  It's still a scary attraction for some.  So, one point down for that.  Great, but not perfect again.
Popularity: 5
This attraction is new.  How can I possibly say it'll be popular?  It's because of the 6 different song profiles that mean re-ridability.  Some may try in one day.  Others will try to get other songs on each visit.  That means many will ride and that means popularity.  High popularity too.
Total: 18
It's almost perfect, but there's just a couple things that keep it from it.  Still, it's one of the best rides at the park.  It's incredibly fun.
Radiator Springs Racers
Theme/Story: 5
We're greatly part of a story that unfolds before our eyes.  As we visit Radiator Springs we find that we are going to enter a race.  Then, we race!  It doesn't have the layers of Guardians, but it has that great theme that has us in the action of a beloved movie.
Detail: 5
Not only is there some of the most detail you will find on any ride around your vehicle, but it's in the line and the land too!  Everything leads you to this part of Cars Land, and in line there are elements that surround us making us feel like we are not in California, but the Cars dimension, or whatever it is.
Thrill/Entertainment: 5
Half dark ride and half thrill ride.  It's the best of both worlds!  And the thrill is fairly family friendly.  It may still be not for everyone, but it's for most.  There's a bit of randomness to it also, where you don't know if you'll win the race, and there's also which detail side you'll get: Luigi's or Ramone.
Popularity: 5
This is still easily one of the longest lines in the park.  FastPasses still are gone by mid-day most times out of the year.  It's becoming one of the most known attractions of the park, and the Resort.  It's always the "must do" of Disney California Adventure.
Total: 20
Yeah, a perfect score.  But, if it says anything on my objectiveness is that this is not my favorite ride.  I know the title of this post says they're my picks, but I'm basing them on a score scale that I've made.  This is a great ride.  I recommend it to anyone easily.  It's just not my favorite.  But, it is equal to Indiana Jones Adventure at Disneyland to me.  It has that immersiveness and thrill, but in a more family way.  It's just a great ride.
So, there you have it.  Those are the 5 best at Disney California Adventure according to me.  Note that my favorite did not make the list: California Screamin'.  It would have had a low score to put it below Grizzly River Run, I'll admit.
But, what do you think of the list?  Let me know in the comments below!