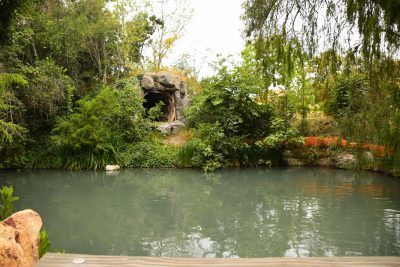 It's not a ride, not a land, but Big Thunder Trail has reopened at Disneyland today.
This walkway between Frontierland and Fantasyland has been closed for construction on Star Wars Land. It had been a fairly open path from Frontierland to Fantasyland because of Big Thunder Ranch. Since the Ranch has closed, work has been done to both this area and the Disneyland Railroad because of the new Star Wars themed land coming in.
Still the Same?
Big Thunder Trail features some of the same parts that it previously contained, such as the abandoned mine across a small pond from the mountain. The Cavalry advertisement remains on the back of a bench closer to Fantasyland.
What's New?
So what is different? The biggest feature is a large rock overhang that hides some of the track of Disneyland Railroad. A train bridge is behind it, as well as the upcoming Star Wars Land.
Many well themed lamps line the path and new bridge.  Several pieces of mining equipment complete the Big Thunder Mountain motif.
Overall the most noticed is the extension of use of rocks from Big Thunder Mountain.  It makes it a bigger area of Frontierland now.
Where Has This Been?
The path has been present for much of Disneyland's history, but now it's even better.  The walkway is a much more open area, with small alcoves that allow for guests to rest.  Benches are a welcome sight and help for the weary.  It all leads me to think "Where has this been?"
I know the reason for the lack of this wide pathway before.  Big Thunder Ranch was an attraction that took up most of the footprint.  With it gone it makes for an easier access between lands.  This will be a big help with Fantasmic coming back soon, and the parade and fireworks already present.
Big Thunder Trail is beautiful and is a great addition just in time for the summer season.